Today's recipe was a reminder that I really need to make more ice cream pies. Really, is there anything better? Maybe cookies are better in the fall, but on hot days an ice cream sundae pie like this one has everything going for it. I'm not sure where this recipe originated, but it was in a pile of stuff given to me by my grandmother so I'm assuming it's fairly old. The pie is pretty basic, seeing as how the filling is just plain vanilla ice cream, but the Oreo crumbs and the rich but not overly sweet chocolate sauce make the whole so much better than the sum of its parts Then again, that's the way it is with all sundaes I suppose.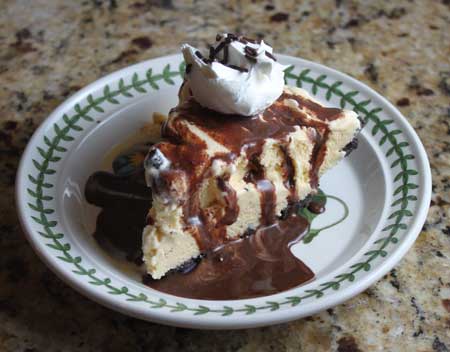 Ice Cream Sundae Pie
20 Oreos or 2 cups of Oreo crumbs
6 tablespoons melted butter
2 ounces unsweetened chocolate
1 tablespoon butter
½ cup granulated sugar
5 oz evaporated milk (1 very small can)
¼ teaspoon vanilla
1 quart (4 cups) vanilla ice cream
Whipped topping, sprinkles, cherries, etc.
Process the Oreos into crumbs.
Combine the crumbs and melted butter in bowl. Press into and up the sides of a well-greased 9 inch deep dish pie dish. Freeze until firm.
Meanwhile, heat the chocolate and butter together over low heat in a small saucepan.. When melted, gradually add the sugar and stir well. Next, add the evaporated milk slowly (I did it in three parts), stirring until smooth. When mixture is smooth, remove from heat and let cool slightly. Stir in the vanilla extract. Pour the chocolate sauce into a clean bowl or into a 2 cup Pyrex measuring cup. Refrigerate for a few hours or until it is completely cool. It will thicken slightly as it cools, but it won't be as thick as hot fudge.
While the syrup thickens and cools in the refrigerator, add the ice cream to the pie crust and freeze until firm.
When ready to serve, slice the pie. Top each slice with a big spoonful of sauce, a dollop of whipped cream, some sprinkles and a cherry (if you have some).
Serves 6 to 8