A good ice cream sandwich calls for the perfect cookie. It can't be too hard, nor should it be too cakey. It needs to be soft enough to bite into while frozen, but not so soft that it falls apart under the weight of the ice cream. In short, it was this cookie -- a cookie that can be eaten straight, but is so much better frozen and served with ice cream.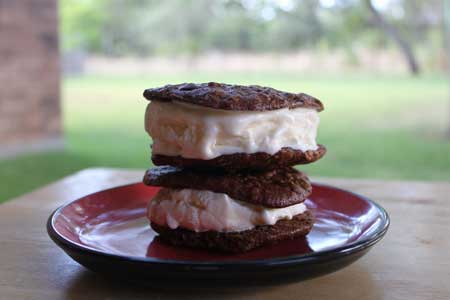 It occurred to me today that ice cream sandwiches are perfect for potlucks. Well, sort of. They're also the most terrible things for potlucks since you can't set them out and leave the, but if there's a freezer nearby, homemade ice cream sandwiches are the kind of thing nobody would think to bring, but would appreciate greatly. Or at least I would.
Here's the recipe I used for today's ice cream sandwiches. Since I'm the only one around here who likes bananas, they're all mine.
Chocolate Banana Ice Cream Sandwiches
¾ cups plus 2 tablespoons (4 oz) all-purpose flour
¼ cup unsweetened natural cocoa powder
½ teaspoon baking soda
½ teaspoon salt
1 cup granulated sugar
1 cup oats, old fashioned type
10 tablespoons melted butter or shortening, cooled
1 cup mashed banana
1 large egg
½ teaspoon vanilla extract
1 cup bittersweet chocolate chips
Don't preheat oven yet because dough needs to chill a little -- especially if you've used butter rather than shortening.
Mix the flour, cocoa powder, baking soda and salt together in a large mixing bowl. Stir in the sugar and the oats. Stir in the melted butter (or shortening), bananas, egg and vanilla, then stir in the chocolate chips. Chill the batter for 1 hour or until it thickens up. Mine was kind of goopy even after a few hours.
Using a quarter cup measure, drop scoops of dough onto parchment lined baking sheets spacing 3 inches apart. Bake at 350F for 15 to 17 minutes or until cookies appear set. Let cool on baking sheets for about 5 minutes, then transfer to a cooling rack to cool completely. When you're ready to make the sandwiches, throw the cookies in the freezer for about 20 minutes so they'll be firmer and colder when you squish the ice cream between them. While they're firming, you can take the ice cream out to soften. Assemble sandwiches and re-freeze.
Depending on how big you make the cookies, you should get about 10 cookies or 5 ice cream sandwiches....maybe more. I lost track while I was making these.I know you'll be able to get at least 5, though.