After baking a lot of tried and true favorites this week, I wanted to slip in something new and decided to try a recipe for Marmalade Nut Bread. This is from one of my favorite little booklets, Julia Waldbaum Has a Recipe for Holiday Cooking.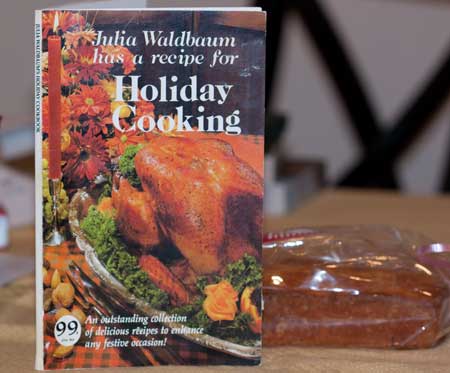 Julia Waldbaum's recipe is supposed to be divided into two 9×5 inch pans. That was fine by me, but I noticed most other marmalade bread recipes with this amount of ingredients were baked in one. I baked it in two anyway and got stubby, short, cute little loaves. I wonder if Julia really used 9×5 inch loaf pans or something more like 6×3 and someone just threw in standard loaf pan size. I'm not sure, but the small loaf was fine and fit nicely into a cellophane bag.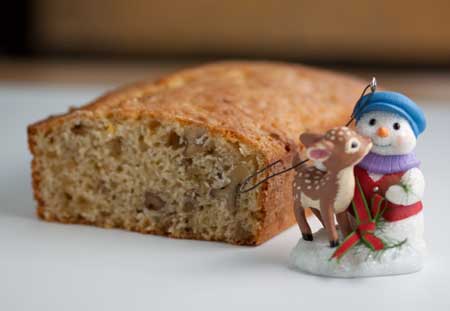 Another good thing about this bread (aside from the great orange flavor) was it used a little less sugar and far less fat than some of the other recipes I perused. The texture was perfectly moist and not at all rubbery and I think this would be very good for breakfast with or without extra butter.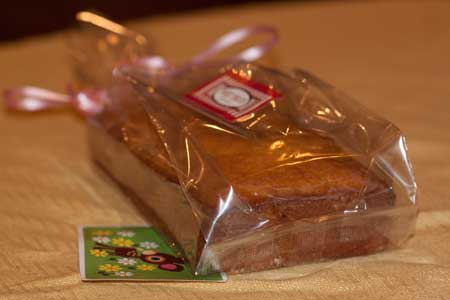 By the way, for the orange juice I used one of my new favorite products, Trop 50. It's a lower sugar orange juice made without any artificial sweeteners. I'm not much of an orange juice drinker because I like getting my calories directly from the fruit, but if you like juice or buy it for the kids, I highly recommend this one (which I bought by accident).
Okay, back to the recipe. Here it is.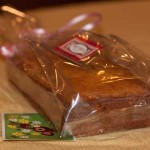 Print Recipe
Julia Waldbaum's Marmalade Nut Bread
An easy recipe for bread made with orange marmalade
Ingredients
2 1/2

cups

11.8 oz all-purpose flour

1/3

cup

granulated sugar

3 1/2

teaspoons

baking powder

1

teaspoon

salt

1

cup

walnuts

toasted and chopped

1

large egg

1

cup

orange marmalade

1

cup

orange juice

3

tablespoons

vegetable oil
Instructions
Preheat oven to 350 degrees F. Grease and flour two 8x4 or two 9x5 inch loaf pan. For a larger loaf, just use one 9x5 inch loaf pan.

In a large bowl, thoroughly mix together the flour, sugar, baking powder and salt. Add the toasted walnuts and stir well.

In a second bowl, mix together the egg, marmalade, orange juice and oil. Add the liquid ingredients to the dry ingredients and stir gently until mixed.

Pour the batter into the prepared pans and bake on center rack for 50 minutes to 1 hour. My small loaves took 50 minutes, so I imagine one large would take 1 hour.