New York Cheesecake -- This is the One!
If you haven't perfected classic New York cheesecake, here's a recipe worth trying in the new year. I've made it twice in the past two weeks and think it might be our new go-to cheesecake. Or at least I hope. I need to stop hopping from one cheesecake recipe to another.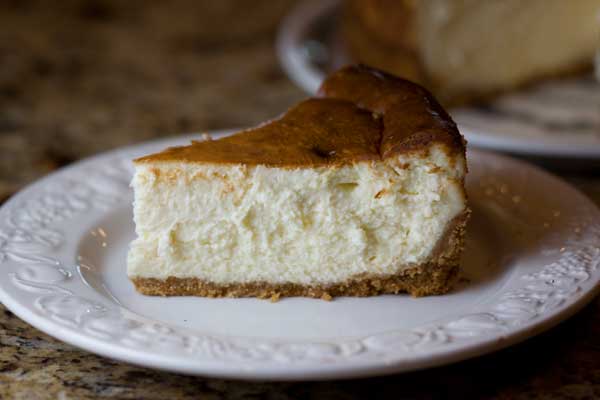 This New York cheesecake is good. The first time I made it, it was on the dense side and the top burnt. Carefully skimming off the burnt part and covering it with cherry topping was my short-term solution, but I had to bake it again to get it just right.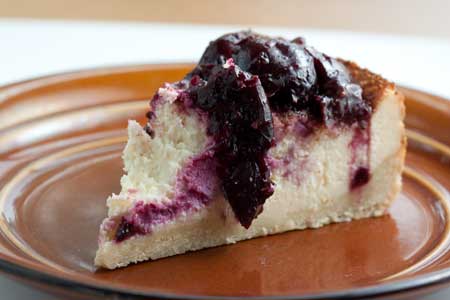 With a few adjustments and a completely new crust, the second round was great.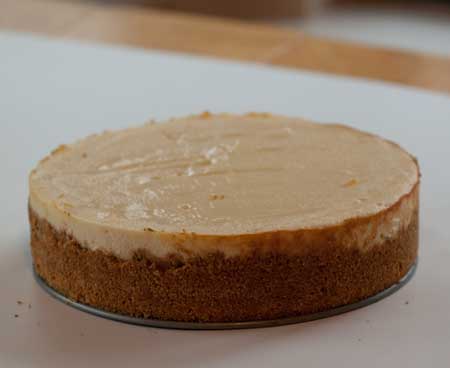 I've made this cheesecake several times since posting it and have updated the recipe yet again. I no longer use a water bath, and I've changed the baking times and temps. Some recipes call for baking this at temperatures up to 500 or even 550 F. Be careful! I've found that anything over 500 is just too much for a normal wall oven. But all ovens are different, so you never know. Also, this recipe was originally known as the Lindy's Cheesecake and one component was a shortbread crust. I prefer a graham cracker crust, and since that takes up less room in the pan, a 9 inch size cheesecake pan is big enough. Versions made with the shortcake crust are usually best made in a 10 inch cheesecake pan.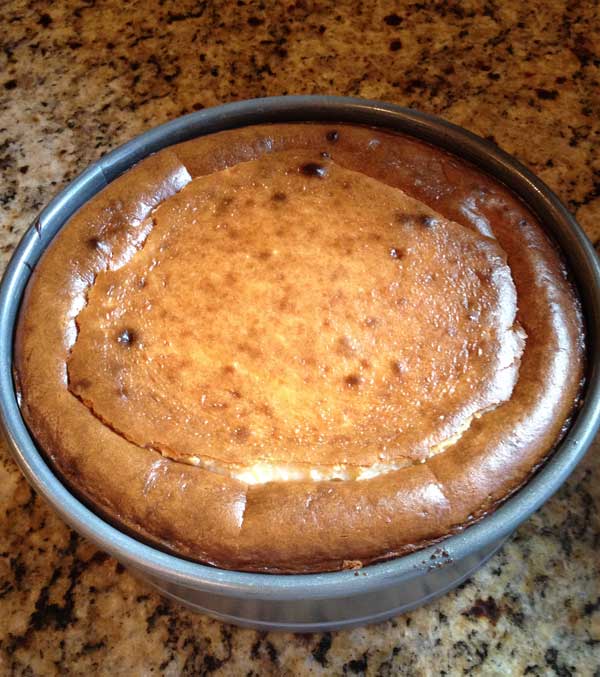 Recipe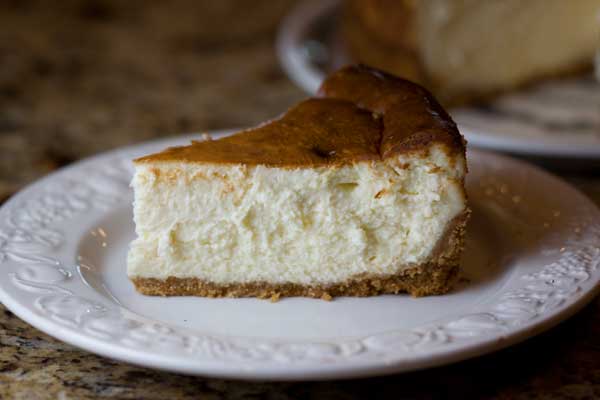 New York Cheesecake
Baking the cheesecake at 475 degrees F for 12 minutes gives you a brown top.
Ingredients 
Crust:
2

cups

graham cracker crumbs

¼

cup

granulated sugar

8

tablespoons

butter

salted or unsalted is fine
Filling:
5

packages

8 ounces each cream cheese, softened

1 ¾

cups

sugar

2

teaspoons

lemon zest

½

teaspoon

vanilla extract

5

large eggs

room temperature

2

large egg yolks

room temperature

3

tablespoons

all-purpose flour

¼

cup

heavy cream
Instructions 
Preheat the oven to 475 degrees F.

Grease a 9 inch round springform pan. Mix all the crust ingredients and press into the pan, going about ½ inch up the sides. This crust is not baked ahead of time. Keep in the refrigerator until ready to fill.

In a large mixing bowl or the bowl of stand mixer, beat the cream cheese, sugar, lemon zest and vanilla until well mixed. With mixer on low, add the eggs one at a time, beating on low and being careful not to add a lot of extra air to the batter. Add the yolks. With the mixer still on low, add the flour and cream. Pour into the prepared pan and drag a spatula through the batter to remove air bubbles. Let stand for about 10 minutes and drag the spatula again.

Put the cheesecake on a rimmed baking sheet to catch any drips.

Bake in lower third (right below center) of oven for 12 minutes. Without opening door, reduce heat to 300 F. and bake another 35 minutes. Turn off the oven and let cheesecake sit in closed oven for 30 minutes. Remove from oven and let cool for 15 minutes, then run a knife between the sides of the cheesecake and the pan without removing the sides. Let cool completely, then chill overnight.