Vegan Chocolate Chip Cookies With Kelapo Coconut Oil
Update: This Vegan Chocolate Chip Cookies post is so old that coconut oil is a new and innovative ingredient. I'm keeping it here because it's funny to compare to then and now. Also, the cookies are awesome.
Vegan Chocolate Chip Cookies
It's safe to say coconut oil is my new favorite baking product. It won't replace the flavor of butter, but I love how coconut oil makes pie crusts flaky, gives cookies crispy edges, and adds a dense, soft, moist quality to quick breads. And wouldn't it be nice if its purported health benefits were true? If you believe what you read, coconut oil alleviates Alzheimer's symptoms, helps prevent high cholesterol levels, strengthens the immune system, aids digestion, facilitates weight loss, drives the kids to school, takes out the trash, cleans the baseboards and walks the dogs. Read up on it and you'll see!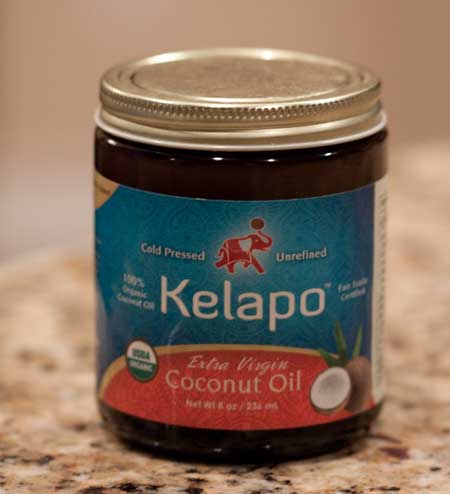 Kelapo Coconut Oil Review
This past year I tried a few different brands of coconut oil. The inexpensive type I found in the baking aisle of Wal*Mart was good for frying tortilla chips or popping popcorn, but the best coconut so far is Kelapo extra virgin. They sent me a sample last week and now I'm hooked. It's creamy white, smells like coconut and adds a faint coconut flavor to baked goods. Plus I like how it's packaged in an amber bottle designed to keep out the light and stay fresh for a full two years.
Kelapo's consistency varies with the temperature, but my sample is about the consistency of shortening. It can be spread on toast, added to smoothies, spooned over oatmeal and used as a skin moisturizer. For now, I'll stick with baking and work my way up.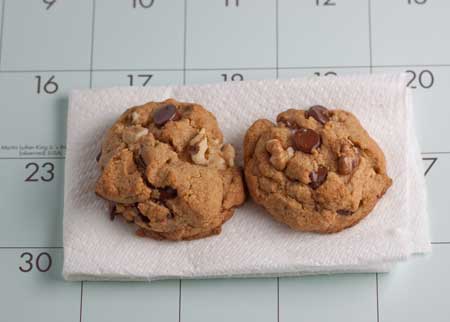 But Back to the Cookies!
This vegan chocolate chip cookie recipe is adapted from my favorite Vegan cookbook author, Dreena Burton, and a lot of people have commented or emailed saying the cookies are even better made with coconut oil. The Kelapo adds a tiny bit of flavor (though one might not recognize it as coconut oil at first), but more importantly it keeps the cookies tall and fat. I didn't press my dough down before baking so mine are a little too fat, but they taste great. I used Hodgson Mill whole wheat pastry flour, but if you like more traditional cookies, use all-purpose.
Recipe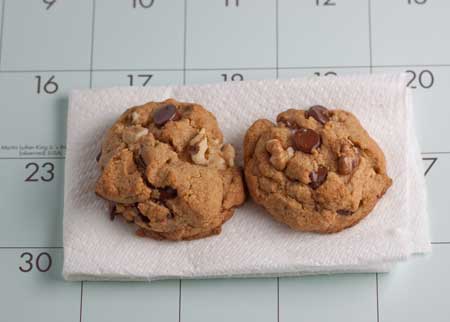 Vegan Chocolate Chip Cookies with Kelapo Coconut Oil
Vegan chocolate chip cookies made with coconut oil.
Ingredients 
1

cup

whole wheat pastry flour or all-purpose flour** -- about 130 grams

¼

teaspoon

salt

1

teaspoon

baking powder

½

teaspoon

baking soda

¼

cup

granulated sugar

48 grams

⅓

cup

maple syrup

114 grams

¼

cup

room temperature

liquid or kind of sloshy coconut oil (60 grams)

1 ½

teaspoons

vanilla extract

⅓

cup

toasted nuts

chopped

⅔

cup

vegan approved chocolate chips
Instructions 
Preheat oven to 350 degrees F.

In a medium size bowl, thoroughly stir together the flour, salt, baking powder, baking soda and sugar.

In a mixing bowl, stir together maple syrup, coconut oil and vanilla extract.

Add the flour mixture to the oil mixture and stir until combined. Stir in nuts and chocolate chips.

Drop by rounded tablespoonfuls onto ungreased cookie sheet and bake for 11 minutes.
Notes
**I've noticed pastry flour can have different weights by brand. I used Hodgson Mill brand which weighs about 4.5 ounces per cup. If you're using a different brand or bulk bin pastry flour, you might have to use a little more flour to get 4.5 ounces in a cup.
Cookies will spread less if you shape the dough into mounds, chill the mounds and bake the chilled mounds.