After making a full batch of the William Greenberg recipe aka New York Brownies and wondering what the heck I was going to do with them, I decided to mix them into cheesecake ice cream and make a copy cat of one of Fuzz's favorite Ben & Jerry's flavors.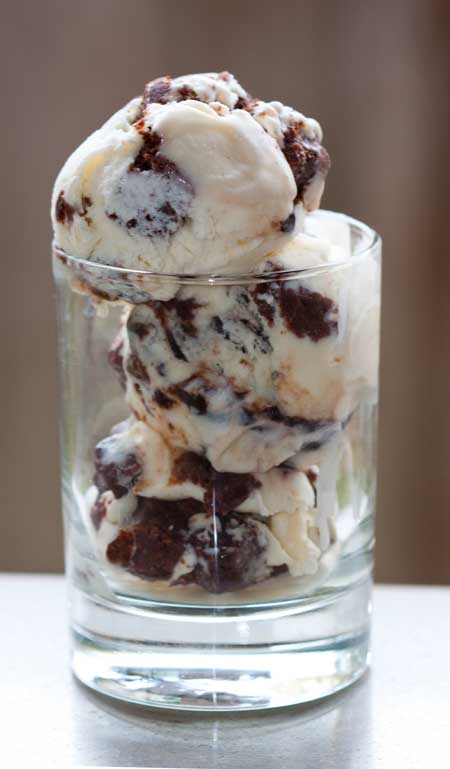 For the base, I adapted a cheesecake ice cream recipe from my favorite ice cream book, The Ultimate Ice Cream Book: Over 500 Ice Creams, Sorbets, Granitas, Drinks, And More
. And as mentioned, used the New York brownies which are very dense and sweet and hold together well in ice cream. As for the fudge sauce, I found a great fudge sauce recipe in the Gourmet cookbook. It works perfectly as an ice cream mix in because it thickens on contact with the ice cream and becomes somewhat stretchy and borderline chewy and you don't have to worry too much about it mixing with the vanilla (or cheesecake)base and turning it into chocolate. Here's the recipe with links to the other two components.
Or you could just make the brownies. The New York/Greenberg recipe is an old one, but when I cut into them I remembered why it's so timeless. I also remembered that it's best if you make it with really good or at least above average brownies.
Brownie Chunk Cheesecake Ice Cream
1 cup sugar
4 ounces softened cream cheese
1 large egg
3/4 cup whole milk
1 1/2 cups heavy cream
3/4 teaspoon vanilla bean paste or vanilla
1 cup brownie chunks, frozen (use more or less to taste)
2 tablespoons (more or less) of chocolate fudge sauce
In a mixing bowl, beat together sugar, cream cheese and egg. Meanwhile, in a 3 quart saucepan, bring the milk to a gentle boil. Immediately whisk boiling milk into the cream cheese mixture, whisking constantly, then add the mixture back to the saucepan. Adjust heat to low or medium low and stir mixture (be careful not to let it boil) until it begins to thicken – it won't be as thick as pudding at this point. Remove from the heat and strain into a clean bowl. Let cool for about 20 minutes, then stir in vanilla extract and heavy cream. Chill the mixture for four hours or until very cold.
Use your ice cream maker as per manufacturers directions. When ice cream is almost ready, add the frozen brownie chunks. Spoon big gobs of ice cream from the ice cream freezer into a storage container, and as you transfer it to the container, add swirl in spoonfuls of chocolate fudge sauce. Makes about 5 cups.