Chocolate Loaf Cake - No Mixer Required!
If you like the idea of homemade ice cream cake but don't want to deal with the issue of what to do with the leftovers, here's an easy recipe for a small chocolate loaf cake that serves about 6.  To make it, I used my family's recipe for mayonnaise cake, but adjusted the temperature and time and baked it in a loaf pan.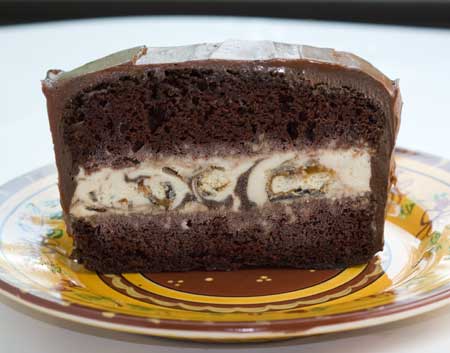 Turning it into an ice cream cake was actually an afterthought, but it worked out so well I can't wait to do it again and try it with other flavors. For this one I used I used Dreyer's Samoas flavored ice cream and an easy chocolate frosting.
Recipe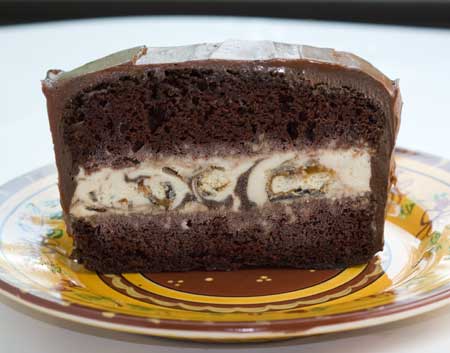 Ice Cream Filled Chocolate Loaf Cake -- No Mixer Required!
Chocolate loaf cake filled with Samoas flavor ice cream.
Ingredients 
1

cup

granulated sugar

½

cup

mayonnaise

1

large

egg

1

teaspoon

vanilla

½

cup

unsweetened natural style cocoa powder

½

teaspoon

salt

1

teaspoon

baking soda

1 ¼

cups

flour

¾

cups

brewed coffee

2-3

cups

approximately your favorite ice cream

Chocolate Icing

your favorite recipe, recipe below or canned
Instructions 
Preheat oven to 325 degrees F. Spray a 9x5 inch metal loaf pan with flour-added baking spray or line with nonstick foil.

Mix the granulated sugar, mayonnaise, egg, and vanilla together in a mixing bowl.

In a second bowl, sift together the cocoa powder, salt, baking soda and flour. Add the flour mixture to the mayonnaise mixture, and then stir in the coffee. With a wooden spoon or silicone scraper, beat for about 30 strokes or until blended (there will be a few stray lumps).

Bake on center rack for 45 minutes or until loaf springs back when touched and a toothpick inserted comes out clean. Let cool for about 15 minutes, then turn (or lift if using foil) from pan and let cool completely. Split the cake into two layers and set both layers side by side on a baking sheet lined with foil or plastic wrap. Cover with foil or plastic wrap and freeze the cake layers for about an hour or until very cold.

When ready to assemble, take the ice cream out of the freezer and let it soften for a few minutes or soften it in the microwave. How long it takes will depend on what type of ice cream you're using and how cold it was to begin with.

Line the original loaf pan with plastic wrap and set the bottom layer of frozen cake cut side up in the pan. Put the softened ice cream on the cake layer and press the ice cream down flat. Note: If you have time, you can mold the ice cream into a rectangle beforehand by putting it in a lined loaf pan on its own, unwrapping it, and just popping it on top of the layer. Put the top layer of cake over the ice cream, then wrap it up in plastic and freeze for a couple of hours or until the cake is very solid. Remove from the pan and frost with most of the frosting. Set aside about a cup so that you can spread on a final coat. Return to the freeze for another two hours or overnight.

Before serving, remove the cake frozen solid cake from the freezer and frost with reserved frosting. You can cut the frozen pieces and let them sit a few minutes at room temperature before serving, or you can put the cake in the refrigerator for about 10 minutes and then cut. For a very clean cut, I cut the cake while frozen and let the individual slices come to room temperature.
Notes
Sour Cream Chocolate Icing 
4 tablespoons butter, softened
⅓ cup unsweetened natural cocoa powder
1 ½ cups sifted confectioners' sugar
⅓ cup sour cream
1 teaspoon vanilla
Mix all the ingredients together, then beat until smooth.