We had a surplus of granola, so I decided to see what would happen if I ground it in the food processor and put the ground granola in chocolate chip cookies.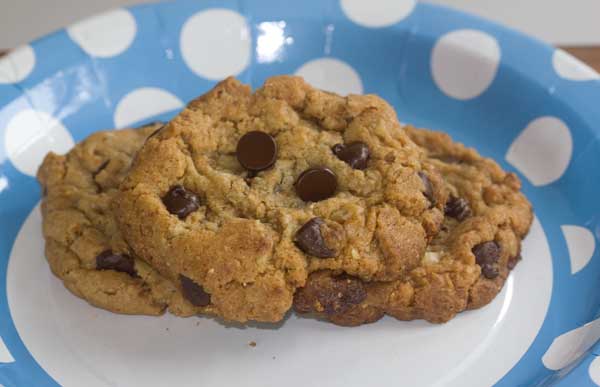 Using the old urban legend cookie where ground oats stand in for some of the flour, I swapped the oats for granola. The result was a thicker, chewier and very tasty cookie. There was a pretty significant texture difference in the cookies baked with dough that had been chilled for 24 hours and the cookies I baked right away, so if you have the time, chill the dough.   The way I did it was to shape the giant cookie dough balls, lay them on a plate, chill, then bake.
I can't wait to make more of these, and it will be interesting to see just how using different flavors of granola affect the flavor of the cookie. For this recipe, I used 1 ¼ cups with a total weight of 5 ounces.  I also picked out any fruit before grinding, but I'm not sure that was totally necessary, as the ground fruit might have made the texture even more interesting.
Recipe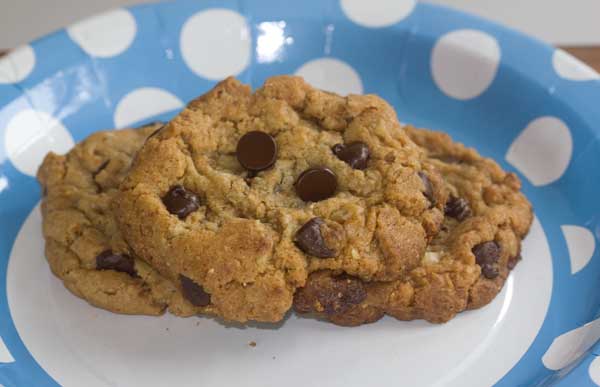 Chocolate Chip Cookie with Ground Granola
A chocolate chip cookie made with ground granola
Ingredients 
1 ¼

cups

5 ounces loose homemade granola

1

stick

4 ounces unsalted butter, room temperature

½

cup

light brown sugar

½

cup

granulated sugar

1

large egg

¾

teaspoon

vanilla extract

1

cup

4.5 ounces all-purpose flour

½

teaspoon

salt

½

teaspoon

baking powder

½

teaspoon

baking soda

½

cup

chocolate chips

½

cup

toasted and chopped walnuts

optional
Instructions 
Don't preheat the oven because the dough needs to chill.

In a food processor, grind the granola into a fine meal. Set aside.

In a mixing bowl, beat the butter and both sugars until light and creamy, scraping the side of the bowl often. Add the egg and vanilla and beat jut until mixed.

In a separate bowl, mix together the flour, salt, baking powder and baking soda. Add the flour mixture to the butter mixture until blended, then stir in the ground granola, chips and nuts.

With a generously heaping tablespoon, scoop up balls of dough and arrange on a plate. Cover and chill for a few hours or overnight.

Arrange on on ungreased baking sheet spacing about 2 ½ to 3 inches apart. Press tops down slightly.

Bake in a preheated oven at 375 degrees F for about 12 minutes or until cookies appear brown around the edges and the centers look set. Let cool on baking sheet for about 5 minutes, then transfer to a rack to cool completely.
Notes
If you don't have granola, just grind up some oats.