This week Fuzz and I gathered up all our spare change and took it to the coin counting machine at the H-E-B.   We thought we had about $30, but ended up with more than $100!  As a reward for saving all that change, we bought a Wilton Chocolate Melting Pot
(our grocery store had them as a promotional item), several boxes of chocolate coating, and some tubes of icing for decorating.  We then spent the next few hours making cake balls with our broken flag cake.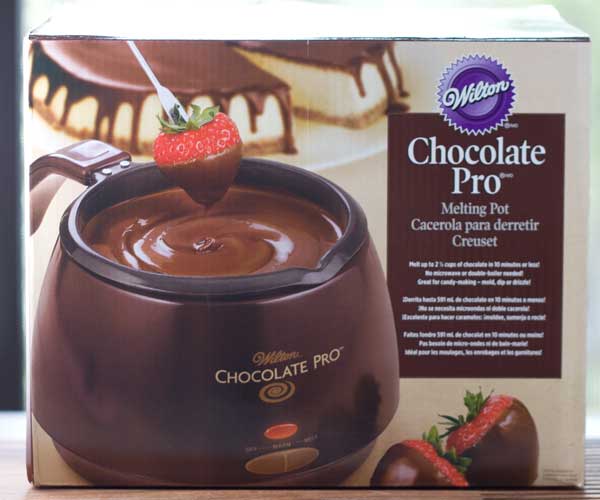 But back to the melting pot.  I'd had my eye on it for a while, but at $30 I considered it too pricey when the job could be done with a microwave or double-boiler. The "found money" was our excuse for purchasing this apparatus, but in the end I'd say it was well worth it and am considering buying a second.
First, it was easy to use. We just dropped the melting chocolate right in the pot, set the switch to melt, and let it go. When the chocolate reached a liquid consistency, we put the switch to warm, and the chocolate held the perfect temperature as we dipped frozen cake balls in it. Another thing I liked was the small capacity. It holds about 2 ½ cups of chocolate, which gives you a fairly deep dipping pool without forcing you to use too much chocolate all at once. And finally, clean up was very easy. Since the chocolate stays warm, you just use as much as you can and then wash the warm chocolate away with hot water.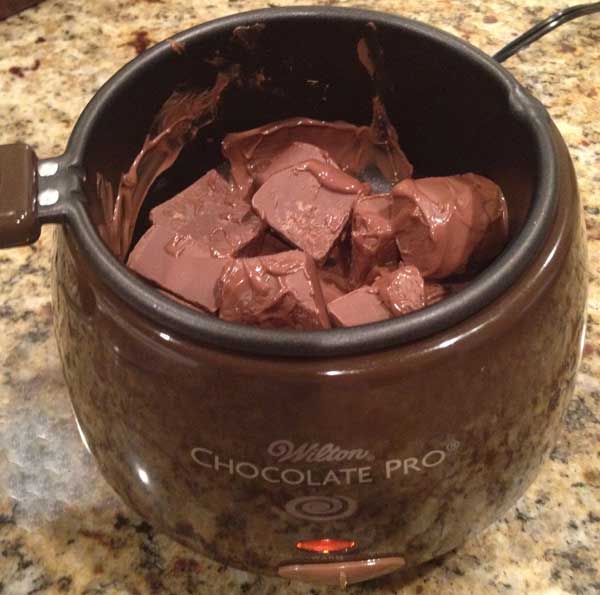 If you're already an expert at dipping and love using the double boiler or the microwave (and don't have $100 of pennies lying around), then this might not be for you. But if you only dip chocolate on occasion, have kids that like to help, and are looking for the easiest and most relaxing chocolate melting method possible, the Chocolate Pro good choice. I just hope it holds up for a while, because it's pretty lightweight and feels almost like a toy.  And in a way, I guess it is.  Fuzz and her friends had so much fun making cake balls for the neighbors, that they asked to make a second round this afternoon.
Apparently, there's debate in the cake ball world as to what ratio of frosting to use with the mashed cake. The old standby is one baked box cake to 1 can (16 ounces) of frosting, but what I've found is if you use scratch cake, be it broken flag cake or a moist chocolate cake like the one below, you may not need any frosting. We made ours without frosting. The balls were a little clumpier and harder to shape, but once we did get them shaped and dipped, they tasted great and were definitely moist enough.  The moisture from the melted chocolate seems into the balls, so they get even softer as they sit.
Here's the recipe we used. To be safe, I'm including a small batch frosting recipe which you may or may not want to use. As mentioned, we did not. For the coating, we used chocolate specially designed for melting and coating.  There are lots of melting chocolates out there and you may have to shop around until you find a flavor you like, but if you're going to buy the melting pot it's worth getting some special chocolate. Now that I know the Chocolate Pro works, I might splurge and buy some couverture.  After all, we do have more money leftover from our trip to the Coinstar machine!
Chocolate Cake Balls
1 cup (4.5 ounces) all-purpose flour
½ cup unsweetened cocoa powder, Dutch
1 cup granulated sugar
½ teaspoon baking soda
½ teaspoon baking powder
½ teaspoon salt
1 large egg
¾ teaspoons vanilla extract
½ cup sour cream
¼ cup vegetable oil
½ teaspoon vinegar
½ cup hot water of coffee
Optional Frosting (makes about ½ cup)
2 tablespoons butter, softened
3 tablespoons cocoa powder
¾ cups confectioners' sugar
1 ½ tablespoons whole milk
¼ teaspoon vanilla extract
24 ounces coating chocolate (we used Ambrosia brand)
Preheat oven to 350 degrees F. Grease and flour an 8-inch-round metal cake pan.
In a large mixing bowl, thoroughly stir together the flour, cocoa, granulated sugar, baking soda, baking powder, and salt. Add egg, vanilla, sour cream, oil, vinegar and water (or coffee) and mix with a spoon until batter is smooth.
Pour batter into prepared pan and bake on center rack for about 32 minutes or until a toothpick inserted comes out with moist crumbs. Cool cake in pans 20 minutes, then empty cake into a large mixing bowl and let it cool to lukewarm.
Prepare Frosting. Mix the softened butter, cocoa powder and about ½ cup of the sugar together in a mixing bowl. With an electric mixer, beat until well mixed, adding a little of the milk as you do so. Add the vanilla. Continue adding the remaining milk and sugar, mixing well and scraping sides of the bowl, until you get a smooth and creamy consistency.
To make the cake balls, mash cake in a large mixing bowl. Scoop up about a tablespoon of cake and shape into a ball. At this point, you can decide if you want the icing. We made ours without any because the cake was moist enough to be shaped into balls, but adding frosting will make the cake balls even easier to shape and definitely softer. It's up to you. Continue shaping into balls and arranging balls on a foil pan. When you've used all the cake mixture, cover with plastic wrap and put the balls in the freezer for about 2 hours to firm and set.
Melt chocolate in a chocolate warmer. Using toothpicks, stab the chocolate balls and dip them in the chocolate. Set on a foil or parchment lined cookie sheet. Makes about 28