Breakfasts have been a little boring around here, so this week I tried to spice things up with some some mini ginger muffins.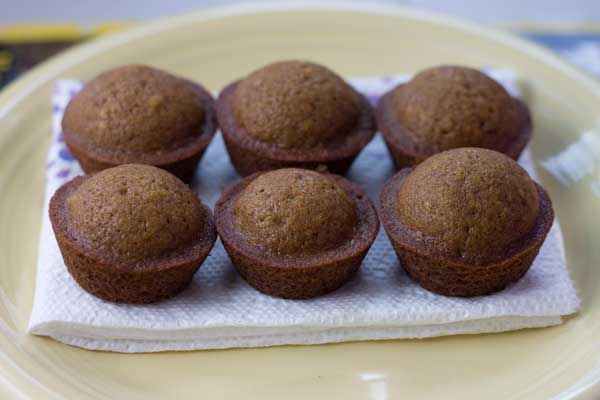 Using a recipe I typically use for regular gingerbread, I baked it my Baker's Secret Nonstick 24-Cup Mini Muffin Pan
. The results were moist mini ginger muffins with beautifully rounded tops. As for flavor, to get the most of it I recommend using full flavored molasses over mild. I tested with both mild and full, and while I usually find full flavored molasses a little strong, it added more flavor to the muffins, which my daughter really liked since she's a muffin purist who prefers muffins without chunks or nuts.
Anyhow, we thought these were very good for basic muffins. I might add a cinnamon sugar topping next time, but that's about it. They're not too sweet, look cute, and easy to carry along for breakfast on the go.
Recipe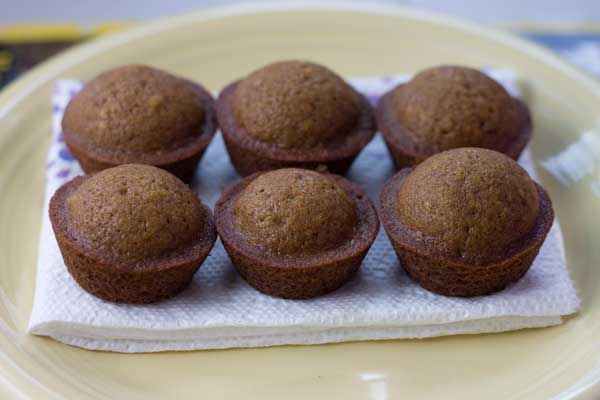 Mini Ginger Muffins
Mini ginger muffins
Ingredients 
1 ¾

cups

8 ounces all-purpose flour

1

teaspoon

ginger

½

teaspoon

freshly ground nutmeg

1

stick

4 ounces unsalted butter, softened

½

cup

granulated sugar

¼

teaspoon

salt plus a pinch

omit if using salted butter

½

teaspoon

vanilla extract

2

large eggs

½

cup

full flavored molasses

½

tablespoon

hot water

½

cup

buttermilk or milk mixed with lemon juice

1

teaspoon

baking soda
Instructions 
Preheat the oven to 375 degrees F. Spray a 36 hole mini muffin pan with cooking spray. Most pans have 24 holes, so you can bake 24 first and then bake 12 later or spray two pans.

Mix the flour, ginger and nutmeg together and set aside.

In a mixing bowl, beat the butter, salt and sugar until creamy. Beat in the vanilla, then beat in the eggs.

In a liquid measuring cup, mix the molasses, water and buttermilk. Now add the baking soda and stir well – the liquid mixture should foam a little bit and lighten as the baking soda reacts. It might take a minute or two.

With a heavy duty spatula or mixing spoon, add the flour mixture and milk mixture to the batter alternately, stirring until blended. Pour or spoon batter into muffin cups (it should come a little over halfway full) and bake at 375 F for 8 to 10 minute or until muffins are set and a toothpick inserted comes out clean.
Notes
The yield may vary depending on the size of your mini muffin pan. If you make as regular size muffins, you'll need to increase the baking time to about 18 minutes.