I've been trying to perfect these whole wheat chocolate chunk cookies for the past week and finally got it right. At the end of the day, they are just chocolate chip or chocolate chunk cookies, but I think they are really good chocolate chunk cookies.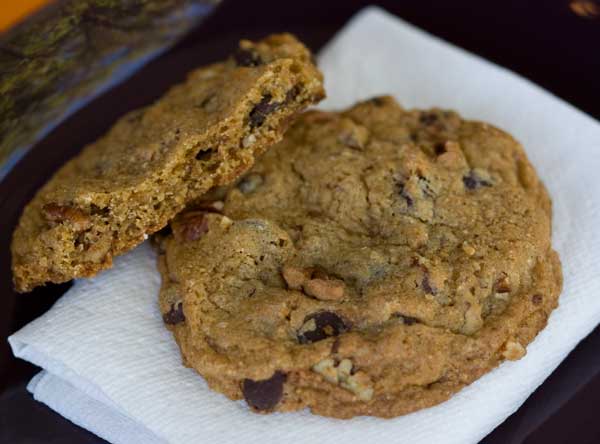 The recipe that inspired this one was from Kim Boyce's book, Good to the Grain.  Her cookies are  made with 100% whole wheat flour and delicious if you really like the flavor of wheat.  I do like whole wheat, but I wanted to try a more subtle wheat flavor and mixed things up a bit.  As for the toffee, it was a last minute attempt to use some post-Halloween Heath Bars.  If you leave it out you'll still get a great cookie.  What I wouldn't leave out are the nuts, because they offset the sweetness of the cookie and add more flavor.  For the chocolate, I made whole wheat chocolate chip cookies with extra dark chocolate chips and whole wheat chocolate chunk cookies with chopped Callebaut (a splurge!).   The cookies made with chocolate chips spread less, which is usually the case.  Plus, I think I was able to pack more chocolate into the cookie by using chips.
Recipe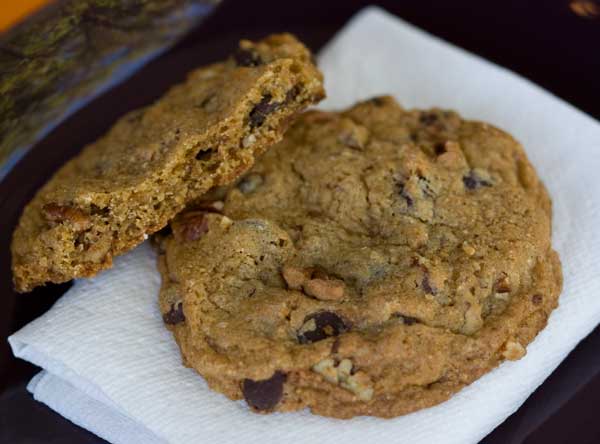 Jumbo Whole Wheat Toffee Cookies
A chocolate and nut packed cookie with a wheat flavored base. These are made with Hodgson Mill brand graham flour.
Ingredients 
8

tablespoons

unsalted butter

cool room temperature

⅓

cup

tightly packed dark brown sugar

½

cup

granulated sugar

1

large egg

cold

1

teaspoon

vanilla bean paste or vanilla extract

¾

teaspoon

baking powder

½

teaspoon

baking soda

¾

teaspoon

salt

e.g. Morton Kosher, measures like table

¾

cup

3.4 ounces all-purpose flour

⅔

cup

3.1 ounces Hodgson Mill Whole Wheat Flour or "Graham Flour"

1 ⅓

cup

extra dark chocolate chips or chunks

6

miniature Heath Bars

chopped, optional

⅔

cup

toasted and chopped pecans or walnuts
Instructions 
Don't preheat the oven quite yet because this dough is better after it's been chilled. You can bake it right away, but the cookies spread a bit more.

In a large mixing bowl, beat the butter with an electric mixer on medium speed. Beat in both sugars until well mixed. Scrape sides of bowl and beat in the egg and vanilla. When egg is blended, beat in the baking powder, baking soda, and salt.

By hand, stir in the flour. When flour is incorporated, stir in the chocolate chips, Heath Bars (if using) and toasted nuts.

Using a generously heaping tablespoon, scoop up large mounds and arrange them on a foil lined plate. Cover with plastic wrap and chill for 8 hours or overnight.

Preheat oven to 350 degrees F. Line two baking sheets with regular (as opposed to nonstick or parchment) foil.

Arrange mounds of dough about 3 inches apart on baking sheets. Press tops down slightly to level with the edges.

Bake on center rack for about 15 minute or until cookies appear set and edges have browned somewhat

Let cookies cool on baking sheet for about 4 minutes, then transfer to a wire rack to cool completely.
Notes
For smaller cookies, make 18 to 24, press down slightly, and bake for about 12 minutes. I made mine rather large and was getting from 12 to 16 cookies in each batch. It was precise because I kept playing with the amount of chocolate and nuts.
Also, this dough does not have to be chilled, but you might notice a better flavor if you let the dough sit overnight. It definitely helps them spread less.
To toast the pecans or walnuts, lay them on a baking sheet and bake at 350 for about 6 to 8 minutes or until they start to release their oil.
Also, I've mentioned brand names because Hodgson Mill sometimes seems a little more wheat-y tasting. As for the salt, different brands have different size crystals even when they all say "coarse". Morton Kosher salt says it measures like table salt, while some other brands of salt have much larger crystals which means you'll need to use more to get the same flavor. I stick with Morton because it can be used interchangeably with recipes that call for table salt.