This cake is a follow-up to the Folgers Gourmet Selections giveaway where I nosily inquired how old you were when you started drinking coffee. So far the youngest age was around two, and that was with a lot of milk.  Most of you were a little older when you started drinking it black, and I've enjoyed reading the reasons why -- boredom at work, needed fast energy to chase toddlers, middle age, or just a sudden realization that coffee is awesome.  Thanks for the comments, and if you haven't entered the giveaway yet, be sure to leave a comment on the previous post.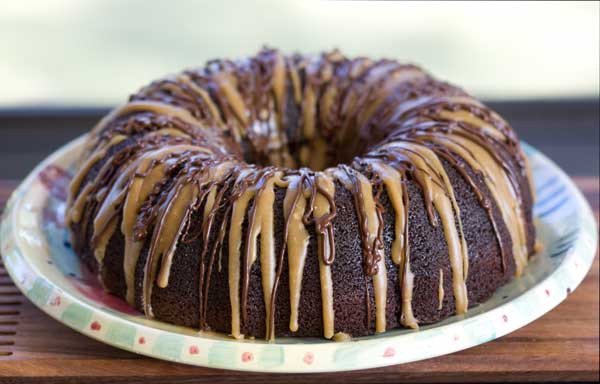 Now back to Praline Drizzle Cake! Part of my mission was to sample a few of the flavored coffees, so I brewed up some caramel flavored Folgers,  baked some into a cake, and drank a cup by itself.
For a flavored coffee, it was very pleasant. I'm partial to the usual "coffee bean" flavored coffee, but in this case the caramel flavoring was fairly subtle and melded nicely with the flavor of the beans.
If you really try (and your sinuses are clear) you might detect the caramel flavor in the cake itself, but the icing is really what gives this cake its name.  To keep with the caramel theme, I drizzled it with a quick caramel icing and melted chocolate chips.
Praline Drizzle Update
Praline Drizzle Chocolate Bundt Cake is the new name for Caramel Drizzle Chocolate Bundt Cake. The cake originally used caramel flavored coffee and had a caramel theme, but the drizzle is actually more like praline than caramel and since I now use regular (not caramel flavored) brewed coffee, a name changed seemed apropos.
Recipe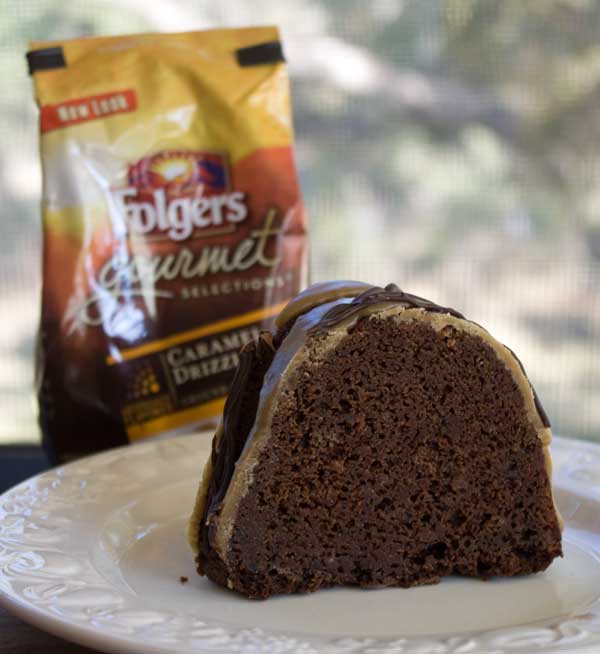 Praline Drizzle Chocolate Bundt Cake
Chocolate Bundt cake made with caramel flavored coffee and topped with caramel icing and melted chocolate.
Ingredients 
Cake
1 ¾

cups

all-purpose flour

(220 grams)

1 ½

cup

granulated sugar

(300 grams)

½

cup

brown sugar

(100 grams)

¾

cup

unsweetened cocoa powder, Dutch process

1

teaspoon

salt

2

teaspoons

baking soda

1

teaspoon

baking powder

2

large

eggs

1

cup

buttermilk or plain yogurt

½

cup

canola oil

1

teaspoon

vanilla extract

1

cup

brewed coffee
Caramel Drizzle and Garnish
3

tablespoons

butter

⅓

cup

dark brown sugar

2

tablespoons

heavy cream

⅔

cup

sifted confectioners sugar

plus a little extra if needed

½

teaspoon

vanilla extract

Pinch

of salt

⅓

cup

dark chocolate chips
Instructions 
Preheat oven to 350 degrees F. Spray a 12 cup Bundt pan with flour-added cooking spray.

In a mixing bowl, combine the flour, sugar, brown sugar, cocoa powder, salt, baking soda and baking powder and stir well with a spoon, mashing up any lumps of brown sugar.

Make a well in the center and add the eggs, buttermilk, oil and vanilla. Stir well, then stir everything together with a spoon or silicone scraper.

Pour the hot coffee in and stir until mixed, then with a handheld mixer set on medium speed for about 1 ½ minutes or until well blended.

Pour into pan and bake for 35 to 40 minutes.

Let cool in the pan for about 15 minutes, then carefully turn onto a wire rack set over paper towels.

Prepare Caramel Drizzle. In a small nonstick saucepan, heat butter over medium until slightly melted. Stir in brown sugar and bring mixture to a boil, stirring constantly. Boil, stirring once or twice, for 30 seconds. Turn off heat. Stir in cream, confectioners' sugar, vanilla and salt and stir until smooth. Drizzle a little over the cake. If it sinks in or seems to thin, add another tablespoon of confectioners sugar and stir a little more. Quickly drizzle over the cake while the icing is still soft -- you have to work quickly or it will start to set in the pan.

Put the chocolate chips in a large heavy duty freezer bag (must be freezer -- not regular type) and microwave bag of chips for 30 seconds. Massage the bag a little and push partially melted chips down toward the bottom corner. Microwave for another 10 seconds and repeat until chips are fully melted. Snip a tiny corner off the bottom of the bag and pipe melted chocolate decoratively over caramel-drizzled cake.