Self Rising Flour Double Chocolate Cookies were the result of an experiment I did to see how White Lily self-rising  flour would work in double chocolate cookies.  Regular all-purpose flour mixed with baking powder and salt would have been just fine, but I wanted to see if the soft winter wheat used to make White Lily would have any impact on the overall result.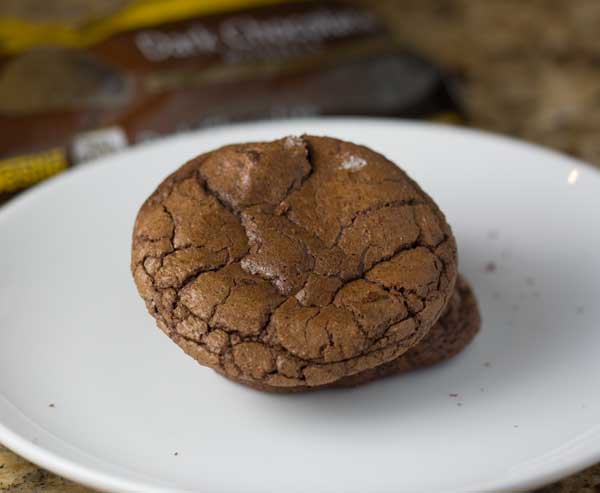 The cookies were very nice looking and they did seem to have a better texture than chocolate cookies made with regular all-purpose. They had a thin shell with a fudge-like center and were fairly thick. The one in the photo was made with unchilled dough, but I made a second batch with dough that had been thoroughly chilled, and those were slightly thicker.  Either way, both versions were excellent and this cookie will probably end up in my all-time favorites file.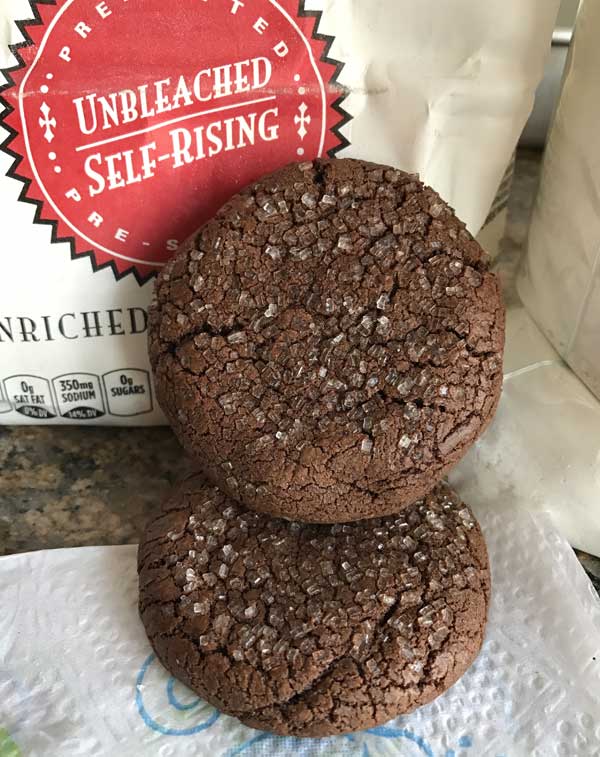 Update: Self-Rising Flour Double Chocolate Cookies can be made with any brand of self-rising flour, not just White Lily.  You can also make them without an electric mixer, and you can do this all in one saucepan.  Here's the alternate method, which I did as a small batch.
No Mixer Small Batch Self Rising Flour Double Chocolate Cookies
⅔ cup (4 oz) plus ⅓ cup (2 oz) bittersweet chocolate chips (114 grams) plus (56 grams)
2 tablespoons unsalted butter (28 grams)
2 tablespoons unsweetened cocoa powder (tested with Dutch processed cocoa)
¼ cup plus 2 tablespoons light brown sugar (75 grams)
2 tablespoons granulated sugar (25 grams)
1 pinch of salt
1 large cold egg
½ cup self-rising flour (70 grams)
Directions
Melt the butter in a 3 quart metal saucepan. Remove from heat and add 4 oz (⅔ cup) chocolate chips. Stir so that the chips melt with the residual heat. If your saucepan is insulated, you might need to set it back over low heat.
Add the cocoa powder and stir until smooth, then add both sugars and stir until smooth. Mixture should still be pretty hot. Stir well and let rest for 3 minutes. Stir again. Do all of this off heat until the mixture cools down to lukewarm.
Stir in the pinch of salt, then stir or whisk in the egg. Add the flour. Make sure the mixture has cooled down to the point where it won't melt the chips, then add the next 2 oz of chocolate chips. Scrape dough onto a dinner plate, cover with some plastic wrap and chill until it holds its shape. Preheat oven to 350 degrees F. Shape dough into 10 or 11 balls (blobs) and set on parchment lined baking sheet (or sheets, depending on how large your sheets are). Bake dough for about 10 minutes or just until set. Do not overbake. These are better under-baked than over-baked, so you may want to check at 8 minutes.
Recipe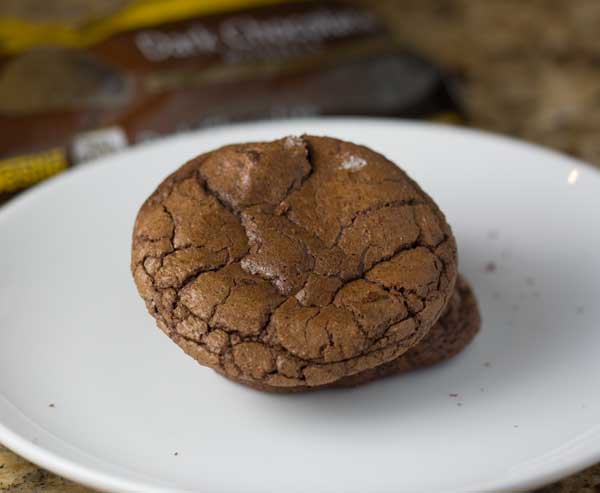 Self-Rising Flour Double Chocolate Chip Cookies
Self-Rising Flour Double Chocolate Chip Cookies
Ingredients 
1 ⅓

cups

dark chocolate chips plus ⅔ cup for adding later

224 grams

¼

cup

unsweetened natural or Dutch cocoa powder

20 grams

½

teaspoon

espresso powder

optional

4

tablespoons

unsalted or salted butter, softened

60 grams

Tiny pinch of salt

omit if using salted butter

¾

cup

packed light brown sugar

150 grams

¼

cup

granulated sugar

50 grams

2

large eggs

lightly beaten with a fork in a separate bowl

1 ½

teaspoon

vanilla extract

1

cup

self-rising flour

140 grams
Instructions 
Melt 1 ⅓ cups of the dark chocolate chips (8 oz) in a microwave-safe bowl at 50% power, stirring every 30 seconds until fully melted. Stir the cocoa powder and espresso powder into the melted chocolate and let cool slightly. Alternatively, you may do this step in a saucepan.

In a mixing bowl using an electric mixer, beat the butter, salt (if using) and both sugars until creamy. With mixer on medium, add eggs 1 tablespoon at a time until incorporated, then beat for 1 minute. Beat in vanilla and melted chocolate mixture, scraping sides of bowl often. When chocolate is incorporated, stir in the flour. Make sure the dough is completely cool, then stir in the remaining ⅔ cup chocolate chips. Cover mixture and let sit until thickened.

Preheat oven to 350 degrees F. Line 2 baking sheets with parchment paper or Silpats. Using a tablespoon measure, scoop up heaping tablespoons of dough and shape into balls. Arrange about 2 inches apart (6 to a sheet) on baking sheets. Press tops down slightly.

Bake one sheet at a time on center rack for 8 to 10 minutes or just until cookies appear set. Let the cookies cool on baking sheets about 5 minutes or until set.
Notes
For this batch I used Nestle brand Dark Chocolate Chips, which are a little larger than regular chocolate chips. I think Guittard Extra Dark or Ghirardelli Bittersweet chips would also work well. You could also combine the chips with some chopped dark or bittersweet chocolate, but the cookies *may* lose a little of their thickness.
MORE NOTES
I've also made these with Ghirardelli Bittersweet chips. The dough is very thick and solid, but you should still be able to break it into chunks and shape it into balls. The bittersweet chips (which are 63%) will give you a less sweet cookie. For a sweeter cookie, stick with dark chocolate or semisweet chips.