Chocolate Chunk Macadamia Kiss Cookies were baked in honor of our friend Stephanie, who went to Hawaii and brought us back a giant bag of Macadamia Nut Hershey's Kisses.  Did you even know that such a Kiss existed?  I had no idea, but from what I've read you can purchase them in Hawaii and in a few select grocery stores in other parts of the United States.  Let me know if you spot them,  but rest assured you can still makes these cookies with Hershey's Almond Kisses or a combination of regular Kisses and macadamia nuts.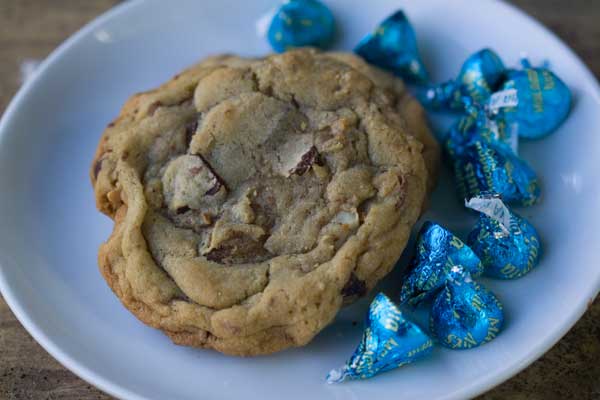 Soft and Chewy Texture
What I like about this recipe other than the fact it makes a dense, chewy, cookie, is that the dough can be stirred together all in one bowl and there's no need to bother with a mixer. The downside of the recipe is that the dough needs to be chilled for the best results. You *can* bake it right away, but the texture really improves after a full night in the refrigerator and the cookies will be slightly thicker.
Which Hershey's Kisses
Since the Macadamia Hershey's Kisses are now impossible to find, you'll have to choose a different flavor of Kisses and combine with a handful of macadamia nuts. I've lost track of how many different flavors of Kisses Hershey's has now, but there are a lot to choose from and I hope that choosing a flavor is your biggest dilemma today.
Half Batch Version
If you only have enough Kisses for a half batch or just don't need quite so many ingredients, the recipe halves easily. To halve an egg and a yolk, use one egg with some of the white discarded. Just crack and egg into a bowl and discard about 15 to 17 grams of the white. This gives you the higher proportion of yolk which contains the lecithin that keeps the cookies soft.
Recipe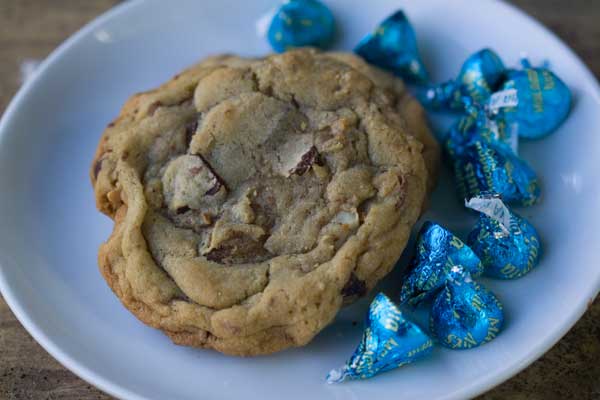 Stephanie's Chocolate Chunk Macadamia Kiss Cookies
Chocolate Chunk Kiss Cookies
Ingredients 
1 ½

sticks

unsalted butter

(168 grams)

2 ⅓

cup

10.5 ounces all-purpose unbleached flour

(295 grams)

1 ½

teaspoons

baking soda

¾

teaspoon

salt

plus a pinch

½

cup

granulated sugar

(100 grams)

½

cup

packed light brown sugar

(100 grams)

½

cup

packed dark brown sugar

(100 grams)

1

large egg

1

large egg yolk

1 ½

teaspoons

vanilla extract

3

ounces

semi-sweet chocolate

cut into chunks

20

candies

Milk Chocolate Kisses with Nuts

coarsely chopped
Instructions 
In a small saucepan, melt the butter. Set aside to cool.

While the butter is cooling, mix together the flour, baking soda and salt.

In a large mixing bowl, mix together cooled butter and both sugars. Stir in the egg and egg yolk until blended. Stir in the vanilla, then add the flour mixture and stir until blended. Stir in the chocolate.

Divide batter into 14 to 16 (depending on how big you want the cookies) equal sections and shape into balls. Chill balls overnight or for several hours.

When ready to bake, arrange balls of dough 3 inches apart on a foil lined baking sheets. Bake in a preheated 325 degree oven for 13 to 15 minutes or until cookies appear set. As soon as you pull them out of the oven, tap the edges inward with a spatula so make the cookies round (they do spread a bit).