Whole Grain Vegan Cookies (also known as "Whole and Oat Cookies") is a recipe from a book I reviewed years ago called Whole Grain Vegan Baking. I love the book, though some of the ingredients are more difficult to find these days. One example is Sucanat, so I've updated the cookies with an alternative.
Old Review and Recipe with Updates
I've eaten my share of delicious vegan cookies, but last week's batch just might have been the best ever! The cookies, which are dramatically large and perfect for bake sales, are from a book called Whole Grain Vegan Baking by Celine Steen and Tamasin Noyes.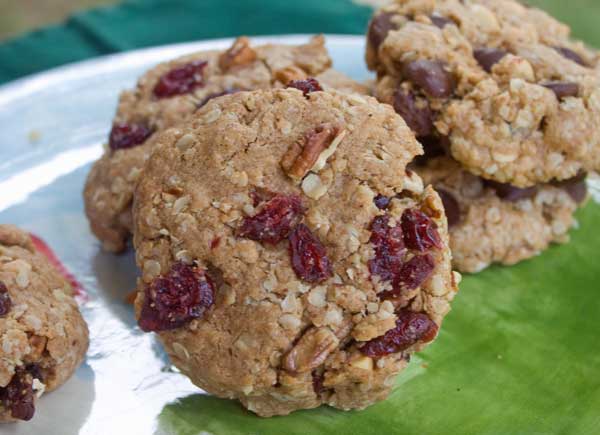 Whole Grain Vegan Baking is perfect for anyone interested in a plant based diet. And because of the sheer variety of grains and flours, you'll never get bored with the recipes. For instance, you're probably used to using ground flax and oat flour, but this book also includes recipes which call for amaranth, spelt flakes, buckwheat and barley flour. As for sweeteners, you won't find white sugar, but rather evaporated cane juice crystals, dates, maple syrup, honey, coconut sugar and Sucanat, which is the primary sweetener in these cookies.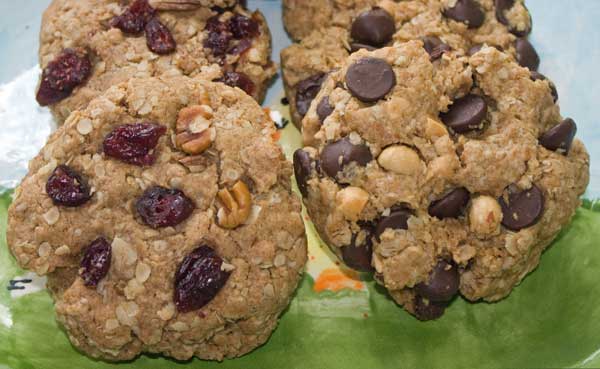 Almond Butter or Peanut Butter
The main component of the Whole Grain Vegan Cookies is nut butter, so I made one batch with peanut butter and chocolate chips, and a second batch with almond butter, cinnamon and dried cherries. Both versions were excellent, with a thick shell and moist, crumbly center. They are definitely high energy treats and will fill you up for hours, so keep that in mind.  If you're active or need something on-the-go, the cookies are for you. They'd also make good teacher gifts because you can wrap them individually or by the half dozen and make cute labels.  The fact that they are completely vegan will make them even more interesting.
Recipe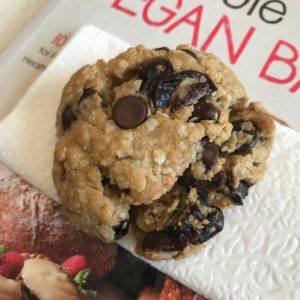 Whole Grain Vegan Cookies
Large vegan cookies that are perfect for bake sales.
Ingredients 
1

cup

natural nut butter or seed butter, such as smooth or crunchy natural peanut butter (I used Jif Natural)

(256 grams)

1/4

cup

neutral oil (canola, grapeseed, etc.)

(60 ml)

10

tablespoons

organic turbinado sugar or organic evaporated cane juice crystals OR regular sugar

(120 grams)

10

tablespoons

Sucanat OR light brown sugar

(120 grams)

6

tablespoons

vegan milk, more if needed (almond milk, soy)

You almost certainly will need more

2

teaspoons

pure vanilla extract

2

cups

whole wheat pastry flour

(240 grams)

2

cups

old-fashioned oats or quick cooking oats

(160 grams)

1

teaspoon

baking powder

1/2

teaspoon

fine sea salt

1/2

cup

1⁄2 cup chopped pecans (I used salted peanuts)

50 grams

1/2

cup

raisins or dried cherries (I used large dark chocolate chips)
Instructions 
Preheat the oven to 375°F (190°C, or gas mark 5).

Line 2 baking sheets with parchment paper or silicone baking mats.

In the bowl of a stand mixer fitted with a paddle attachment, combine the nut butter, oil, sugars, milk, and vanilla.

In a large bowl, combine the flour, oats, baking powder, salt,pecans, and cherries.

Add the dry ingredients to the wet and mix to combine. Add extra milk, 1 tablespoon (15 ml) at a time, if the cookie dough is too dry and crumbly. It needs to be moist enough to hold together easily when pinched, without being too wet. Pack a 1⁄4-cup measure with dough (approximately 90 g per cookie, weight will vary with add-ins), place the dough on the sheet, and flatten slightly, because the cookies won't spread much while baking. Repeat with the remaining dough, placing 7 cookies on each sheet.

Bake for 14 minutes, or until the cookies are golden brown around the edges. Leave the cookies on the baking sheet for minutes before transferring to a wire rack to cool. Let cool completely before storing in an airtight container, at room temperature or in the refrigerator.
Terrific Bake Sale Cookies from Whole Grain Vegan Baking!