We like our bran muffins dense and grainy, so these days I almost always use recipes that call for wheat bran rather than bran cereal. Oven Ready Bran Muffins, originally from the back of the Hodgson Mill unprocessed wheat bran box, is one of those recipes.
I originally made these with Hodgson Mill brand wheat bran, but unfortunately I can no longer find that in the grocery store and am buying the bran in bulk at Sprouts. I may start ordering it from Amazon at this point, because I like the flavor and fiber it adds to so many recipes.
But back to the muffins. They're called Oven Ready Bran Muffins because you make the batter, bake as many muffins as you need, then store the batter in the refrigerator.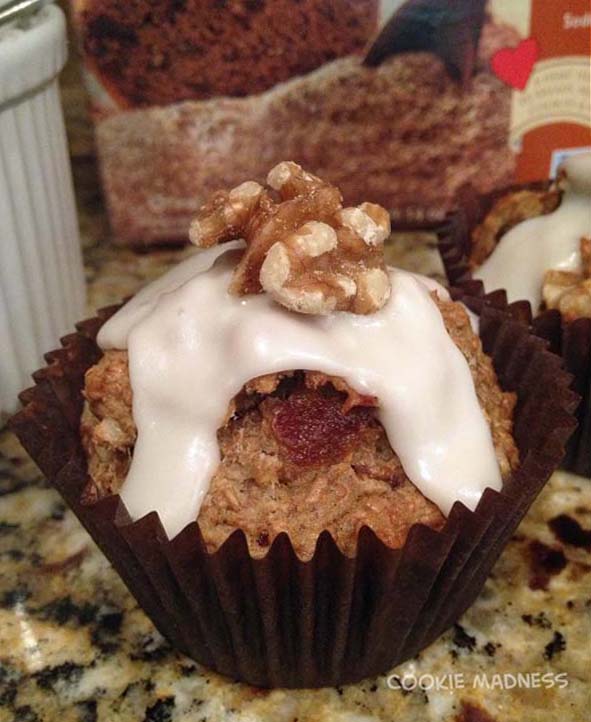 These muffins are definitely less like cupcakes and more like the hearty, grainy, breakfast muffins you buy at a coffee shop. They're not as rich as some of the bran muffins I've made (including the Claim Jumper clone muffins which are really sweet, but good), but I wouldn't call them dry, either. They do benefit from the addition of dates, though. Raisins, figs or dried plums would be good, too.  I wish Fuzz felt the same way, but she prefers hers plain or with a little icing. She had one again this morning and commented on how good they were, so I guess this recipe is a keeper. Here's my take on the original.
Recipe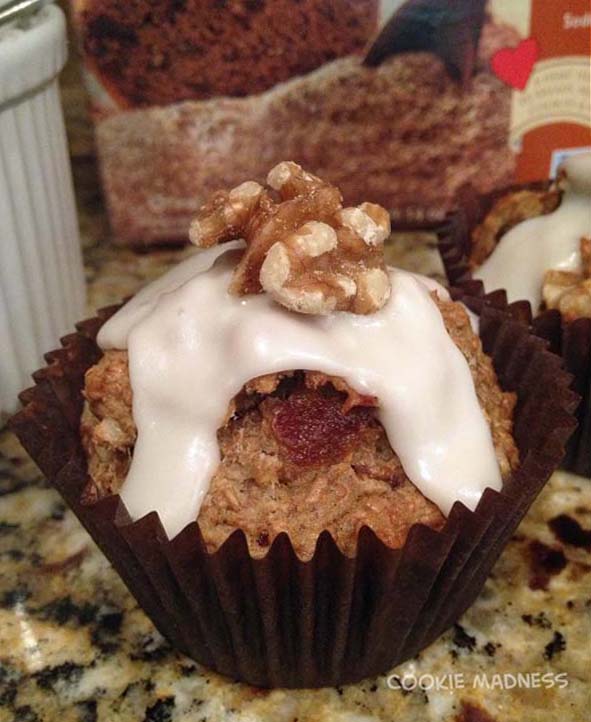 Oven Ready Bran Muffins with Walnuts and Dates
Bran muffin batter which can be baked on an as-needed basis.
Ingredients 
3

cups

unprocessed wheat bran

1

cup

boiling water

1

cup

brown sugar

I used a mixture of light and dark

1/2

cup

butter

softened

1 1/2

teaspoonss of vanilla extract

2 1/2

cups

unbleached white flour

2

teaspoons

baking soda

1

teaspoon

salt

2

eggs

beaten

2

cups

buttermilk

Chopped dates

use more or less as needed

Toasted and chopped walnuts

use more or less as needed

Optional: Quick icing

see note
Instructions 
Preheat the oven to 400 degrees F. and line as many muffin cups as needed with paper liners. The full batch makes about 24.

Combine 1 cup of the bran and 1 cup of the boiling water.

In a separate bowl blend sugar and butter (I used a handheld mixer for this and creamed the two). Beat in vanilla extract.

In another bowl or on a sheet of foil, combine the flour, baking soda and salt.

Combine the moistened bran with beaten eggs, the remaining 2 cups of bran and buttermilk, then stir it all into the creamed sugar/butter mixture. With a large mixing spoon, stir in the flour mixture.

Place in the refrigerator for future use, or bake at once.

To bake, divide evenly among muffins pans or stir the batter before baking and use however much you need. At this point, you can also stir in dates and walnuts.

Fill the muffin pans almost to the top and bake for 15 minutes. Let cool completely, then spoon icing over the top if desired.

Store any leftover batter in an airtight container.
Notes
Quick icing – Since these muffins can be baked all at once or as needed, I kept the icing recipe on a small scale. It's best to put it on when the muffins are completely cool so that the icing firms up quickly and stays opaque. Microwave 1 ½ teaspoons of butter and 1 tablespoon of milk in a 2 cup glass measuring just until butter melts and milk is hot. Add a few spoonfuls of sugar and stir until smooth, then continue adding sugar and stirring until you get the consistency you like. Add a dash of vanilla. Spoon or drizzle over cooled muffins