Red Velvet Cake Roll is from Imperial Sugar, who sent a link yesterday describing it as a last minute holiday dessert. I don't always click on email links, but we'd been invited to dinner and I wanted to take something a little more festive than chocolate cake. Red velvet cake in the form of a jellyroll seemed perfect.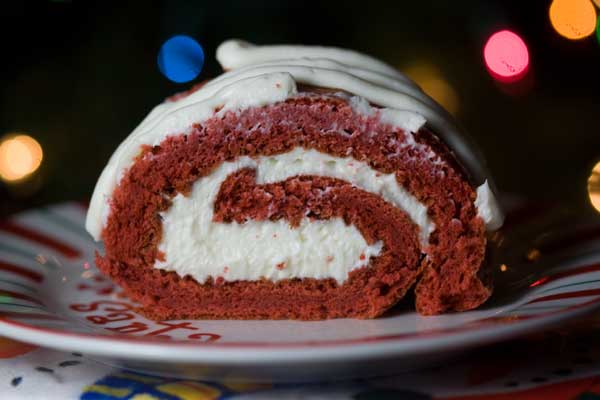 And it was! The cake was very light, while the filling was rich, but gave the illusion of lightness thanks to the whipped cream. Here's a less staged photo of the cake, which was actually longer before I trimmed it to fit a certain plate. If you are taking this to a small gathering, you could cut the cake in half, freeze 1 half, and take the remainder.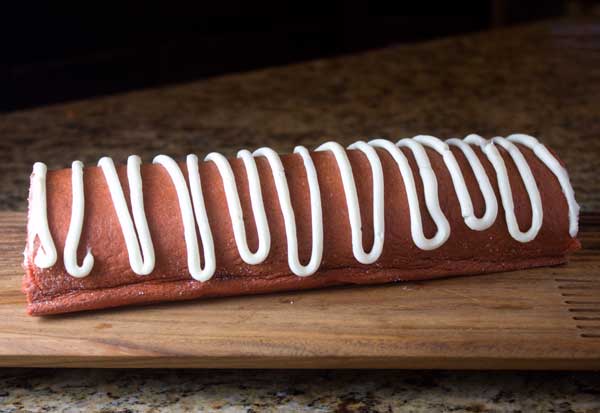 The instructions on Imperial are very thorough, so I'm linking you to their recipe. It's a pretty simple recipe, but you may want to make a few adjustments. Here are mine.
Adjustments
#1. They say to bake it at 420 degrees F, but 400 works too.
#2. They provide visual clues rather than a bake time. I like visual clues, but also prefer a ballpark range, so I will tell you my cake was done in 18 minutes (at 400F).
#3. They use thick, red, gel instead of bottled red food coloring which is great because it only takes a small amount rather than a whole bottle.
#4. I used a different cream cheese icing recipe -- Whipped Cream Cheese Icing because it has a lighter texture.
#5. I put most of the cream cheese icing on the cake, but reserved about ½ cup, put it in a decorating bag, snipped off the tip and squeezed it decoratively over the top. I made a pretty big snip in the corner so my lines of icing or less elegant, but still cute.
All in all it was a fun cake! I might branch out and try to come up with a slightly easier version, but I can't say this one was really hard since the stand mixer does most of the work.
Recipe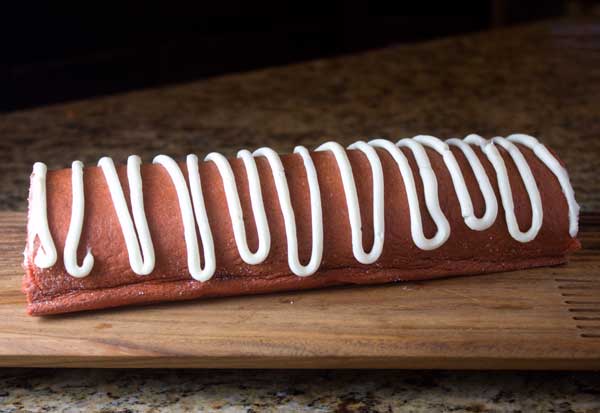 Whipped Cream Cheese Icing
Whipped Cream Cheese Icing
Ingredients 
½

cup

heavy cream

cold

8

oz

cream cheese

softened

2

oz

unsalted or salted butter

softened

2

cups

confectioners' sugar

1

teaspoon

vanilla

1

teaspoon

lemon juice

fresh
Instructions 
In a mixing bowl, beat the whipping cream until stiff peaks form and set aside.

In a second bowl, beat the cream cheese, butter, confectioners' sugar, vanilla and lemon juice until creamy.

Stir the whipped cream into the cream cheese mixture.