Our guests left behind a large amount of Coca Cola, so I made this cake to try to get rid of it. I'd rather eat chocolate cake than drink Coke, and since Cola Cake freezes well, I figured I'd cut it up, freeze it and serve whenever.  This slice has been frozen and thawed.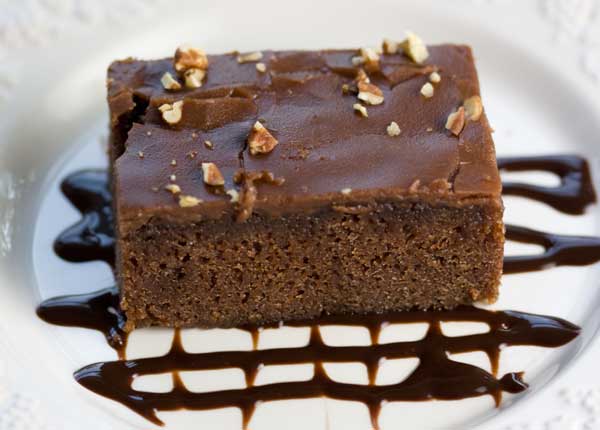 Because of the Coca Cola, this cake might be associated more with Atlanta than Texas, but if you compare it to our state's beloved  "Texas Sheet Cake" there's some crossover.  Both recipes have almost the same ingredients (give or take a few spoonfuls of sugar), but Cola Cake has marshmallows.  They are added to the batter at the end, and they melt into the cake and disappear.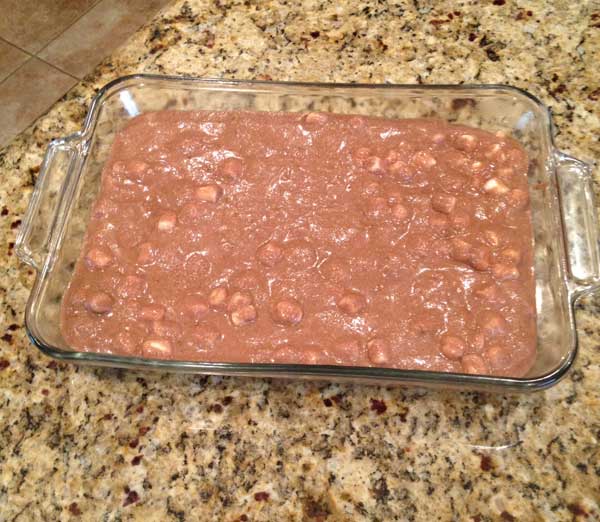 Well, eventually they disappear. You can see the marshmallows when the cake comes out of the oven, but after the cake cools and the icing is poured and set, the marshmallows disappear. Or at least mine did! You could never guess they were in this cake, but I wouldn't recommend leaving them out because the melted marshmallows must play a role in overall structure and texture.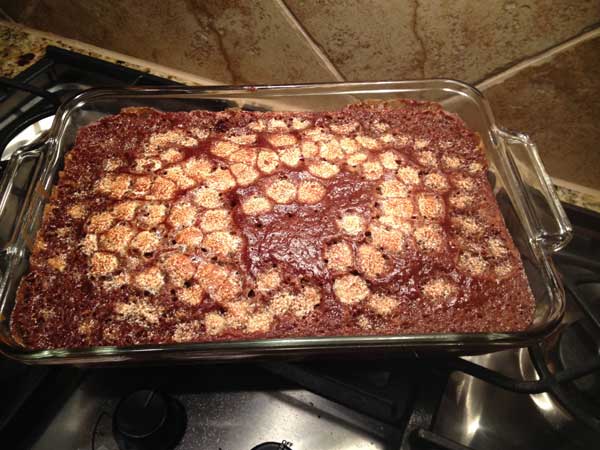 With Cinco de Mayo coming up, I thought about making the version that calls for a little cinnamon, but as much as I love cinnamon I prefer my chocolate cakes unadulterated and left it out. I suppose people who want cinnamon could just sprinkle it over the cake or better yet, put a scoop of ice cream next to the cake and sprinkle the cinnamon over the ice cream.
Finally, this cake is sweet, but not cloyingly so -- at least if you let it set up for a while. I don't like warm, gooey, things served out of the pan so I almost always let the cake sit or chill it before serving, but my extended family has been known to dig into this type of cake minutes after the icing is poured.
Recipe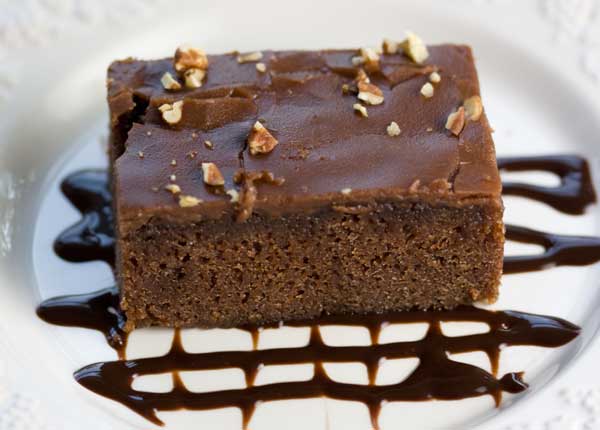 Cola Cake
A sweet chocolate sheet cake with Coca Cola in it.
Ingredients 
2

cups

all-purpose flour

¼

cup

unsweetened natural cocoa powder

1

teaspoon

baking soda

½

teaspoon

salt

2

sticks

8 ounces unsalted butter, soften

1 ¾

cups

granulated sugar

2

large eggs

lightly beaten

2

teaspoons

vanilla extract

1

cup

cola

½

cup

buttermilk

1 ½

cups

miniature marshmallows
Icing
1

stick

4 oz unsalted butter

¼

teaspoon

salt

⅓

cup

cola

3

tablespoons

unsweetened natural cocoa powder

3 ¾

cups

1 pound powdered sugar, sifted

1

teaspoon

vanilla extract
Instructions 
Preheat the oven to 350 degrees F if using a metal pan, or 325 F if using glass.

Grease and flour a 13x9 inch pan. If using a glass pan, only grease the bottom.

In a small bowl, mix together the flour, cocoa powder, baking soda and salt.

In a mixing bowl, beat the butter until creamy. Add the sugar and vanilla and continue beating until creamy, then beat in the eggs, one by one.

Combine the cola and the buttermilk and add to the batter alternately with the flour mixture, stirring until smooth. Stir in the marshmallows. Pour the batter into the pan and bake for about 30-35 minutes at 350 if using a metal pan, and 45 minutes at 325 if using a glass pan. Use a toothpick test to see if it's done. It still looks a bit shiny when done, so you need to poke something into it and check for moist crumbs (as opposed to batter).

Let cake cool for 10 minutes, then start making the icing.

Put the butter, cocoa and cola in a large (I use a 3 quart) heavy saucepan and bring to a boil over medium heat. Remove from heat and stir in sifted sugar and vanilla until smooth.

Pour hot frosting over cake. Allow the frosting to set and then serve from the pan with vanilla ice cream or let the cake cool completely and serve it the next day.
Notes
You can cover this and keep it in the refrigerator overnight or cover it tightly and freeze it.