When I first found this cookie recipe, I had a few reservations. It's made with shortening rather than butter, calls for a half cup of mayonnaise, and uses cake flour instead of all-purpose. Would I miss the flavor of real butter? Would the mayonnaise make them cakey? And I like a cookie with some structure, so wouldn't cake flour take away from that? The only way to know was to try it, so I did!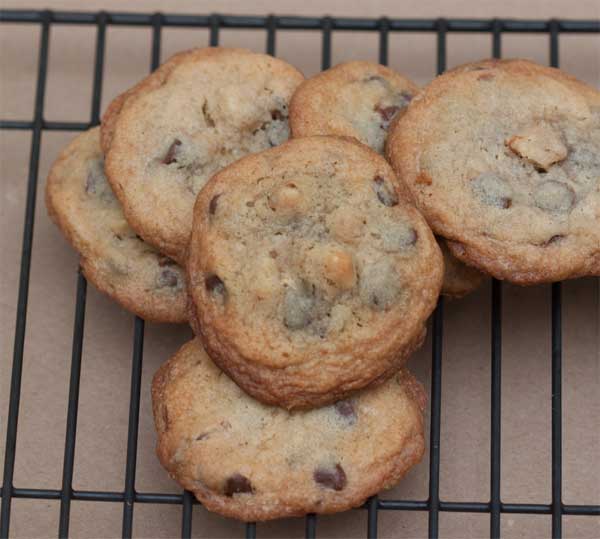 The mayonnaise chocolate chip cookies were a hit.  Well, a hit with me…and with Fuzz.  No one else got to try them because I wrapped them all and froze them, but I think people are going to like these.  Their appearance isn't super impressive, but they have those irresistible soft centers and crispy edges.
There were a few little issues, though. First, I made a half batch with butter flavored Crisco. I generally find the the butter flavor of butter flavored Crisco a little bit too artificial tasting and kind of overwhelming, but despite that I still liked the cookies. For the second batch, I used regular unflavored shortening and added some Adams butter flavoring, which smells really artificial in the bottle, but tastes good baked into things. That worked out a little better as the butter flavor was more subtle. Still, the texture was what really made these cookies. They're dense and very soft on the inside and chewy on the outside and not cakey at all.
The cookies are a fun way to use mayonnaise. I used regular mayonnaise,  but I'll bet the cookies would spread less and have a better shape with low fat mayonnaise. Another odd thing was that some of my cookies spread, while some were perfectly formed. I found 375 made the edges too brown and the centers too pale and had better luck with 350 for about 15 minutes. And finally, if you like milk chocolate chips in your cookies, you really should try the original version. I prefer semisweet or dark, so I used semisweet chips and walnuts instead of milk chocolate and cashews.