I've been on the hunt for recipes using coffee extract, and this one turned up in a rather unlikely place — an old Paula Deen magazine. It's for thin, chewy, sweet chocolate chip cookies and it calls for 1 teaspoon of vanilla extract and 1 teaspoon of coffee extract.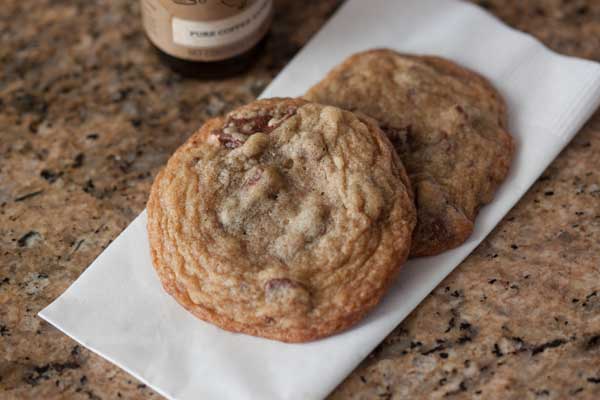 By itself, coffee extract doesn't have the most pleasant aroma. But when baked into things it seems to enhances the other flavors without adding much actual coffee flavor. In other words, I wouldn't call these "mocha" chocolate chip cookies and I don't think people would realize they had coffee as a flavoring. As for the texture, these are thin, chewy, wrinkly around the edges and dark. The recipe can be made with any kind of chopped up chocolate. Just for fun I used a Ghirardelli hazelnut flavored chocolate bar.
The dough has a high proportion of sugar so it tends to spread and using enough flour is key. For the cookies in the first photo I used about 170 grams and for the cookies in the photo below, I used about 160. Neither batch would win awards for appearance, but they definitely fill the bill if you're craving thin, chewy, buttery chocolate chip cookies.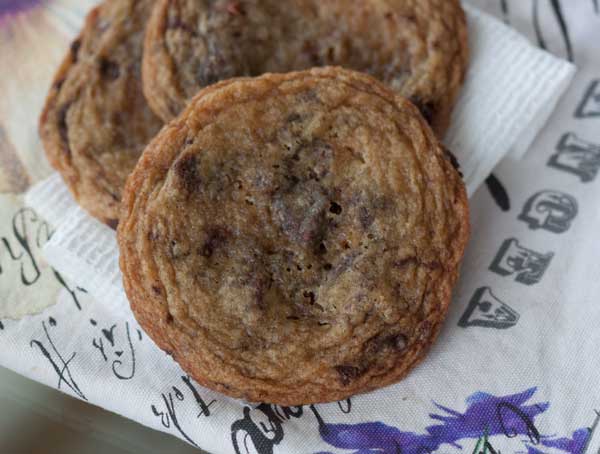 UPDATE: One Day 2, the coffee flavor is more pronounced and recognizable as coffee. Also, after chilling the dough overnight I tried making a giant 5 inch, 5 ounce, cookie and loved the results. I put directions for that in the notes.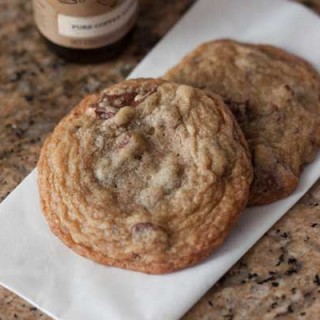 Chocolate Chunk Cookies with Coffee Extract
Chewy Chocolate Chunk Cookies
Ingredients 
1

stick

1/2 cup unsalted butter, softened (114 grams)

1/2

cup

very firmly packed light brown sugar

98 grams

1/2

cup

granulated sugar

98 grams

1

teaspoon

vanilla

1

teaspoon

coffee extract

1

large egg

50 grams

1/2

teaspoon

baking soda

3/8

teaspoon

salt

1

cup

plus 2 tablespoons all-purpose flour

160-175 grams

4 to 6

ounces

chopped dark or hazelnut dark chocolate
Instructions 
Using an electric mixer, beat the butter and both sugars for about 4 minutes or until light and fluffy. Beat in the vanilla and coffee extract. Add the egg and stir until mixed, then beat for a minute on high, scraping bowl. Beat in the baking soda and salt, then add the flour and stir with a heavy duty scraper until well blended.

Stir in the chopped chocolate.

Drop dough by heaping tablespoons onto a foil lined plate and chill the dough balls for about 3 hours or until ready to bake.

Preheat oven to 350 degrees F. Arrange dough balls 2 1/2 inches apart on a parchment lined baking sheet and bake for 10-12 minutes or until edges are browned and middles appear almost set. Allow them to cool on the baking sheet, then carefully remove
Notes
To make a giant cookie, weigh out 5 ounce portions of dough and shape them into tight little 2 1/2 to 3 inch circles. Put in a 350 degree oven, then turn heat down to 325 and bake for about 20 minutes (check at 17) or until edges are brown. Let cool completely on the baking sheet.