"Wheat Germ Chocolate Chip Cookies" is a recipe adapted from Maida Heatter's Book of Great Chocolate Desserts. The cookies are perfect for cold January days when you want to make something sweet, delicious and nourishing to both mind and body. Okay, that sounded a little cheesy coming from me, but you know the type of recipe. While I wouldn't call them health food, each cookie has over a tablespoon of nutrient rich wheat germ so they are not entirely bad.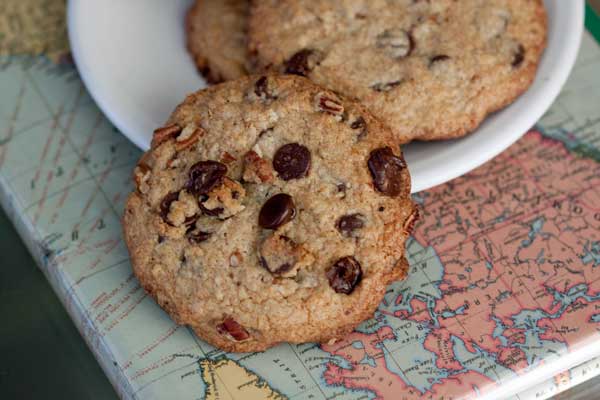 In her intro, Maida credits the recipe to a high school teacher in Colorado named Esther Starbuck and adds that she likes Wheat Germ Chocolate Chip Cookies even more than her Absolute Best Chocolate Chip Cookies. No surprise there. These have so much more going on! Their size lends themselves to bake sales, while the added wheat germ, oats and coconut enhance the flavor and texture.
Wheat Germ Chocolate Chip Tips
A few tips: Measure all the ingredients carefully. For the egg, Maida says use a large or extra-large. I've turned into a crazy person who weighs eggs and I used 50 grams. The recipe also calls for shredded coconut, and sweetened and unsweetened work. It can also be left out with no negative results, though I do recommend replacing it with 2 ounces of nuts if you leave out the coconut. For the flour, I've had different results using different gram amounts of flour. The volume measurement of ¾ cup flour could be anywhere from 90 to 105 grams of flour. The cookies looked nicer using the 105 gram amount, or for those of you with no scale, flour that has been scooped straight out of the bag or bin and not aerated.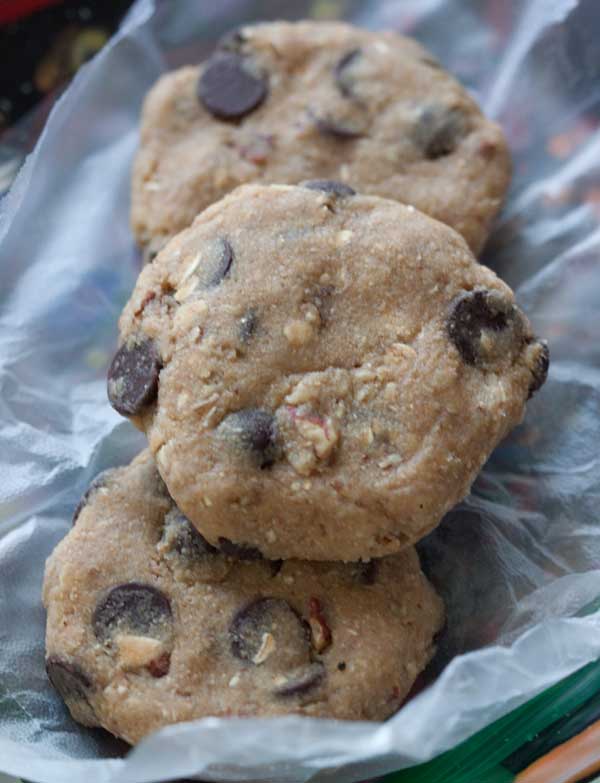 And finally, I got nicer edges after chilling the pressed rounds and baking. The photo above is of chilled dough rounds. The dough is grainy and kind of ruddy looking, but they bake into handsome cookies.
Recipe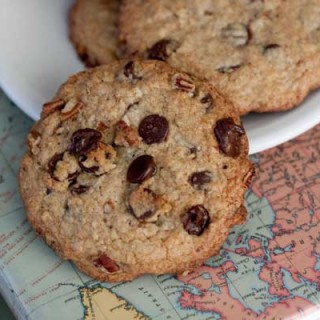 Jumbo Wheat Germ Chocolate Chip Cookies
Wheat Germ Chocolate Chip Cookies are thick and hearty chocolate chip cookies. They should have crispy edges and firm (not soft) texture. I don't recommend leaving out the coconut because it adds a lot of flavor and helps the cookies spread less.
Ingredients 
¾

cup

unsifted all-purpose flour

105 grams

1

teaspoon

baking powder

½

teaspoon

salt

1

stick

4 ounces unsalted butter, room temperature

1

teaspoon

vanilla

½

cup

sugar

98 grams

⅓

cup

firmly packed dark brown sugar

75 grams

1

large or extra-large egg

50 grams

¼

cup

quick cooking oats

20 grams

¾

cup

wheat germ

untoasted (80 grams)

⅔

cup

shredded unsweetened coconut

50 grams

1

cup

semisweet chocolate chips

½

cup

finely chopped and toasted pecans

optional
Instructions 
Preheat the oven to 350 degrees F. Line one or two rimmed baking sheets with parchment paper.

Miix or sift together the flour, baking powder and salt and set aside.

In the bowl of a stand mixer with the paddle attached, beat the butter until creamy. Add the vanilla and both sugars and beat until creamy, scraping bowl occasionally. Add the egg and beat just until incorporated. Reduce speed to low and add the flour mixture, then add the oats, wheat germ and coconut and stir until mixed. Add the chocolate chips and nuts (if using)

The batter should be pretty thick and fairly easy to work with. Scrape it onto a big sheet of wax paper to or parchment and divide into 9 sections of about 3 ounces each. You can do this using a ¼ cup measuring cup or just a big spoon, scale and slightly dampened fingers.

Arrange 5 cookies on one sheet and 4 on the other if using two sheets. Using a fork, press into ½ inch thick rounds.

Bake one sheet at a time in the top center of oven for 18 minutes or until the cookies are appear set and spring back when touched. Let sit on the baking sheet until firm enough to lift, then transfer to a cooling rack and let cool completely. Make sure they are on a rack with plenty of air circulating above and below.

When the cookies cool, they should have crunchy edges and dense but not quite hard centers. I like throwing the cookies in the freezer for a while because it makes them more solid. It's also a good place to store cookies in general.
Notes
Alternatively, after you press the cookies into ½ inch thick rounds, you can slide the paper onto a plate of flat surface and chill the rounds for a few hours. I found I got nicer edges when I used rounds of dough that had been chilled.