Greasing a Bundt pan is a serious affair, and over the years I've tried various methods. My main goal is always for the cake to come out in one piece, while my secondary goal is not to make a mess and get shortening all over my fingers.   Given that, this method for greasing a Bundt pan is the one I use most often. Update: You can use it for a tube pan, too! If you are using a removable bottom tube pan, be sure to set it over a rimmed baking sheet.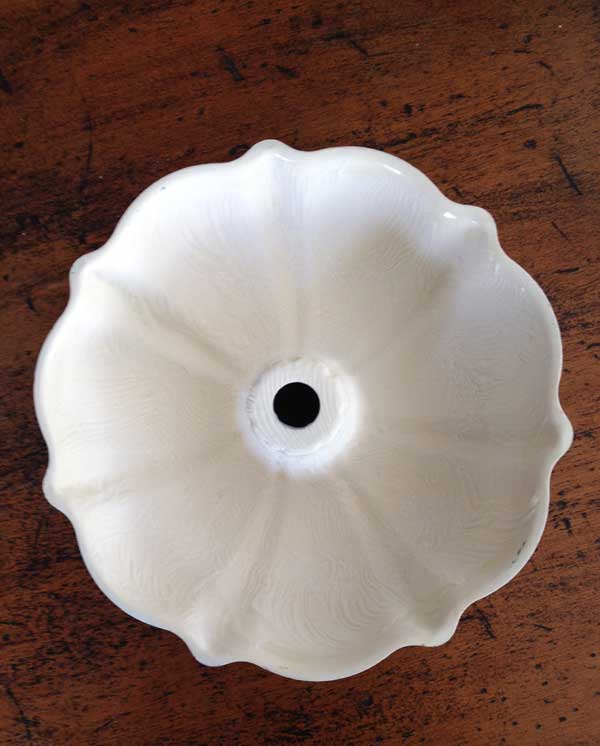 Greasing a Bundt Pan or Tube Pan Evenly
1. Put a large spoonful of shortening in the Bundt pan.
2. Set the pan in the oven as it preheats and leave it in there just until the shortening melts. I recommend setting a timer for about 3 to 5 minutes so you won't forget about it. If you are using a tube pan, set it on a rimmed baking sheet.
3. Using a hot pad, remove the Bundt pan and swirl it around, coating the sides with shortening.
4. Brush the melted shortening up the center tube.
5. Allow the shortening to set. If kitchen is warm, let the pan cool slightly and then put it in the refrigerator for just a few minutes.
6. Put a big spoonful of flour into the pan and shake the pan back and forth over the sink.
7. Stick the whole pan back in the refrigerator until ready to use.