I wasn't kidding when I said 2017 was going to be the year of chocolate cake, so here's an Ina Garten chocolate cake. It's from her book "Make it Ahead", which Santa brought me for Christmas. He must have noticed all the times I checked it out of the library.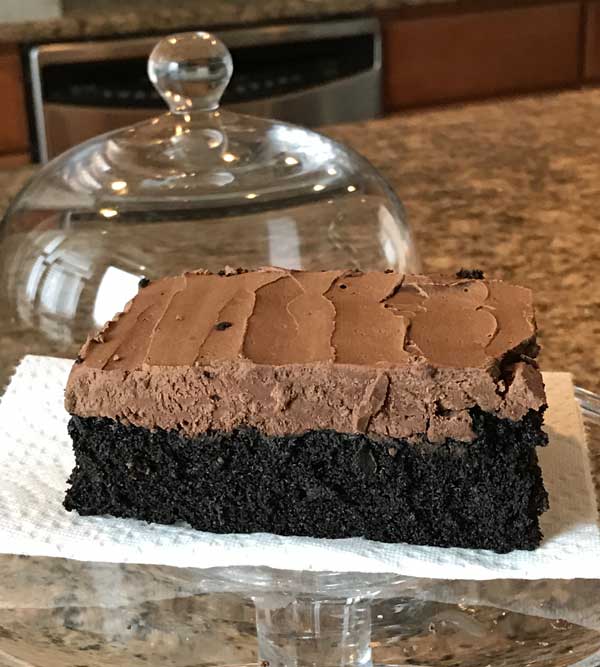 I love Ina Garten's books, but tend to use her recipes for dinners rather than desserts. This cake was an exception mainly because, well, it's chocolate cake. That and I've been doing some volunteer baking for a group that loves good chocolate cake.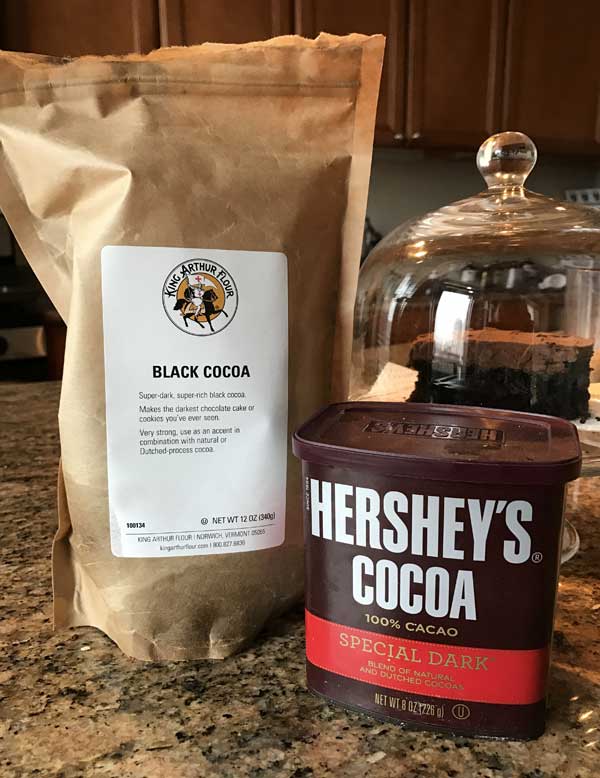 Ina Garten Chocolate Cake Notes & Changes
Of course I needed to test it on the family before I served it to a group, so I made an 8 inch square and incorporated about 2 tablespoons of black cocoa in place of some of the usual Hershey's Dark. If you don't have the black cocoa (and most people don't), just stick with Hershey's Dark or your favorite Dutch. Ina uses "Perignotti", which sounds lovely and worth acquiring.
Fancy cocoa or not, this cake comes together with ease and is topped with a decadent whipped ganache frosting which you can make with your favorite chocolate. Ina recommends Lindt, so I bought a couple of 70% bars at Walgreen's and they worked perfectly. Alas, I did not add the Kahlua because I am completely out and couldn't justify spending $18 on a full bottle to use 1 tablespoon. The frosting was fine without it, but if you have Kahlua then definitely add it.
The recipe is right on Ina Garten's web page, so I'm just going to link you straight to it and let you know that it halves beautifully.  I baked it in an 8x8 inch square glass pan, lowered the temperature to 325 and baked for about 40 minutes.
4 Inch Ina Garten Chocolate Cake
I recently bought a pair of 4 inch cake pans and made Ina's cake in miniature. This cake serves 2 to 4 people. Here's a link to the pans.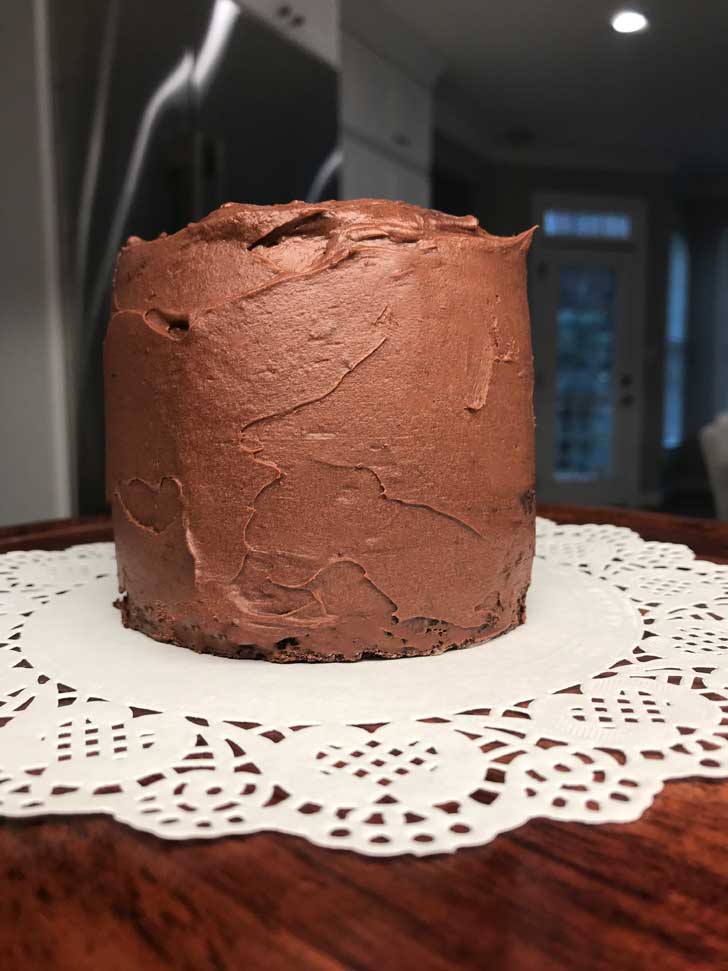 Recipe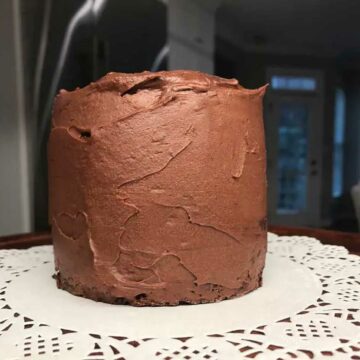 Ina Garten Chocolate Cake
Small chocolate layer cake baked in 4x2 inch pans.
Ingredients 
2

tablespoons plus 2 teaspoons

Dutch process cocoa powder

(16 grams)

3

tablespons

brewed coffee or hot water

(42 grams)

2

tablespoons plus 2 teaspoons

half and half (or use a mixture of heavy cream and milk)

(36 grams)

¼

cup

plus 3 tablespoons all-purpose flour (7 tablespoons)

( 55 grams)

¼

teaspoon

baking soda

¼

teaspoon

salt

3

tablespoons

unsalted butter, softened

(48 grams)

½

cup

sugar

(100 grams)

1

large

egg or a medium egg

(50 grams)

¼

teaspoon

pure vanilla extract

1-2

tablespoons

mini chocolate chips
Chocolate Ganache Frosting
4

ounces

semisweet or bittersweet chocolate, chopped

(114 grams)

1

tablespoon

butter

1

teaspoon

Kahlua

¼

teaspoon

vanilla

⅓

cup

heavy cream
Instructions 
Preheat the oven to 325°F. Grease and flour two 4x2 inch round cake pans.

In a small bowl or custard cup, stir together the cocoa powder and warm coffee or water. Add the half & half and stir until smooth. Set aside.

Whisk together the flour, baking soda and salt.

In a mixing bowl, using an electric mixer, beat the sugar and butter until light creamy. Add the egg and beat until light and fluffy, stopping to scrape the sides of thebowl. Beat in the vanilla.

Add the flour mixture and the chocolate mixture alternately, stirring by hand with a heavy duty scraper, until batter is smooth. You can stir in a tablespoon or so of mini chocolate chips at this point if you'd like to.

Pour the batter into the two pans, dividing evenly. You should get a little under 6 oz of batter in each pan. Tap to remove air bubbles.

Bake at 325 degrees F. for about 25 to 30 minutes until the center of a cake springs back a little when touched. Internal temperature should be about 200 F. Let cool in the pans for about 10 minutes, then carefully loosen and turn from pan.
Frosting
Put the chopped chocolate and the butter in a mixing bowl, preferably one that is microwave-safe in case you need to heat the chocolate mixture again.

Microwave or heat the cream in saucepan or microwave-safe measuring cup until it starts to boil, then pour over the chocolate and butter. Let stand for 1 minute, then whisk until chocolate is melted and smooth. If for some reason the chocolate doesn't melt all the way, you can heat it again for 10 seconds. Whisk in Kahlua and vanilla.

Chill the mixture just until it is cool room temperature. Don't let it get too cold.

Beat with a hand-held electric mixer for about 30 seconds or just until creamy and smooth.