Sometimes I feel like I've tried every chocolate chip cookie recipe, so it's nice to find one that's unique. And by "unique" I don't mean made with specialty flours or flavorings, but rather traditional chocolate chip cookies with unusual ratios or baking methods. Ultimate Salted Chocolate Chunk Cookies fall into that category. The cookies have an interesting ratio of butter to other ingredients and are baked at 450 degrees.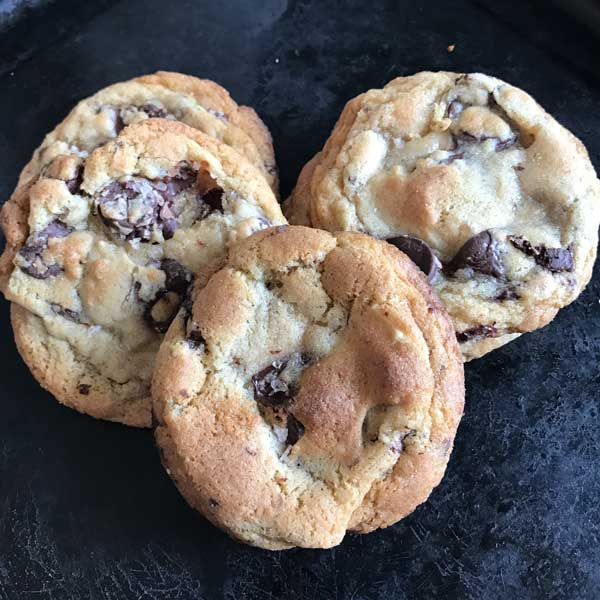 The recipe is from Why Your Chocolate Chip Cookies Never Turn Out Like You Want, which is worth reading because it is less like a cookie baking manifesto and more like advice from a friend. The author encourages editing your own favorite recipe, but also shares her Ultimate Salted Chocolate Chunk Cookies.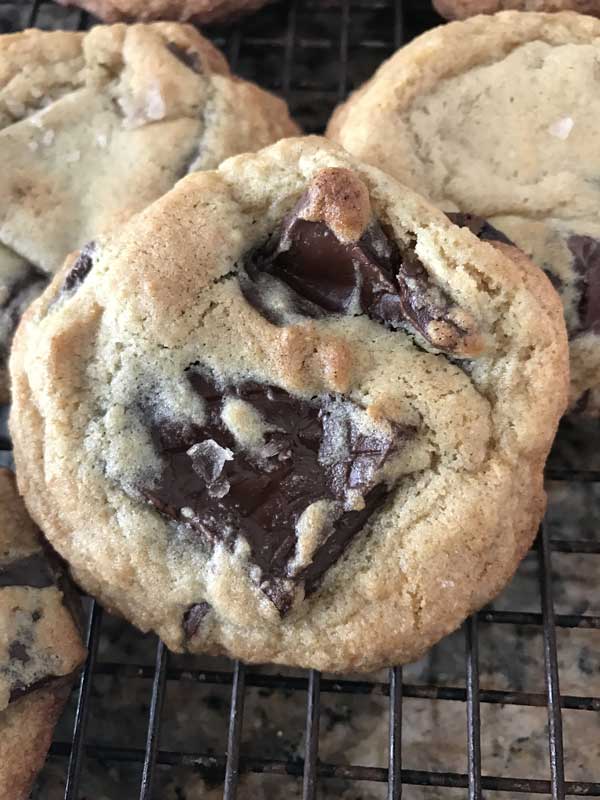 Flavor and Texture
The cookies are so good! They are soft and chewy, medium thickness, have lots of cracks and crevices and a pretty brown hue. You have to watch the cookies pretty closely, though. Baking chocolate chip cookies at 450 is my idea of living on the edge, but it can work if your oven temp is accurate and you pull the cookies at the right time. In the spirit of the article, you may want to keep the dough the same but experiment with time and temperature.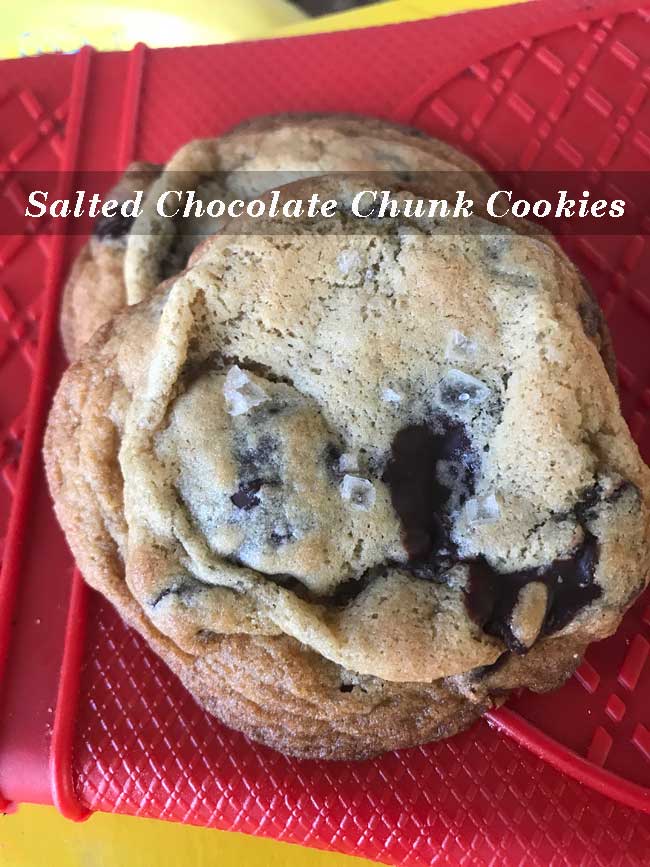 And a final FYI -- the cookies in the first photo were made with dough I chilled for 24 hours. The cookies in the photo above were baked with dough I chilled for 10 minutes. Chilling the dough makes these cookies even better.
Recipe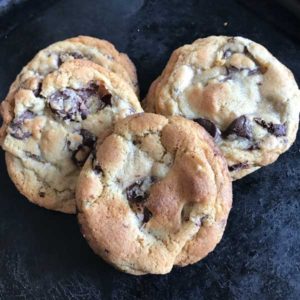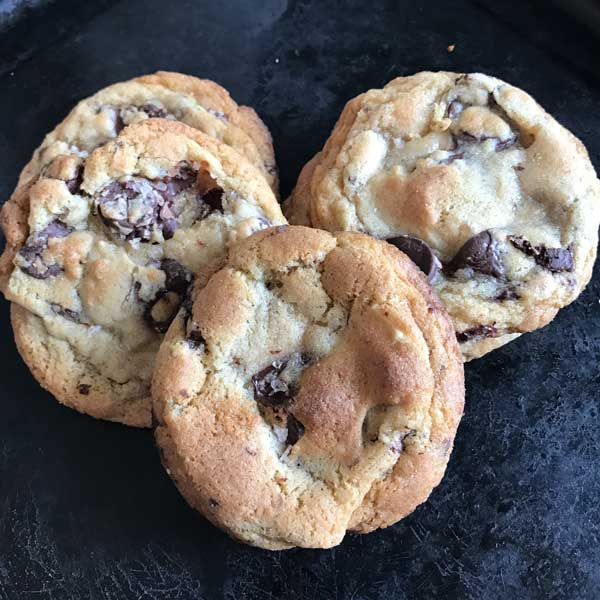 Ultimate Salted Chocolate Chunk Cookies
Ultimate Salted Chocolate Chunk Cookies are chocolate chip cookies made with rich chocolate chunks and baked at 450 degrees.
Ingredients 
1 ¾

cups

all-purpose flour, lightly spooned

(218 grams)

1 ¼

teaspoons

baking soda

1

teaspoon

baking powder

½

teaspoon

kosher salt

½

cup

unsalted butter, softened

(114 grams),

¾

cup

light brown sugar

packed (150 grams)

½

cup

granulated sugar

100 grams

2

large

eggs

1 ½

teaspoons

vanilla extract

8

ounces

bittersweet chocolate

coarsely chopped (I used more)

Flaky sea salt or Maldon
Instructions 
Preheat oven to 450°F and line a baking sheet with parchment paper or foil.

Whisk together the carefully spooned flour, baking soda, baking powder, and salt.

With an electric mixer, beat butter and sugars until light and fluffy, 2-3 minutes. Add eggs and vanilla and beat until pale and fluffy, scraping bowl often.

Reduce mixer speed to low (or do this part by hand) and gradually add flour mixture until just blended. Fold in chocolate chunks.

Scoop dough into even portions (about 2 tablespoons each) and arrange 2 inches apart on 2 parchment paper-lined baking sheets (maximum of 6 cookies per sheet).

The article says to sprinkle sea salt on the cookies at this point, but I prefer to do it right out of the oven. Your choice

Refrigerate sheets until dough is firm to touch, 10 minutes. Better yet, refrigerate the ones you need to eat right away for 10 minutes, put the rest of the formed dough balls in a bag and wait until the next day to bake. The cookies will be even better!

Bake the cookies at 450 degrees for about 6 to 8 minutes -- watch carefully. Pull them when they are just starting to brown.

If you're not having luck with 450, try doing the same thing at 400.

If you have a convection oven, try baking at 375 for 8 to 10 minutes. Let the cookies cool on the baking sheet, then carefully transfer to a rack to cool completely.
Notes
I baked the cookies with a few different types of chocolate -- Lindt Dark with Sea Salt, Trader Joe's Dark and Ghirardelli Bittersweet Chips. They all worked quite nicely, especially the Lindt which melted quickly and contrasted nicely with not-so-buttery cookie dough. The chips worked surprisingly well, but I felt I needed to use a whole lot of them to reach a satisfying richness level. Also, I'd stick with European style butter to cram in more fat/less water.