Here's another chocolate chip cookie recipe you didn't know you needed. It's called Vegan Sunflower Oil Chocolate Chip Cookies because (surprise!) the cookies are made with sunflower oil. Along with being dairy-free and egg-free, they taste good, are super pretty, and don't require special ingredients. Even the sunflower oil is optional should you wish to substitute another oil and give the cookies a snappier name.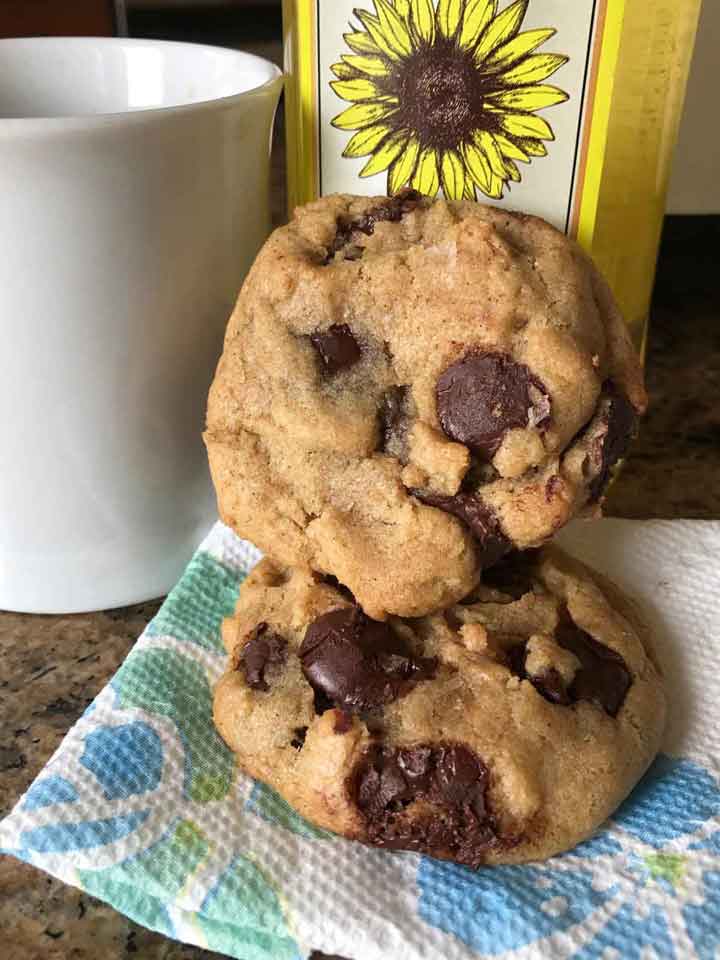 The original recipe is called Secretly Vegan Chocolate Chip Cookies and can be found in the Ovenly cookbook. My Sunflower Oil Chocolate Chip Cookies are  different in that I use a blend of flours. I'm convinced mixing a little whole wheat flour in with all-purpose makes these  cookies better. I also add vanilla, which the original recipe doesn't call for.
The downside is the dough needs to be chilled for 12 hours. Over on Food52 where they tested the cookies baked immediately vs. the next day, the conclusion is that it's not absolutely necessary to chill the dough overnight.  But chilled dough is definitely better -- so you can chill or not chill or a little of both.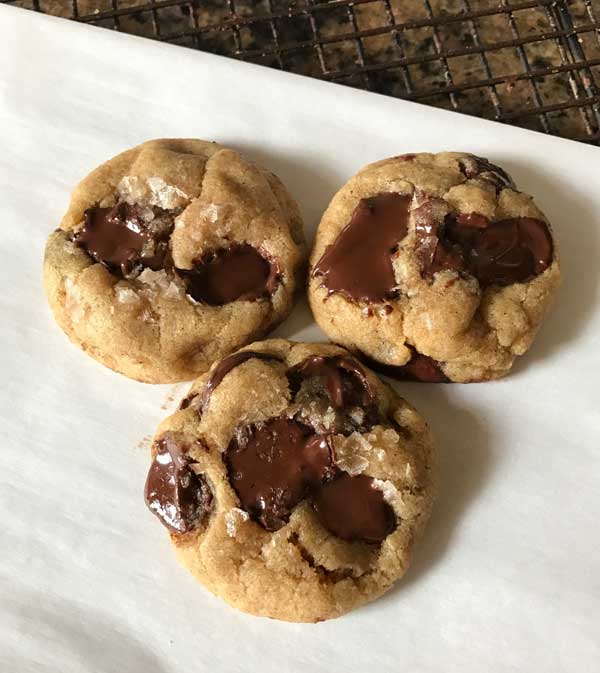 You can make these as large cookies, in which case you'll get about 18, or make the cookies half of the size to serve a larger crowd. The smaller size ones are a little more practical, and changing the size doesn't alter the texture so long as you adjust the bake time. Despite the fact there's no butter, you get a lot of flavor in every bite. I have a feeling these will be great made with gluten-free flour, so I'll update you when I try it.
That being said, if you are looking for a cookie that is vegan AND gluten-free, the Gluten-Free Coconut Sugar Chocolate Chip Cookies from a few days ago are are excellent.
Recipe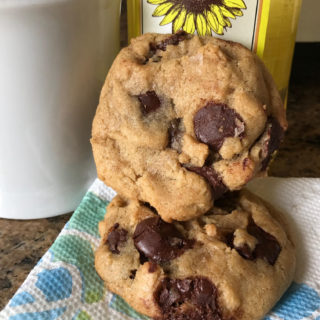 Sunflower Oil Chocolate Chip Cookies
Similar to the recipe from Ovenly, a bakery in Brooklyn, Sunflower Oil Chocolate Chip Cookies are made without any dairy or eggs. I made these with sunflower oil just for fun, but any oil will work. Make sure to measure it very carefully.
Ingredients 
2

cups

250 grams unbleached all-purpose flour or use 200 grams AP and 50 grams WW***

1

teaspoon

baking powder

¾

teaspoon

baking soda

½

teaspoon

salt

½

cup

100 grams organic sugar

½

cup

110 grams packed organic light brown sugar

½

cup

plus 1 tablespoon Sunflower oil

measure carefully

¼

cup

plus 2 teaspoons water

1

teaspoon

vanilla or vanilla bean paste

1 ¼

cups

dark chocolate chips

½

cup

finely chopped pecans or walnuts

Maldon salt

I like Smoked Maldon Sea Salt Flakes for garnish
Instructions 
Weigh out your flour(s), then whisk together the flour, baking powder, baking soda, and salt.

In a mixing bowl, whisk the sugars briskly with the oil and water until smooth and incorporated, then whisk in the vanilla.

Add the flour mixture to the sugar mixture, and then stir with a wooden spoon or a rubber spatula until just combined and no flour is visible. Do not overmix.

Stir in the chocolate chips and nuts. Divide dough into 18 portions, arrange on foil or parchment lined plates, then cover rightly and chill for 12 to 24 hours.

Preheat the oven to 350° F. Line two rimmed sheet pans with parchment paper.

Sprinkle the balls of dough with coarse-grained sea salt and bake for 12 to 13 minutes, or until the edges are just golden. For smaller cookies, divide each chilled dough ball in half so that you have about 36 cookies and cut the baking time to about 10 minutes. Do not overbake.

Let the cookies cool completely before serving.
Notes
250 grams of flour is a very fluffed up 2 cups! Since so many bakers across the internet complained that their cookies didn't spread, I'm assuming they used a more packed 2 cups or more like 280 grams flour. To be safe, weigh out 250 grams flour total or sift or really fluff up the flour before measuring. If you're working with flour from a freshly opened bag, pour about 2 cups into a big bowl and swirl it around for 5 mintues before measuring. Or again -- skip that and weigh.