Tired of your usual chocolate chunk cookies? How about starting 2019 with some Rye Cranberry Chocolate Chunk Cookies! The recipe is from from Dorie Greenspan who got it from Mokonuts, a little cafe in Paris. Dorie discovered the cookies while strolling through the city and peeking in bakery windows. In her story, she mentions spotting the cookies on a back counter and being intrigued by their appearance. Naturally, she buys some cookies, falls in love with them and manages to get the recipe from the cafe owner, Moko Hirayama.

I enjoyed Dorie's story and was also impressed by the cookies' appearance — or at least how they looked in The New York Times. The Times Rye Cranberry Chocolate Chunk Cookies are thick and brown with flat tops. I love big fat cookies and had to try them even if it meant dealing with the teeth-sticking issues that come with poppy seeds, cranberries and sometimes rye. Speaking of which, I used Bob's Red Mill Dark Rye, but I think Mokonuts and Dorie may use a medium or lighter rye.  I can attest that the dark rye worked very well.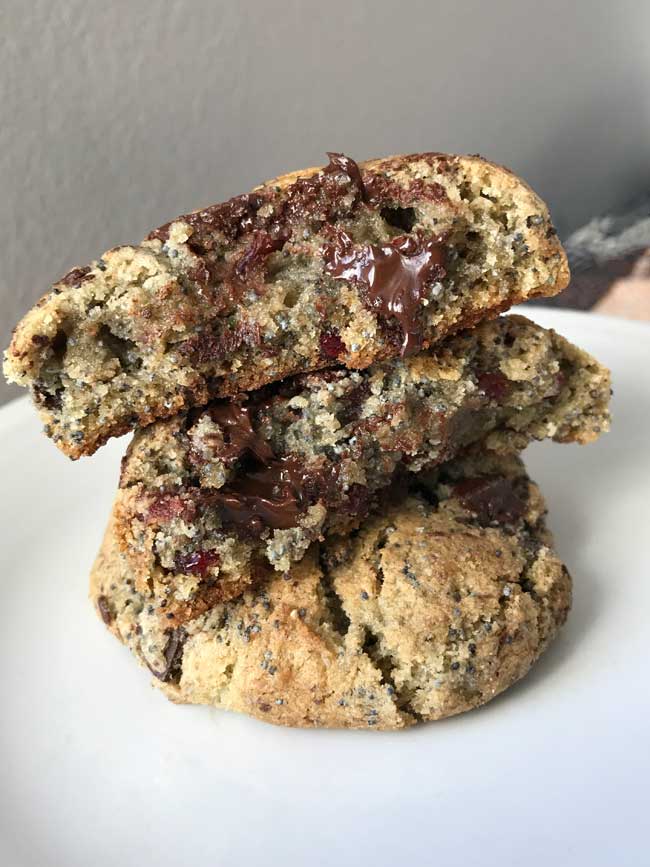 As for the cranberries, I don't enjoy chopping them and splurged on a bag of baking cranberries which are julienne cut. This was my first time using pre-cut cranberries and I'll reserve judgement until I use them in more cranberry things. They did the job.
The chocolate is chopped bittersweet Ghirardelli, and I couldn't resist throwing in a little vanilla, so feel free to leave it out if you want yours to be more like the original.
As unique as the cookies are with the poppy seeds, I think I'm going to make the next batch with finely chopped pecans in place of the seeds.  The seeds add texture, but not much flavor, and dealing with the aftermath of eating anything with that many poppy seeds is kind of a drag.  I'll update this when I try the recipe with pecans, but if you love poppy seeds I urge you to try the recipe as it's written.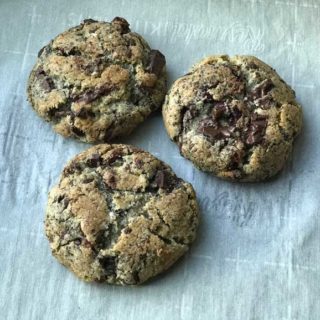 Giant Rye Flour Chocolate Chip Cookies
Chocolate Chip Cookies made with rye flour
Ingredients 
1

cup

plus 1 1/2 tablespoons

130 grams rye flour (I used Bob's Dark Rye)

1/2

cup

plus 2 tablespoons

85 grams all-purpose flour

1

teaspoon

baking powder

3/4

teaspoon

fine sea salt

I used a scant amount of Morton kosher

1/2

teaspoon

baking soda

10

tablespoons

140 grams unsalted butter at cool room temperature

1/2

cup

100 grams sugar

1/2

cup

100 grams light brown sugar

3/4

teaspoon

vanilla

optional

1

large egg

54 grams

1/3

cup

50 grams poppy seeds

2/3

cup

80 grams moist, plump dried cranberries

4

ounces

113 grams bittersweet chocolate, chopped into chunks

Flake salt

such as Maldon, for sprinkling
Instructions 
Whisk or just thoroughly stir together the rye flour, all-purpose flour, baking powder, sea salt and baking soda; set aside.

In the bowl of a stand mixer fitted with a paddle attachment, beat the butter and both sugars together on medium speed for 4 minutes, scraping the bowl occasionally. Beat in vanilla (if using).

Add the egg, and beat 2 minutes more. Turn off the mixer and add the dry ingredients all at once, then stir on low speed, pulsing so that you don't overbeat, until flour is almost fully blended.

Add poppyseeds, cranberries and chocolate and stir until blended. At this point, I liked to dump the dough onto a pastry mat and just push it all together, but you can do it whichever way feels comfortable to you.

Divide the dough into 15 pieces and roll each piece into a ball. Cover and refrigerate the dough overnight or for up to 3 days.

Preheat oven to 425 degrees F and line a baking sheet with parchment paper.

Arrange the cookies on the sheet, leaving 2 inches between each cookie. Sprinkle tops with a little Maldon salt (if using).

Bake the cookies one sheet at a time on the center rack for 10 minutes. Pull the baking sheet from the oven and using something flat like a spatula, tap the tops so they are flat. This is supposed to keep the cookies chewy ( a trick Moko learned from David Lebovitz).

Let the cookies rest on the sheet for 3 minutes, then carefully transfer them to a rack.

Bake remaining dough. Allow the cookies to cool for at least 10 minutes before serving.