Today's recipe is for Keto Chocolate Chunk Cookies, and I made them out of sheer curiosity. Of course it did occur to me that they were probably healthier and would make cutting sugar easier, but I mostly just wanted to see what they were like.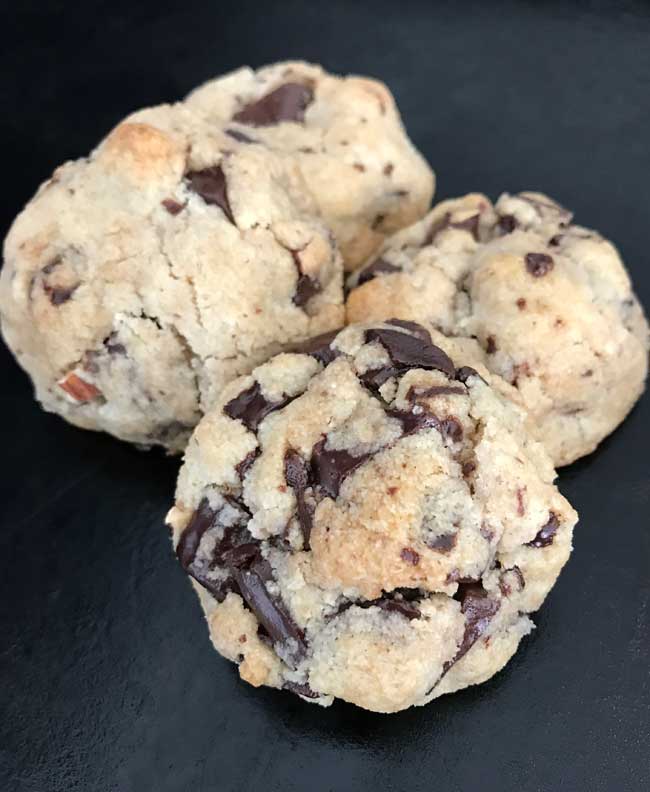 Keto Chocolate Chunk Ingredients
Keto Chocolate Chunk Cookies are made with almond flour, coconut oil and Lakanto Golden Monkfruit Sweetener made with erythritol and monkfruit. I'd seen Lakanto on the baking aisle but wasn't motivated to try it until Sweet Laurel's Bakery mentioned on their blog that it was their new favorite keto-friendly sweetener. They use it in both the dough for the Keto Chocolate Chunk Cookies and the homemade keto chocolate chips.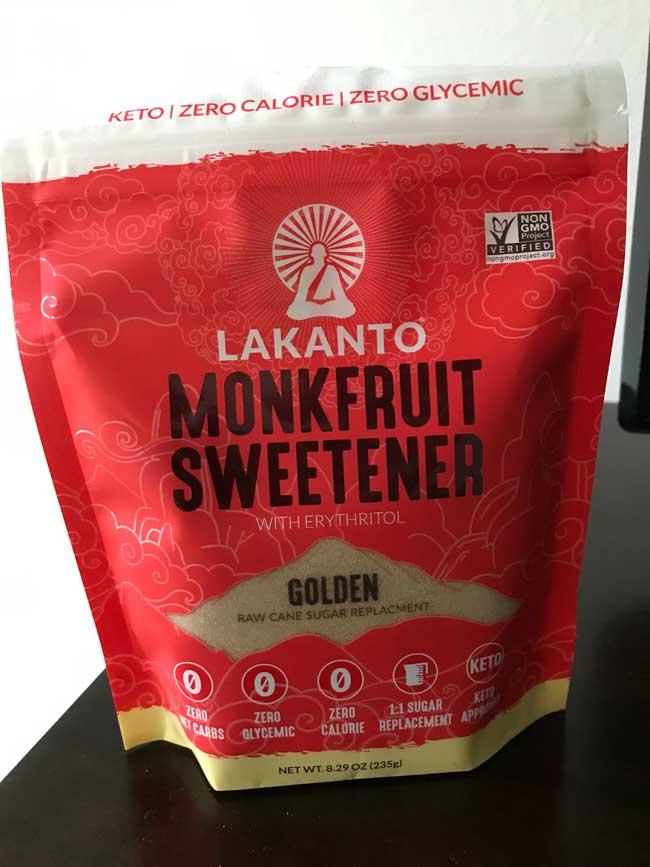 The recipe is very simple, and the dough is easy to shape into little balls. You should get about 16, though I suppose you could make 12 larger ones if you prefer. The rounds bake up into thick, soft, cookies. They look very pretty. As for taste, that's another story. I guess people perceive the flavor of monkfruit and erythritol differently because for me there was a very long aftertaste. Actually, it was more of a "during and after taste" which someone described as a cooling effect on the mouth (like mint).
Keto Chocolate Chunks
If you are not bothered by the cool mouth feel of erythritol and monkfruit sweetened desserts, you might want to try making your own keto chocolate chunks. It's pretty simple. Line a loaf pan with parchment paper. In a microwave-safe bowl, melt about 4 oz of unsweetened chocolate. If using something like Baker's brand, add 1 tablespoon of coconut oil. If using 95% Lindt, you can skip the coconut oil. Stir about 1 tablespoon of Lakanto sweetener into the melted chocolate. If the sweetness is okay, don't add any more. Otherwise, add up to a tablespoon more to taste. Pour the chocolate into the lined loaf pan and freeze until firm. Cut into chunks.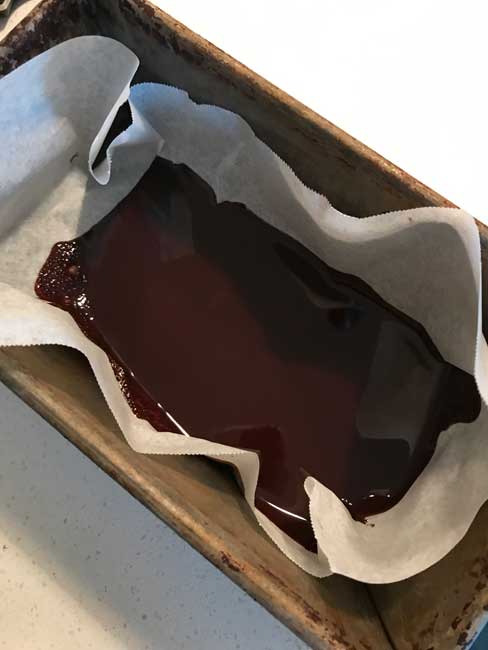 I made the cookies a couple of times experimenting with different chocolates and found less of an aftertaste when I used the Lakanto only in the dough and used Lily's chocolate for the chunks. They were a little better with the Lily's, but definitely not quite the same as something sweetened with sugar. I'm curious to see what other people think, so let me know if you try them. I may try them with a different sweetener some day, but I think for now this is my last keto recipe. And one final note: This recipe halves and quarters well, so if you want to give the recipe a test drive without committing a full 2 cups of almond flour, you can make a small batch.
Recipe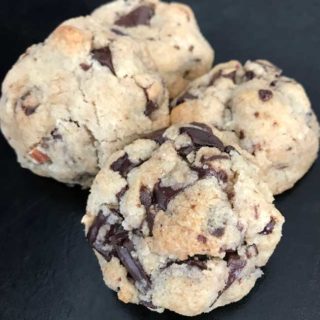 Keto Chocolate Chunk Cookies
Keto-friendly chocolate chunk cookies made with almond flour. For the sweetener you can use ¼ cup Lakanto OR ⅓ cup brown sugar Swerve. Use whichever one you like best.
Ingredients 
2

cups

almond flour

200 grams

¼

cup

Lakanto Sweetener

or ⅓ cup packed Brown Sugar Swerve 70 grams

1

scant teaspoon sea salt

or Pink Himalayan if you have some**

½

teaspoon

baking soda

¼

cup

water

⅓

cup

coconut oil

melted

4 to 6

oz/114 to 170 grams keto-friendly chopped no-sugar added or Keto-friendly chocolate like Lily's or the recipe in the notes.
Instructions 
Preheat the oven to 350 degrees F. Line a baking sheet with parchment.

Mix the almond flour, sweetener, baking soda and salt very well together in a large bowl.

Add the coconut oil and water and stir to form a soft dough. Stir in the frozen chocolate chunks.

Shape dough into balls using about a tablespoon measure, then press into circles.

Bake dough for about 12 minutes. Let cool completely.

Makes about 19 oz of dough.
Notes
I used fine sea salt and found these good but a little salty. If you prefer a less salty flavor, reduce to about ¾ teaspoon.
For the chocolate, chop 4 oz unsweetened chocolate, combine it 1 T. coconut oil (if using) and melt over low heat in a saucepan . Alternatively, you can melt it at 50% power in the microwave. Stir in the sweetener (1-2 T. Lakonto or other sweetener to taste). Line a small tray, a dinner plate or something that fits in your freezer with foil or parchment and pour the melted chocolate mixture on it. Freeze until firm, then cut into chunks. Note: If you are using Lindt 90 or 95%, you can skip the coconut oil.