Thanks to Taneka for sending me this recipe! It's from Ochre Bakery Detroit, which (according to Taneka) serves excellent sandwiches. They also serve highly rated pastries and sweets including this Vegan Lemon Pistachio Loaf. Bon Appetit shared the Ochre recipe.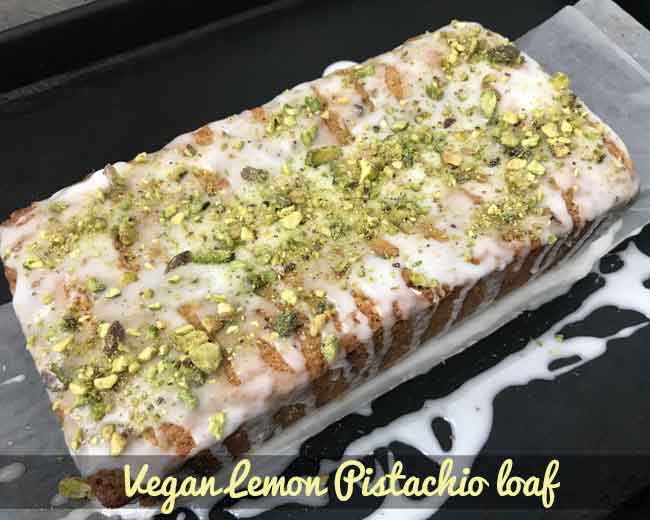 Luckily I didn't read the reviews before baking this because they are not good. My guess is people forgot to add the ½ cup of water that is listed in the directions, but not in the ingredient list. I'm not sure why recipes don't always include water in the ingredient list, but in my opinion it should be there.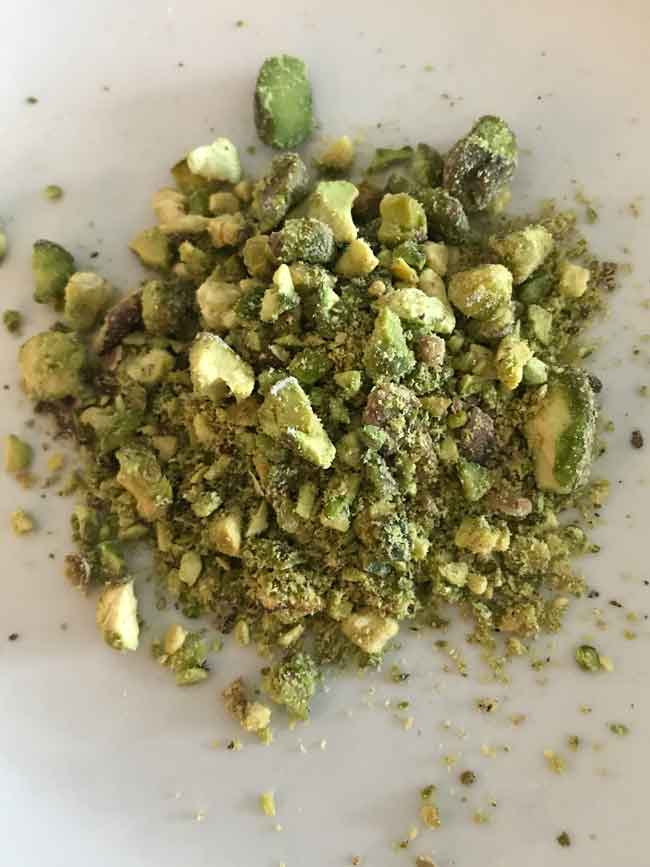 I followed the directions for the most part (almost forgetting the water!) but used an 8 ½ by 4 ½ inch pan rather than a 9x5 inch loaf pan.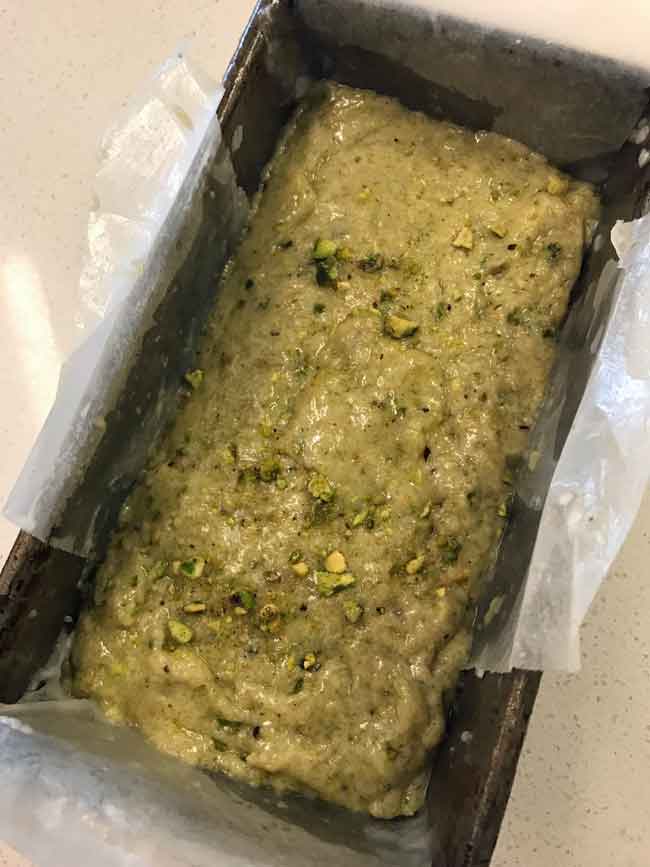 I'm glad I used the narrower pan because the cake was already pretty short and a wider loaf pan would have made it stubbier.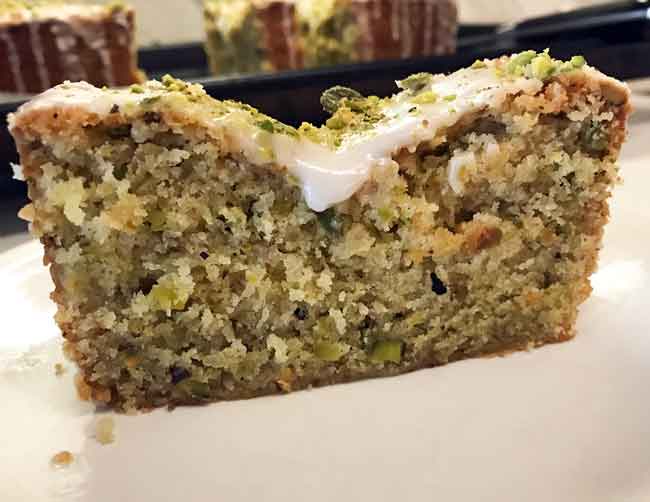 I also used flavorless refined coconut oil in place of vegetable oil because I have a vat of it a friend gave me before she moved to Tonga to start a keto bakery (long story), so maybe the coconut oil changed things. My cake did indeed sink a bit.  Compared to Vegan Lemon Pistachio Loaf on BA, it almost looks like a different cake.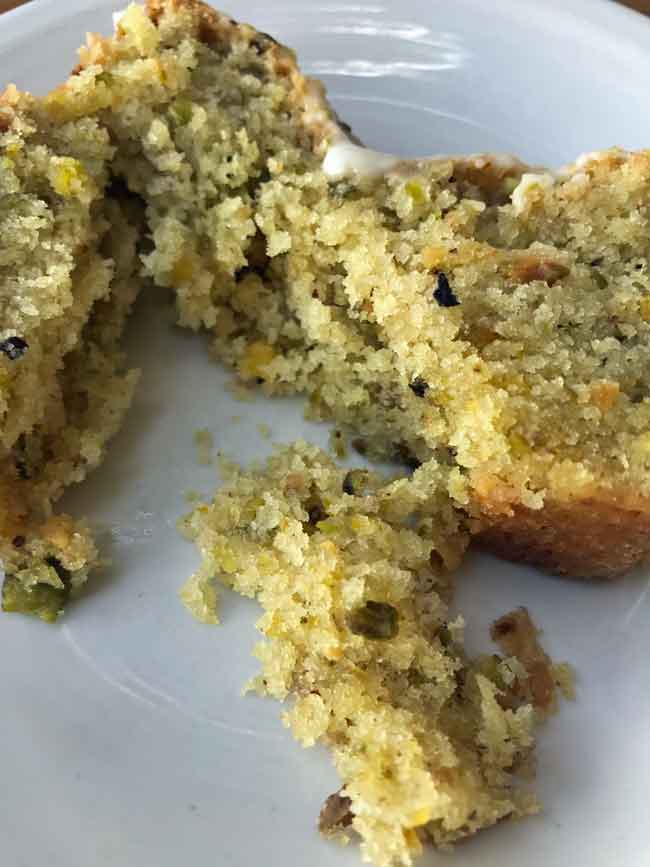 But it was still delicious!  However, if you make this and get a rounded top like the one in the picture on Bon Appetit, let me know! Maybe my coconut oil substitution did it or maybe it was something else, but either way Vegan Lemon Pistachio Loaf is a winner.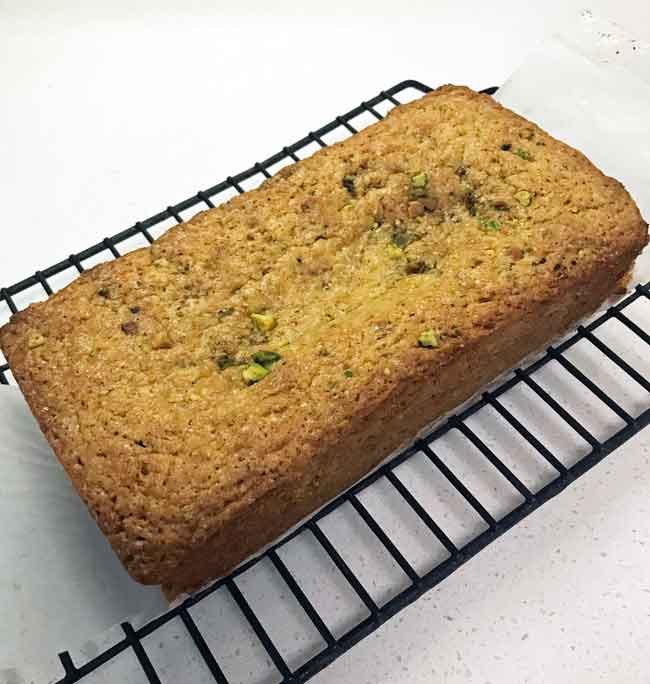 Recipe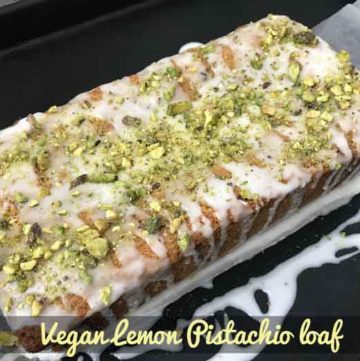 Vegan Lemon Pistachio Cake Ochre
Vegan Lemon Pistachio Cake
Ingredients 
¾

cup

raw pistachios

105 grams

Zest of 2 lemons

measure by tablespoons

1¾

cups

all-purpose flour

220 grams

1

cup

granulated sugar

200 grams

2

tsp.

baking powder

¾

teaspoon

salt

5

tablespoons

extra-virgin olive oil

⅓

cup

melted refined coconut oil or vegetable oil

70 grams

2

Tbsp.

fresh lemon juice

½

cup

water

Icing

5

tablespoons

lemon juice

1 ½ to 2

cups

powdered sugar

I found 1 ½ cups to be just fine
Instructions 
Preheat oven to 325F. Grease an 8 ½ by 4 ½ inch loaf pan (original recipe called for a 9x5 inch pan) with coconut oil or your favorite vegan fat, then line with a strip of parchment paper and grease again.

Pulse pistachios in a food processor until coarsely ground, then set aside about 1 tablespoon. Pulse until finely ground.

In a mixing bowl, whisk or stir together lemon zest, flour, granulated sugar, baking powder, salt, and remaining pistachios. Make sure all of the dry ingredients are very thoroughly mixed.

In a small bowl, whisk olive oil, 2 Tbsp. lemon juice, ⅓ cup melted coconut oil, and ½ cup water.

Pour oil mixture into dry ingredients and fold with a rubber spatula to combine, being very careful not to overmix, as this will result in a gummy texture. The batter is fairly thick.

Transfer to greased pan and spread evenly.

Bake cake until golden brown all over, it springs back when gently pressed, and a tester inserted into the center comes out clean, 50–60 minutes (mine took a full 60 minutes in the 8 ½ by 4 ½ inch pan).

Let cool completely for at least two hours.

Using parchment overhang, lift cake out of pan and place on rack. Peel away parchment.

To make the icing put 1 ½ to 2 cups powdered sugar in a bowl and begin adding lemon juice one tablepoon at a time, stirring after each addition, until the icing is a pourable consistency. Drizzle over and down the sides, then sprinkle with reserved ground pistachios.