After posting the recipe for the Vegan Dark Chocolate Cookies made with almond meal and date paste, a new recipe showed up in my inbox – Vegan Double Chocolate Chip Cookies from One Green Planet. Unlike the almond meal cookies these can be made with pantry staples including all-purpose flour.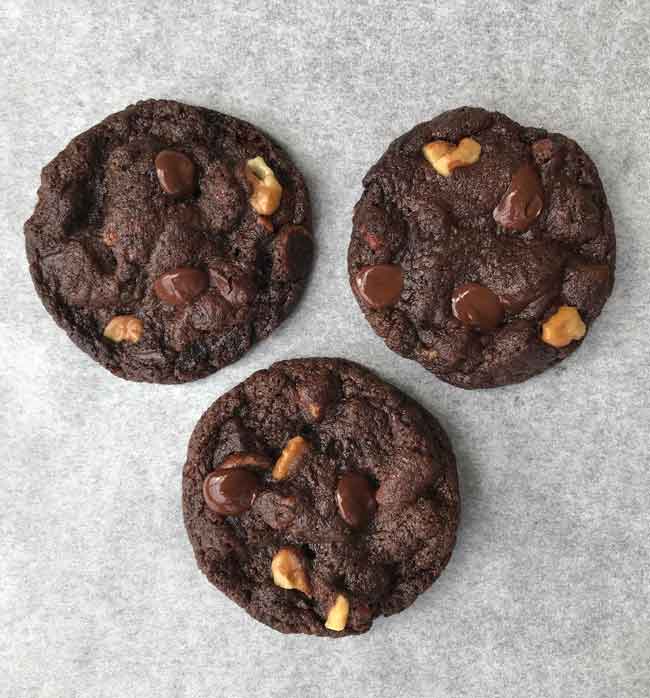 I made the cookies twice. First, I used the original version's pastry flour/all-purpose mix along with some fancy Dutch process cocoa from King Arthur. The cookies spread quite a bit and were very thin, but they were delicious. I chilled the rest of the dough, baked them again the next day and they were much prettier. They did spread a little, but I tapped the edges inward and nudged them into circles while hot.
For the second round I used just all-purpose flour and natural cocoa from Aldi. Cookies were a tad thicker, but not by much. Still very tasty.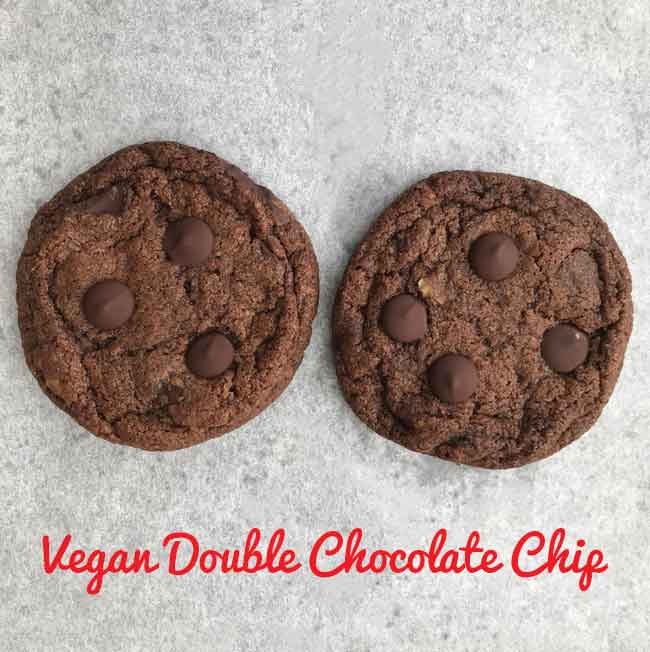 I should also mention that I made the first batch small (20 cookies per batch) and the second batch bigger (12 cookies per batch). I kind of like the smaller ones, but if you have a bakery or need bake sale cookies, the bigger ones might be better.
Here's the recipe as I made it.
Recipe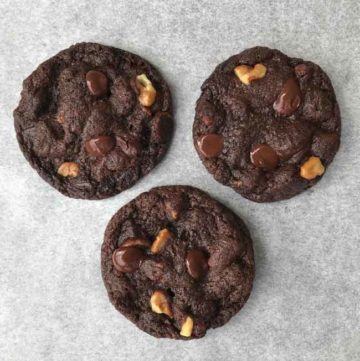 Vegan Double Chocolate Chip Cookies
Vegan Double Chocolate Chip Cookies made with flax egg and plant butter.
Ingredients 
1

tablespoon

ground flaxseed

3

tablespoons

water

1 ½

sticks

170 grams Country Crock plant butter with almond or olive oil

1

scant cup granulated sugar

190 grams

1

teaspoon

vanilla extract

1 ¼

cups

all-purpose flour

160 grams

⅓

cup

25 grams unsweetened cocoa powder, natural or Dutch

½

teaspoon

baking soda

½

teaspoon

baking powder

¼

teaspoon

salt

½

cup

of chocolate chips that don't have dairy

½

cup

coarsely chopped walnuts or pecans

⅓

cup

dried cherries

optional
Instructions 
Preheat the oven to 350°F Have ready two parchment lined baking sheets. If you plan to chill the dough don't preheat.

In a small bowl, mix together the flaxseed and water. Set aside.

In a large mixing bowl combine flour, cocoa powder, baking soda, baking powder and salt. Set aside.

Using an electric mixer, beat plant butter and sugar until creamy. Add the flax egg and vanilla and stir until well mixed

Gradually add the flour mixture and stir until combined, then add the chips, nuts and cherries (if using)

With a medium cookie scoop, scoop out about 20 mounds of dough and space about 2 ½ inches apart on two baking sheets. Press down slightly. For larger cookies, use a large scoop and scoop out about 12 mounds of dough.

Bake for about 10-12 minutes or until cookies appear set. Remove from oven. If the cookies have spread, tap in the edges a bit with the back of a spatula while the cookies are still hot. Set a few more chocolate chips on top of the hot cookies.