The keto recipes continue. I'm usually tired of keto experiments by this point, but I I've had some successes this round, and the recipe for Keto Fudge Brownies is one of them. The family is still waiting anxiously for real sugar's return, but they agree that these sugar-free ones are delicious. Most importantly, nobody really feels the "cooling effect" of the sweetener, which I think is due to both the sweetener used here and the technique.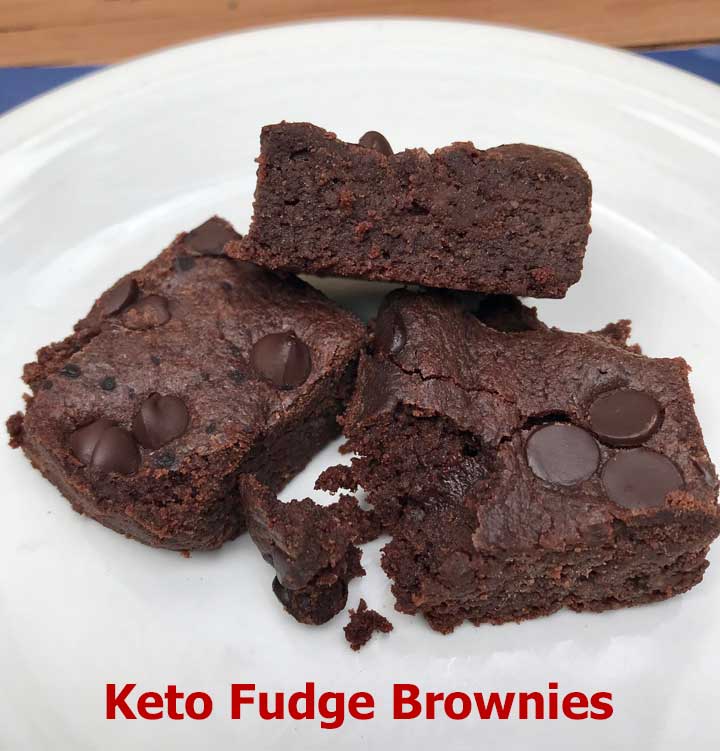 After trying a couple of existing keto chocolate recipes and reading all I could about ways to get rid of the cool mouth effect of erythritol, I made these keto brownies with Lakanto sweetener (a monkfruit and erythritol blend). Since dissolving erythritol before putting it in a recipe is supposed to help curb the cooling effect, I dissolved the sweetener in the hot melted chocolate rather than blending it in with the dry ingredients. That did the trick.
This recipe for Keto Fudge Brownies is designed for a 9×5 inch loaf pan. I especially like loaf pan size batches when experimenting with keto chocolate recipes in case I end up having to throw the whole batch away.  Thankfully, that was not the case here.  The family may not be ready to give up all sugar, but I've convinced them (and myself) that it is possible to make really good keto-friendly brownies.
If you try the Keto Fudge Brownies, please send me some feedback! It's been fun learning about keto and in the process I've found some recipes that I didn't expect would be awesome including this keto bread made with almond flour. You have to try it if you've got almond flour around. But hey, first try the brownies :).
Keto Fudge Brownies Ingredient List
Blanched Almond Flour — I measured out 1/4 cup plus 2 tablespoons and weighed to make sure it was 30 grams.
Unsweetened Dutch Process Cocoa Powder — Used Simple Truth brand from Harris Teeter. It worked perfectly. I'll probably make the next batch with Ghirardelli Dutch if I can find it. I haven't tested these with natural cocoa powder.
Lakanto Monkfruit Sweetener– Before using this, I tested with Swerve Granular and Swerve Confectioners'. The granular Swerve made gritty brownies, while the confectioners' type made smooth brownies that had too much of an aftertaste. I tested again with Lakanto and got gritty brownies. The last test I ground the Lakanto in a coffee mill and had smooth brownies.
Butter — Just regular grocery store butter
Oil — olive oil and coconut oil both worked quite well. Using a little oil in with the butter makes the brownies softer and fudgier, but you can use just butter if you want.
Chocolate Chips –  I've been testing with Lily's dark chocolate chips.  42 grams (about ¼ cup) are melted in with the batter, and 2 tablespoons go on top.  They tend to melt into the batter even if you add them at the last minute, so it's best to just scatter them on top rather than try to stir those last 2 tablespoons into the batter.
Eggs — Whipped the eggs until light and fluffy and added the baking powder and salt to the whipped eggs.
Vanilla — Accidentally left it out of one batch and the brownies were still good. They are better with it, though.
Bake Time — 18 minutes seems to work perfectly every time in my oven. Internal temperature of the brownies should be over 200 — mine were usually around 204.
Loaf Pan — – I used a 9×5 inch loaf pan. The bottom of the pan measures 8×4.25, but if you measure from the top it's 9×5 because the sides extend out.     I'm just mentioning this because if you use a smaller size or slightly larger size pan it may affect the bake time.  The brownies should be fairly thin. 
Update: Tested with Allulose
Allulose is another great keto-friendly sweetener with pretty much no mouth-cooling effect. I tested it in these brownies, using 80 grams rather than 60 since allulose is not as sweet, and the allulose gave the brownies a fluffier quality which made the whipped eggs seem more prominent. If you are making with allulose, you may want to skip the step of whipping the eggs.
Recipe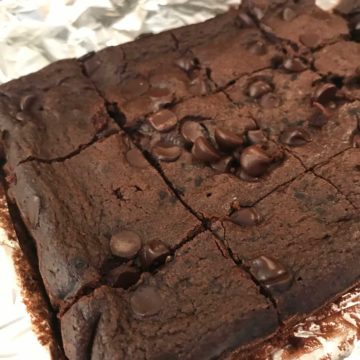 Loaf Pan Keto Brownies
According to My Fitness Pal, the brownies have around 122 calories each (1/12), 12 grams fat, 1 net carb, and 2 grams protein. For more accurate macros, you may want to put the recipe through a different calculator or use your favorite method.
Ingredients 
6

tablespoons

unsalted butter

84 grams

2

tablespoons

neutral olive oil

4

tablespoons

Lily's dark chocolate chips

42 grams (substitutes okay)

3

tablespoons

unsweetened Dutch process cocoa

1/3

cup

Lakanto granulated sweetener OR powdered type

60 grams, ground in a coffee grinder**

1/4

cup

plus 2 tablespoons blanched almond flour

30 grams

½

teaspoon

vanilla extract

2

large eggs

3/8

tsp

baking powder

1/8

teaspoon

salt

2

tablespoons

Lily's dark chocolate chips

22 grams
Instructions 
Preheat oven to 350 degrees F. Line a 9x5inch loaf pan with foil and grease foil with some extra butter or coconut oil.

In a microwave-safe mixing bowl, melt the butter. Add the chocolate chips to the hot melted butter and stir until the chips are melted and mixture is smooth. Add the oil and the Lakanto and stir well, then stir in the cocoa powder and vanilla until smooth. Stir in the almond flour. Set aside to cool while you beat the eggs.

Using a stand mixer with the whisk attachment, beat the eggs for about 2 minutes. With the mixer going, beat in the baking powder and the salt.

Pour the fluffy egg mixture into the chocolate mixture and stir until blended.

Scrape batter into the loaf pan. Sprinkle 2 tablespoons chips on top and bake for 18 minutes or until a thermometer measures 203 degrees. The brownies should still look a little wet in the center and a toothpick (or the probe thermometer) should come out with fudgy mixture on it – not dry. Let cool to room temperature and then transfer to the refrigerator to chill for at least 30 minutes.

When ready to serve, lift from pan and cut into 12 squares.
Notes
For the Lakanto, I used 1/3 cup regular granulated and ground it in a coffee/spice grinder. You could weigh out the equivalent powdered Lakanto.  Please go by the weight of 60 grams, as the volume of the powdered might not be the same as the volume of the granulated.
You can really play around with the chocolate here.  If you don't want to buy the Lily's chips, you can use an 85% chocolate and weigh out 42 grams.  The brownies will be a slightly less sweet, but still good.  If you are not so worried about the brownies being keto and are okay with moderate sugar, just use regular semisweet or dark chocolate chips.