This is a new and improved version of the Keto Fudge Brownies recipe. The old one was good, but kind of a hassle. This version is easy and a bit more streamlined due in part to a sweetener I've started using called Splenda Magic Baker. It is not sucralose, but rather a blend of allulose, erythritol and stevia with the Splenda brand name. It measures like sugar, bakes like sugar and has very little aftertaste. Well, subjective. But for me it's the best of the sweeteners in that regard. There's not much of the dreaded cool mouth effect.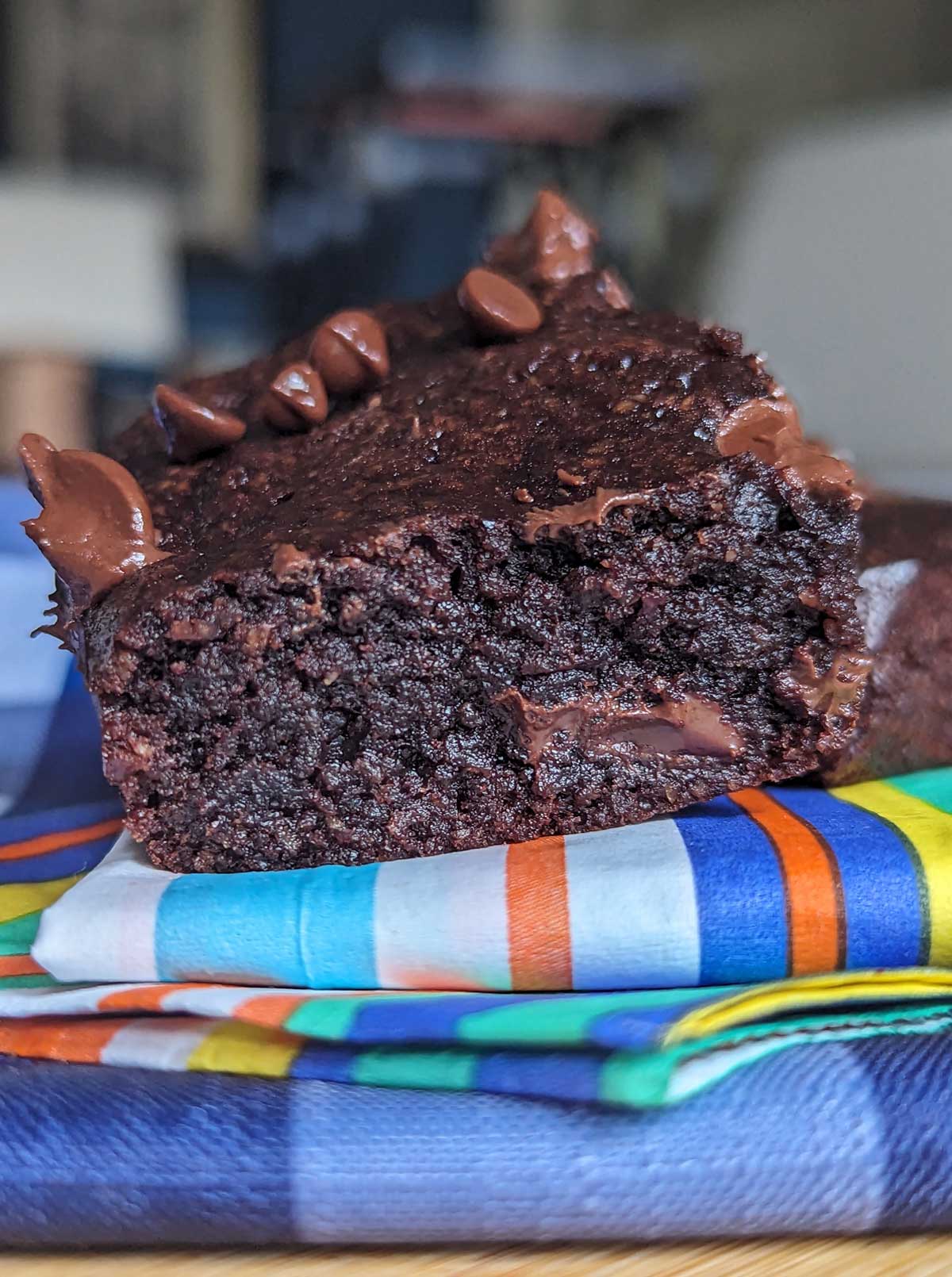 Loaf Pan or Brownie Bar Pan Small Batch
This small batch recipe for Keto Fudge Brownies was originally designed for a 9x5 inch loaf pan, but the new recipe works best in an 8 ½ x 4 ½ inch loaf pan. You can also make these in a square muffin pan. I recently bought a Celebrate It! brand non-stick mini brownie pan and it works well for making individually portioned Keto Brownies. The Celebrate It! pan has 1.7 inch wells, which is deeper than others, so it also works well for square shaped muffins. If using the loaf pan, you'll get 8 small squares. With the deep-well/cavity square brownie bar pan, you'll get 4 larger, thicker brownies.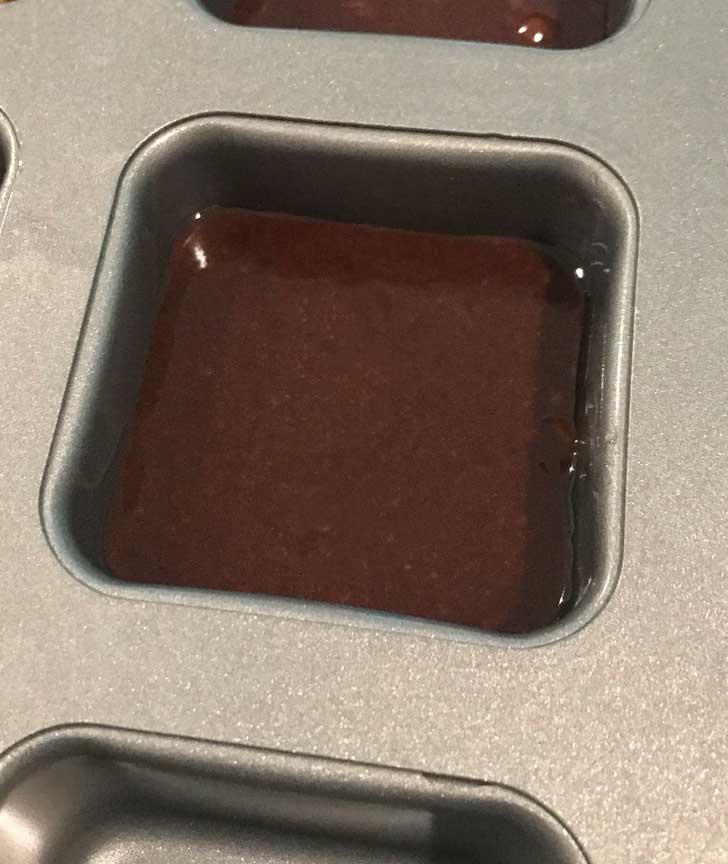 If you try the Keto Fudge Brownies, please send me some feedback! It's been fun learning about keto and in the process I've found some recipes that I didn't expect would be awesome including this keto bread made with almond flour. You have to try it if you've got almond flour around. But hey, first try the brownies :).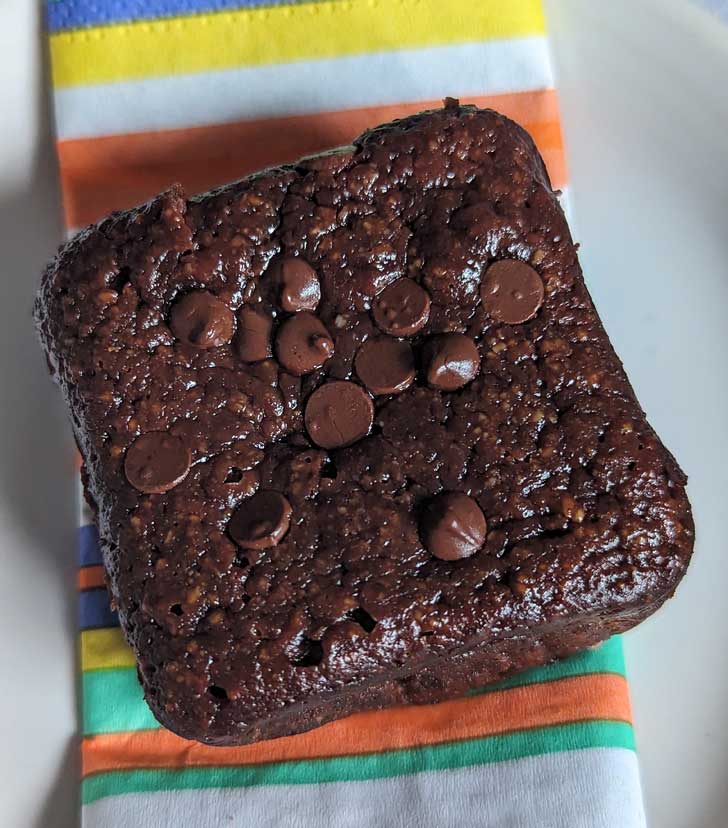 Keto Fudge Brownies Ingredient List
Blanched Almond Flour -- The finer the better. Any brand will work, but some brands are finer than others.
Unsweetened Dutch Process Cocoa Powder -- You can use all Dutch or a mixture of Dutch and natural.
Splenda Magic Baker Sweetener-- Measures like sugar and doesn't have too much of an aftertaste.
Butter -- Just regular grocery salted store butter or salted Plugra. I use salted mainly because I buy salted Plugra and I love making these with Plugra. It gives them a richer flavor and texture.
Chocolate Chips -  Lily's is my go-to brand for sugar-free chocolate chips, but since I am not on a strict Keto diet I often use regular semisweet or dark chocolate chips. Any brand regular or sugar free should be just fine.
Eggs -- No need to whip the eggs for this version.
Vanilla --
Bake Time -- Bake time is slightly longer because these are baked at 325 degreesF..
Loaf Pan -- – An 8 ½ x 4 ½ inch loaf pan is significantly smaller than a 9x5 inch.
Keto Fudge Brownie Calorie Counts
I ran the ingredients through an app called My Fitness Pal and the nutrition counts below are what it said. I'm not sure how accurate they are. If you are serious about watching your macros, I recommend putting the ingredients through your own trusted calculator.
Recipe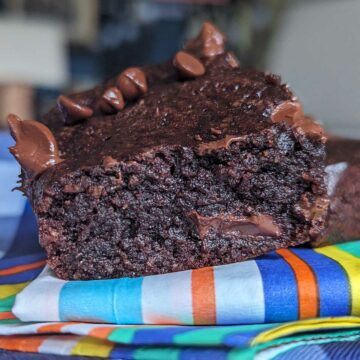 Loaf Pan Keto Fudge Brownies
Can be made in a loaf pan or individual square muffin pans.
Ingredients 
4

tablespoons

salted butter plus a little extra for greasing pan

(56 grams)

3

tablespoons

unsweetened Dutch process cocoa

(18 grams)

⅓

cup

Splenda Magic Baker

(65 grams)

1

tablespoon

very hot brewed coffee (or water)

½

teaspoon

vanilla extract

1

large

egg

⅛

teaspoon

salt (increase to ¼ if using unsalted butter)

½

tsp

baking powder (scant)

½

cup

almond flour, the finer the better

¼

cup

sugar free chocolate chips
Instructions 
Preheat oven to 325 degrees F. Line an 8 ½ x4 ½ inch loaf pan with foil and grease bottom with some extra butter. If using square muffin tin, only grease 4 of the little wells.

In a microwave-safe mixing bowl or small saucepan, melt the butter. Add the cocoa powder to the hot butter and stir until smooth. Stir in Magic Baker and hot coffee, stirring again until smooth (the hot coffee helps dissolve the sugar blend). Stir in vanilla and egg.

Add the baking powder and salt and stir until evenly blended, then stir in the almond flour and the chocolate chips.

Scrape batter into the loaf pan. Bake at 325 F for about 25-28 minutes until a thermometer measures 203 degrees. Let cool for at least 30 minutes before serving.

When ready to serve, lift from pan and cut into squares.
Nutrition
Serving:
8
g
Calories:
223
kcal
Carbohydrates:
12
g
Protein:
10
g
Fat:
19
g