Last week I tested my first Keto Fudge Brownies recipe with allulose. The flavor was great because allulose doesn't leave an aftertaste, but the texture was off. The allulose, which can sometimes make baked goods softer or fluffier, did not work well with the whipped eggs. But since I love using allulose, I tested again with a new recipe, used a loaf pan and made the keto brownies deep dish.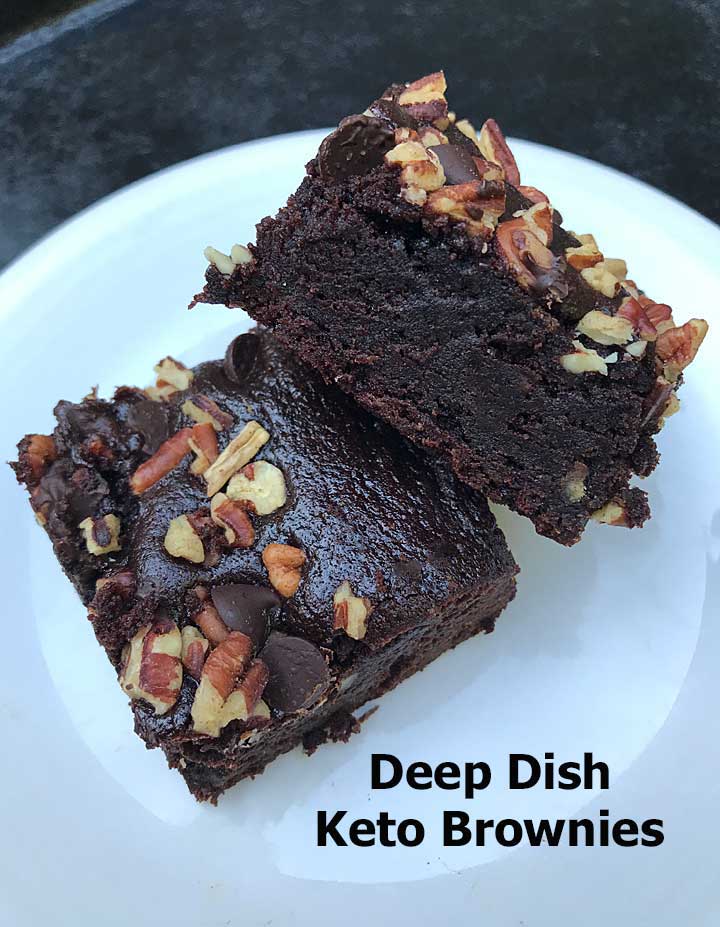 Brownies With Allulose
Making deep dish keto brownies with allulose really improves the flavor. There's no cooling effect or aftertaste and the chocolate flavor really comes through. Allulose is not as sweet as some of the other alternative sweeteners, so it takes a full cup — actually, more than a cup if you happen to have powdered allulose. So far I've been using regular granulated allulose and grinding it into a powder using a coffee grinder designated for tasks like that. If you don't have a grinder, you could use a food processor a Nutribullet. If you do have the kind that comes powdered, make sure to weigh rather than use volume.
Loaf Pan Deep Dish Keto Brownies
The brownies are baked in a 9×5 inch loaf pan. If you use a smaller size, such as an 8 1/2 by 4 1/2, you may need to bake them longer than 30 minutes. If you use a larger size loaf pan, the bake time may be shorter. They'll still look a little underdone in the center, so its' best to immediately test with a probe thermometer to ensure they are done. The temperature should stop rising at about 204 F.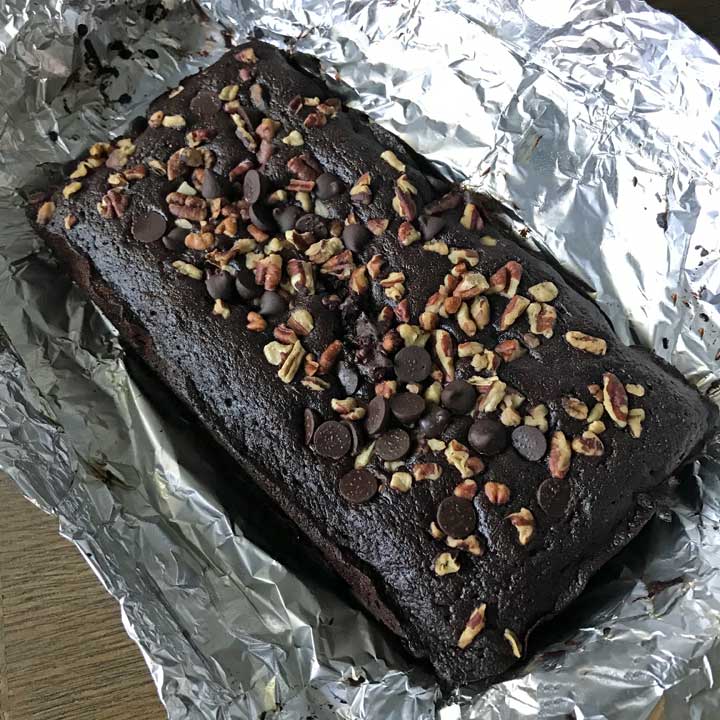 Some Ingredient Notes
Most of the ingredients are pretty straightforward including the allulose, which is sold in the baking aisle and seems pretty easy to come by these days. For the chocolate I've used a small amount of chopped, unsweetened Ghirardelli and I've also tested with one of my new favorite products, Trader Joe's Completely Cacao Chips. They are so convenient, and not too expensive. For the cocoa powder I used Dutched (Ghirardelli) and for the almond flour I used extra fine blanched.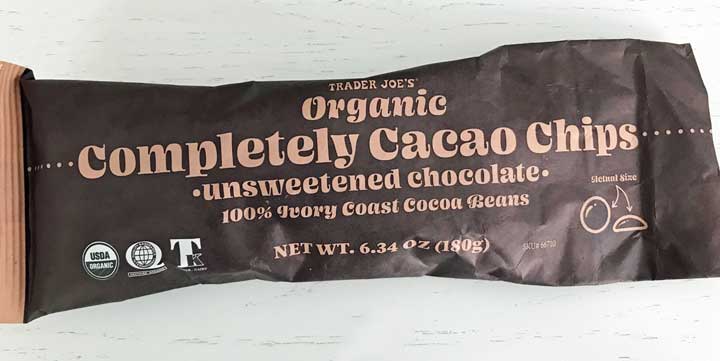 Here's the recipe. If you try it, let me know what you think!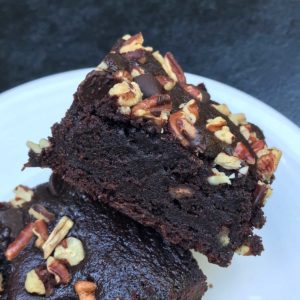 Deep Dish Keto Brownies with Allulose
Deep dish brownies baked in a 9×5 inch loaf pan.
Ingredients 
7

tablespoons

unsalted butter

3

tablespoons

18 grams of Trader Joe's unsweetened chocolate chips or equivalent unsweetened baking chocolate

1/2

cup

Dutch process cocoa powder

2

large eggs

room temperature

180

grams

of allulose

about 1 cup of the granulated type

1 1/2

teaspoon

vanilla

3/4

teaspoon

baking powder

1/8

teaspoon

salt

1/2

cup

blanched almond flour

60 grams

1

tablespoon

chopped pecans

optional

1

tablespoon

chocolate chips

optional
Instructions 
Preheat oven to 325 degrees F. Line inside of a 9×5 inch loaf pan with parchment paper or nonstick foil.

In a microwave-safe mixing bowl, melt the 7 tablespoons of butter. Add the unsweetened chocolate and stir until melted, then stir in the cocoa powder. Alternatively, you can do this over the stove in a large saucepan.

Grind the 180 grams of allulose so that it is powdered (or weigh out 180 grams of powdered allulose). Stir into the chocolate mixture. Add the room temperature eggs one at a time and stir until smooth, then stir in the vanilla, baking powder and salt.

Lastly, stir in the almond flour. At this point you may want to let the batter cool down (if it's still warm) and add ¼ cup mini chips, but they are optional.

Pour mixture into the prepared loaf pan and bake at 325 for about 30 minutes. The brownies should look pretty underdone in the middle, but if their internal temperature hits 204 they are done, so don't overbake them.