I saw Arrowhead Mills Protein Flour at the grocery store and it piqued my curiosity. Why would one use protein flour? Was it keto? How did it taste? After searching for and not finding any reviews, I decided to take a $6 gamble and try it out. For testing purposes, I used the Arrowhead Mills Protein Flour Chocolate Chip Cookies recipe from the back of the bag. If you are a Cookie Madness follower, you know this was basically an excuse to try a new chocolate chip recipe, but let's play along anyway :).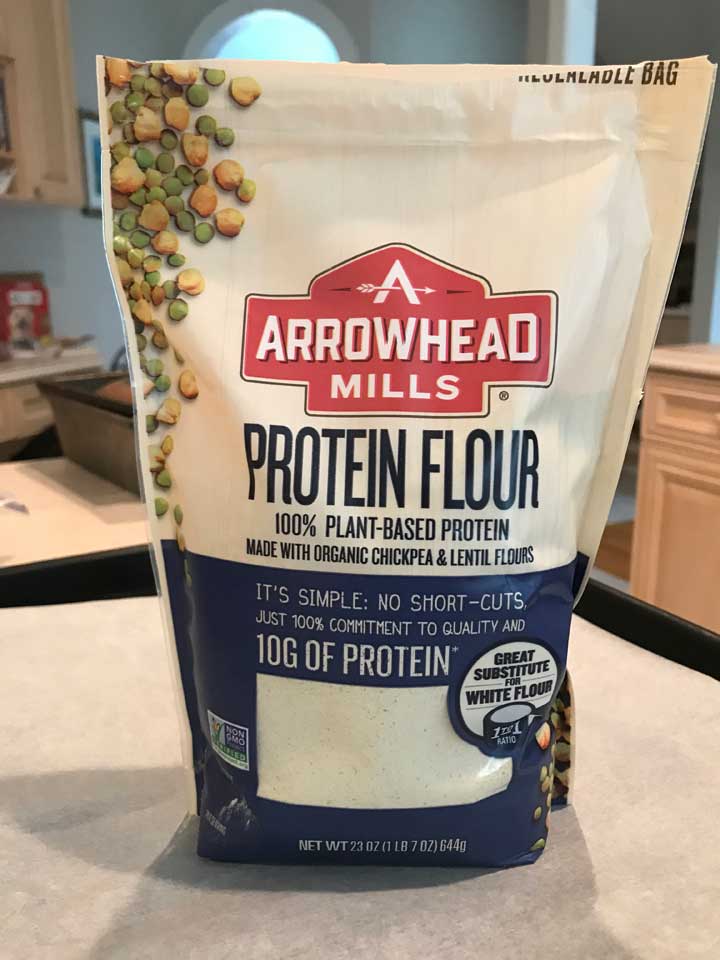 What is in Protein Flour?
Arrowhead Protein Flour is made from vital wheat gluten, chickpeas, wheat flour and golden lentil flour. While it's not carb-free, it's helpful for anyone trying to fit a little more protein into their baking. Below is a rough estimate of the macronutrients compared to all-purpose and almond flour. The table does not take into account micronutrients, but the protein flour really does have a lot of protein and is lower in fat than almond flour.
| | | | |
| --- | --- | --- | --- |
| 30 grams (Around ¼ cup) | Protein | Fat | Carbohydrates |
| Protein Flour (110 calories) | 10 | 1 | 15 (2 fiber) |
| All-Purpose Flour (110 calories) | 3 | 0 | 22 (<1 fiber) |
| Almond Flour (180 calories) | 7 | 15 | 5 (3 fiber) |
Appearance and Taste
The protein flour is off-white and has a texture close to all-purpose. It does not have much of a fragrance, but it does have a flavor to it. I don't usually eat raw flour, but for reviewing purposes I tasted it dry and thought the flavor was pleasant -- like toasted chickpeas. The flavor was even more pronounced in the chocolate chip cookie dough.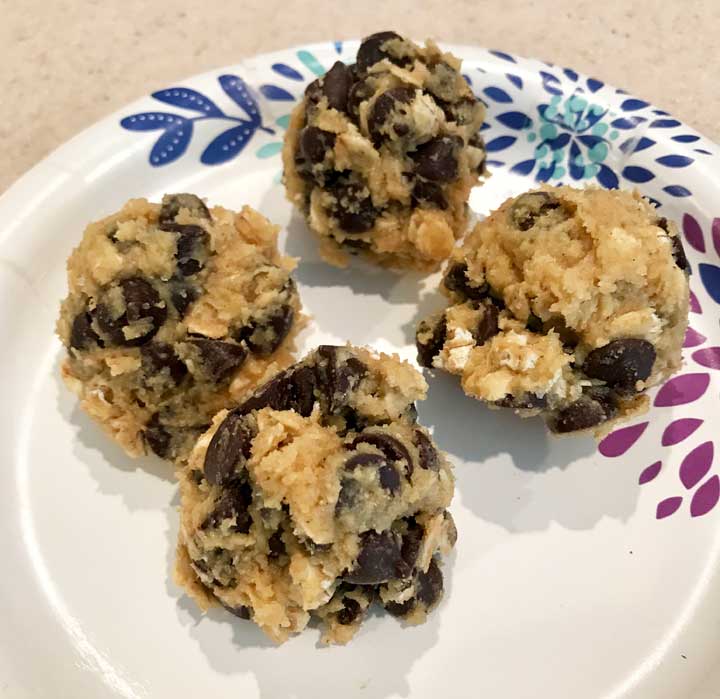 Protein Flour Chocolate Chip Cookies
As mentioned, I used the recipe on the back of Arrowhead's bag which makes 24 cookies. The recipe calls for 1 cup of the flour, ½ cup oats and ½ cup butter. It only calls for ¼ cup of brown sugar, then makes up for any missing sweetness with 1 ½ cups of chips. So there's not a lot of sugar in the dough itself, but you get plenty of sweetness from the chocolate chips. That's my kind of cookie!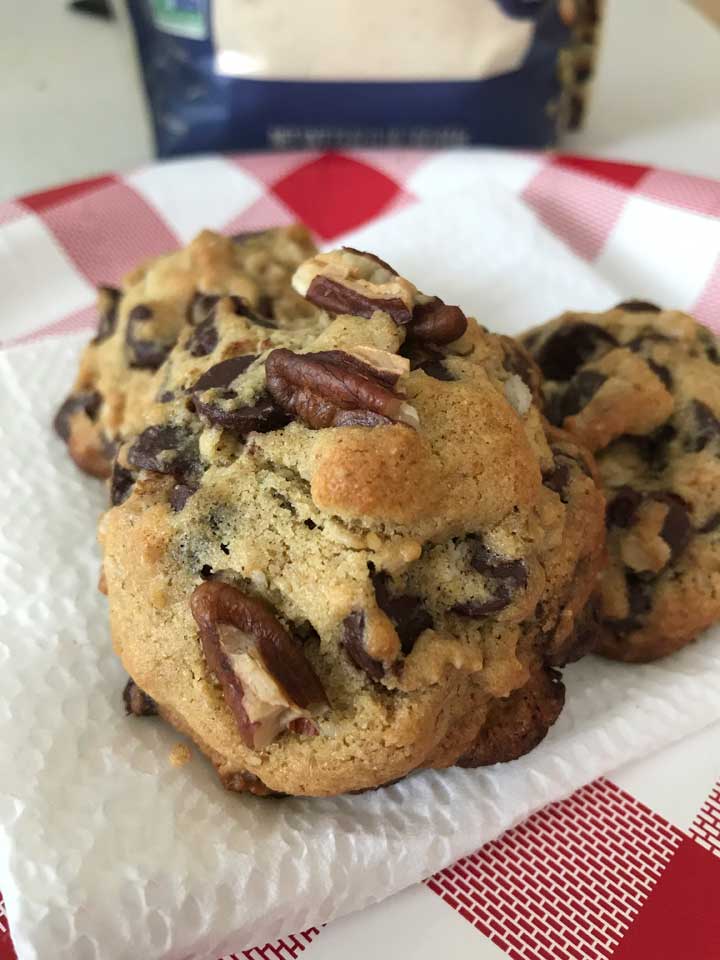 The cookies tasted great, which is what I expected since the company put the recipe on their bag. I'm glad they were creative and didn't just substitute protein flour for all-purpose in a Toll House like recipe. The cookies definitely have a depth of flavor which comes from the butter, chickpeas, lentils and the vanilla. I detected kind of a roasted peanut flavor, which was surprising since there aren't any peanuts. Maybe it's a legume flavor? But it's good! You should try the flour if you see it. In the meantime, I will update when I test it in some recipes other than chocolate chip cookies.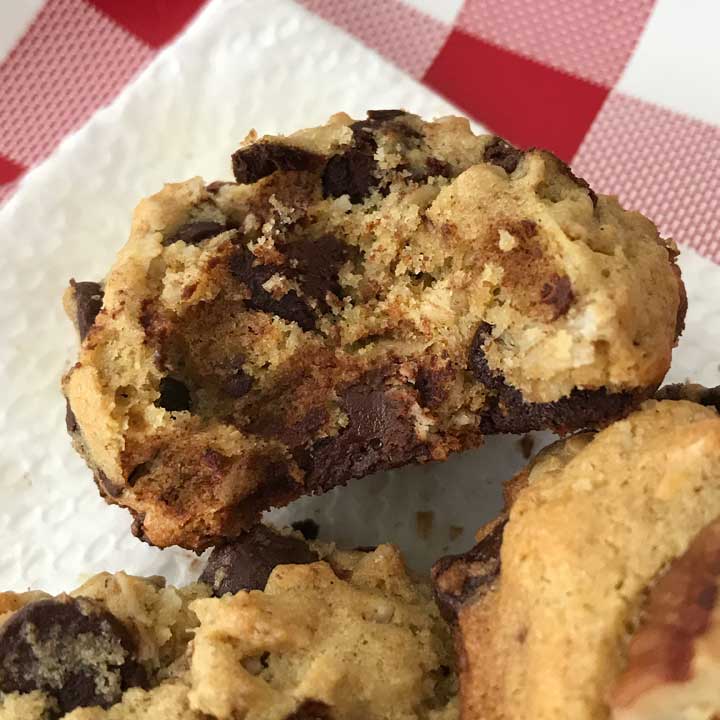 Below is the recipe with sugar and chocolate chips. After making it as written below, I made it again with Swerve (the brown sugar kind) and used a chopped up Chocolove XO bars instead of chips to make sugar free cookies. The macros for the sugar-free version were 107 calories, 8 grams fat, 9 grams carbohydrate (4 fiber) and 3 protein, but as always I suggest you put the ingredients through your own calculator to ensure accuracy if you are seriously watching numbers.
Recipe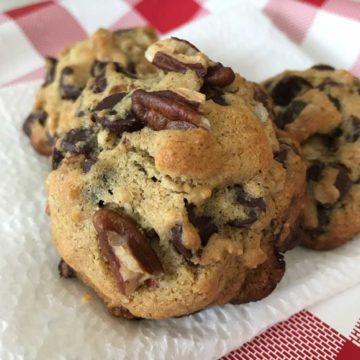 Arrowhead Mills Protein Flour Chocolate Chip Cookies
Chocolate chip cookie recipe from the back of the Arrowhead Mills Protein Flour bag.
Ingredients 
1

cup

Arrowhead Mills Protein Flour

120 grams

½

teaspoon

baking powder

½

teaspoon

baking soda

¼

teaspoon

salt

½

cup

oats

½

cup

unsalted butter

114 grams

¼

cup

light brown sugar, packed

50 grams

1 ½

teaspoons

vanilla extract

1

large

egg

1 ½

cups

semisweet chocolate chips

⅓

cup

toasted pecans

optional
Instructions 
Preheat oven to 350 degrees F.

In a large mixing bowl, beat butter, brown sugar, vanilla and egg until smooth.

In a small bowl, combine flour, baking powder, baking soda and salt and stir well, then stir in the oats.

Add flour mixture to butter mixture and stir until blended. Stir in the chocolate chips. Add nuts (if using).

Drop by tablespoons onto ungreased or parchment lined baking sheets and bake for 10 to 12 minutes or until done.
Notes
If you want to make the cookies sugar free, use brown sugar Swerve instead of the brown sugar and substitute a chopped high quality sugar free chocolate bar like Lily's or Chocolove or Chocoperfection.