If you liked the Trader Joe's Almond Flour Chocolate Chip Cookies and want to try a keto version, here's our family's favorite recipe for keto chocolate chip cookies. I've been a little obsessed with them lately and have tried all kinds of variations. This one keeps winning the tastes tests, and the family doesn't complain that they are keto.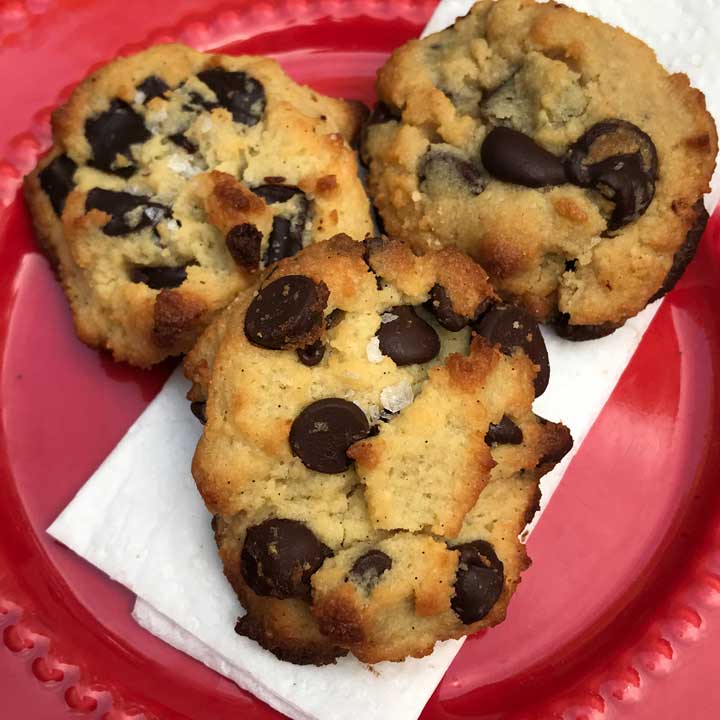 Sweetening Keto Desserts
Sweetening keto desserts is a real baking challenge. Sucralose tastes okay, but I think it makes my tinnitus louder so I avoid it. Xylitol is supposed to be good, but with a canine cooking companion it's too risky. So what's left are straight erythritol, erythritol products like Swerve and Lakanto, stevia, and my current favorite, allulose.
Erythritol, Stevia and Molasses
For Keto Chocolate Chip Cookies, I like a mixture of erythritol and stevia, with the stevia being there to counter the mouth cooling effect of the erythritol. Swerve plus a little stevia and Lakanto classic plus stevia also work well. As for the molasses, it's not there to sweeten so much as to add flavor. It's not keto, but the recipe only needs a half teaspoon so divided among 12 cookies it's negligible. I've tested with mild and blackstrap. I thought the blackstrap would add more flavor, but mild molasses works just as well if not better.
Allulose Chocolate Chip Cookies
Another sweetener I tested was allulose. Allulose is great in smoothies, ice cream and fluffy breads, but it gives cookies a cakey, muffin-like texture. If you want to make the cookies a little larger and present them as Keto Muffin Tops, the allulose might be just the ticket. If you try this, make sure to use 6 tablespoons rather than 4 because allulose is about a third less sweet as sugar, whereas erythritol can be used 1:1.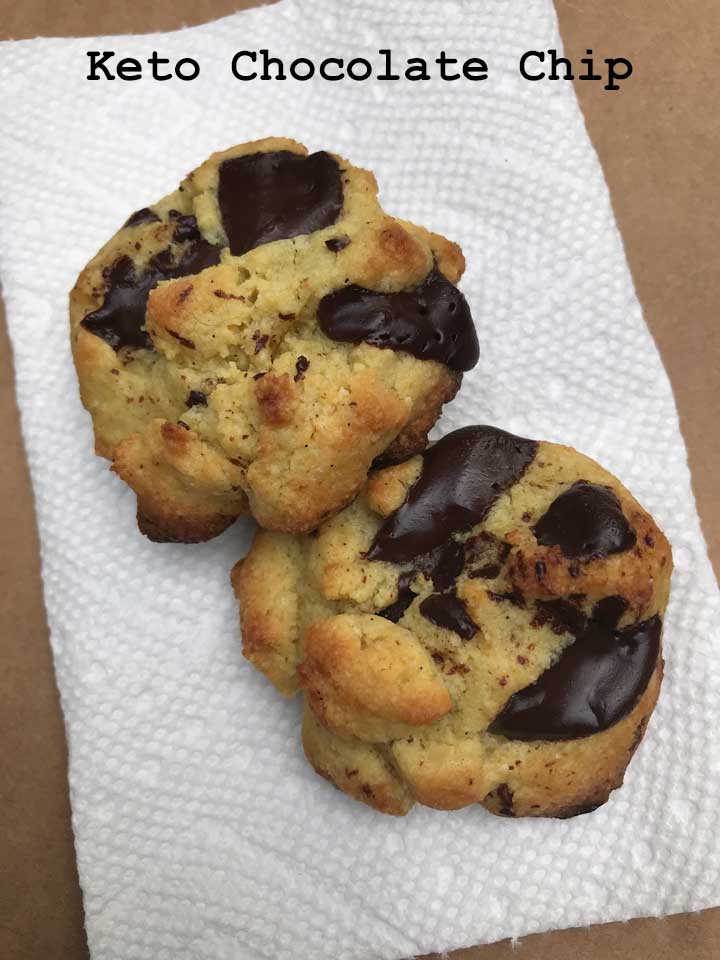 Almond Flour and Other Flours
So many keto baked goods call for almond flour that I get a little tired of it and like to experiment with other flours. Along with this 100% almond flour version, I've tried keto chocolate chip cookies with a mixture of almond flour and lupin flour and another version with a mixture of almond flour, coconut flour and vital wheat gluten. The 100% almond flour tastes best. The other nice thing about the almond flour is the cookies' texture seems to improve with time. The longer they sit, the softer and crumblier they get. Put them in a zipper bag, leave them at room temperature for a day and they'll still taste great. Second to the almond flour version, I like a version made with 2 parts almond flour and 1 part lupin flour.
Chocolate for Keto Chocolate Chip Cookies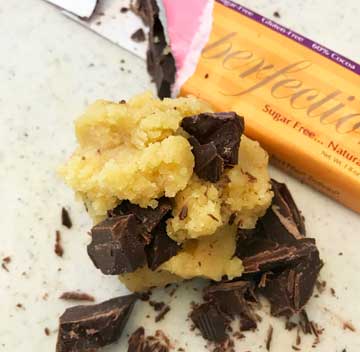 For the chocolate, I use Lily's chocolate chips or a chopped keto-friendly chocolate like Chocoperfection. Chocoperfection is inulin sweetened, and it is the best I've tasted. It's a little expensive, but worth it if you are on a strict keto plan and miss chocolate. Sometimes I am more "cheat-o" than keto, so I also use regular semisweet or bittersweet chocolate chips for a lower sugar rather than keto cookie.
I'm sure there are a lot of other great keto chocolate chip recipes out there that are as good or maybe better than this one. I'm curious about all of them.
Recipe
Small Batch Keto Chocolate Chip Cookies
I used the weight measurements, so the volume measurements are just approximations.
Ingredients 
4

tablespoons

unsalted butter

softened (60 grams)

4

tablespoons

erythritol

48 grams

½

teaspoon

molasses

mild or blackstrap

1-2

drops liquid Stevia

somewhere around 1/16 of a teaspoon

½

teaspoon

vanilla extract

1

large

egg at room temperature

¼

teaspoon

baking soda

¼

teaspoon

salt

use half if using salted butter

1 ¼

cups

almond flour, blanched

130 grams

½

cup

sugar free chocolate chips or chopped chocolate

84 grams
Instructions 
Preheat oven to 350 degrees F. Line a large baking sheet with parchment paper.

Beat together the softened butter, erythritol, stevia, molasses and vanilla.

Add the room temperature egg and stir until blended, then beat in the baking soda and salt.

Add the almond flour and stir until fully blended, then stir in the chocolate chips or chocolate chunks.

Shape cookies into 10 to 12 balls and arrange on baking sheet about 2 inches apart. Press down to make ½ inch thick rounds and bake at 350 for 12 to 13 minutes. For flatter cookies, you may want to press the rounds down a bit, as they usually don't spread much. This may vary a bit depending on which brands of almond flour you use.

Let the cookies cool before baking. I like to throw them in the freezer to solidify the chocolate and eat frozen or brought back to room temperature so that the chocolate is solid.