I never thought I'd be making persimmon bread, but we have a Japanese persimmon tree and the fruit we've been watching for the past several months is finally ripe. We weren't sure what to expect because we'd never tried persimmons, but that's changed. Turns out my family really likes the persimmons, which I think are Hachiya Fuyu!.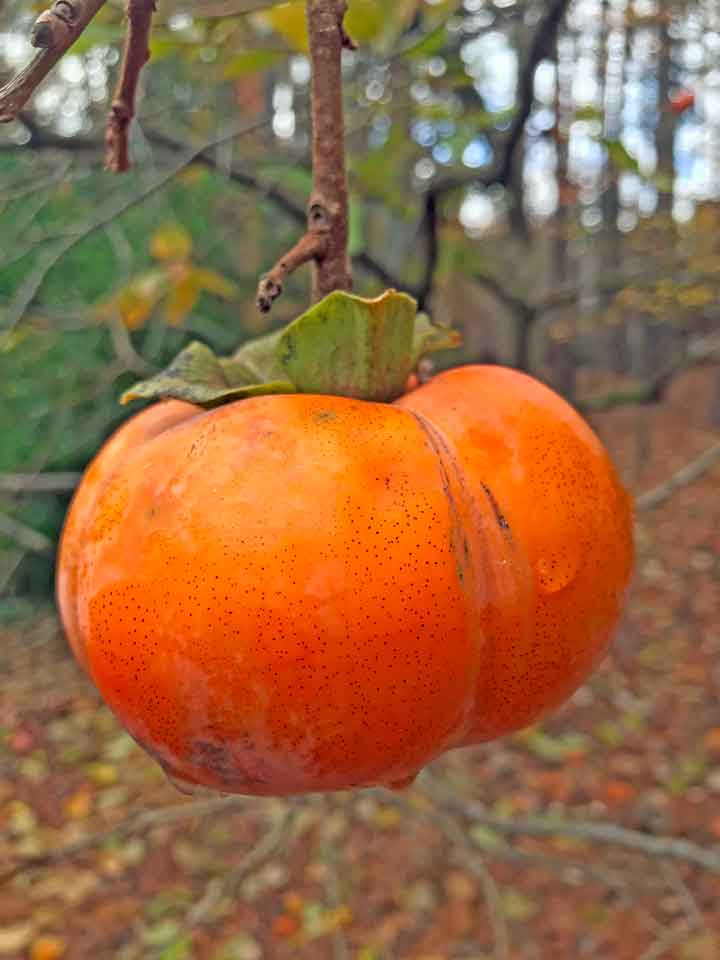 They have soft pulp that doesn't need to be pureed. You just cut the persimmon and scoop it out. If you feel like pureeing it you can, but so far I like having little chunks of persimmon in the bread.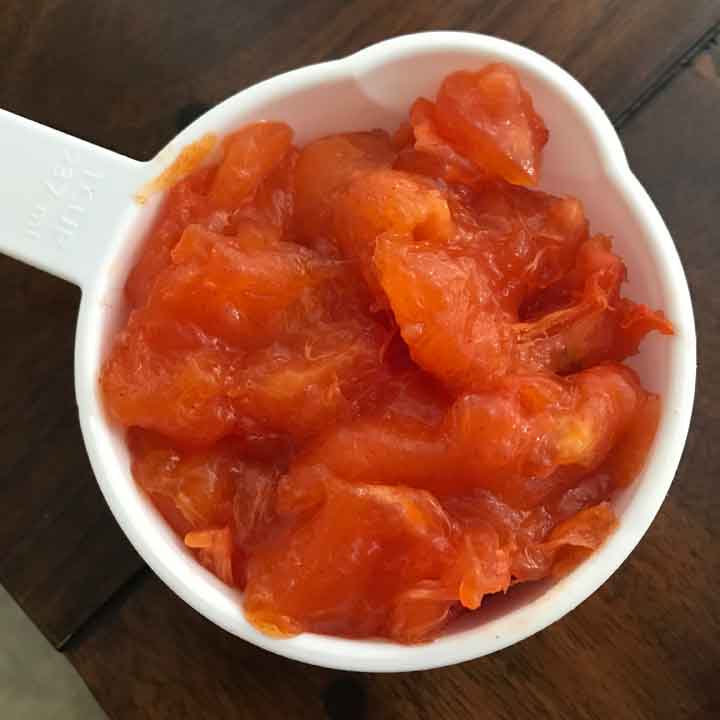 Hachiya persimmons (see the update) are not at all bitter when ripe. I've read they can be very drying if you eat them before they are ripe, but when ripe the pulp is sweet and kind of cinnamon-y -- at least according to my family and some friends. I'm not really fond of the flavor or texture, but I love the persimmons baked into this bread.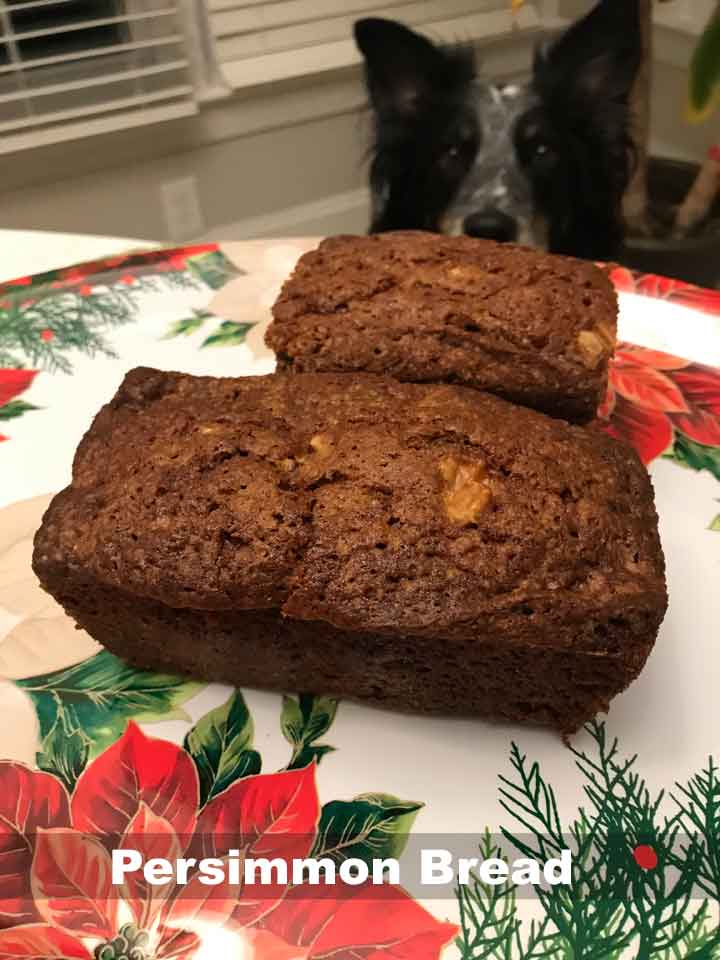 This is the recipe I've been using to make three 3x6 inch loaves.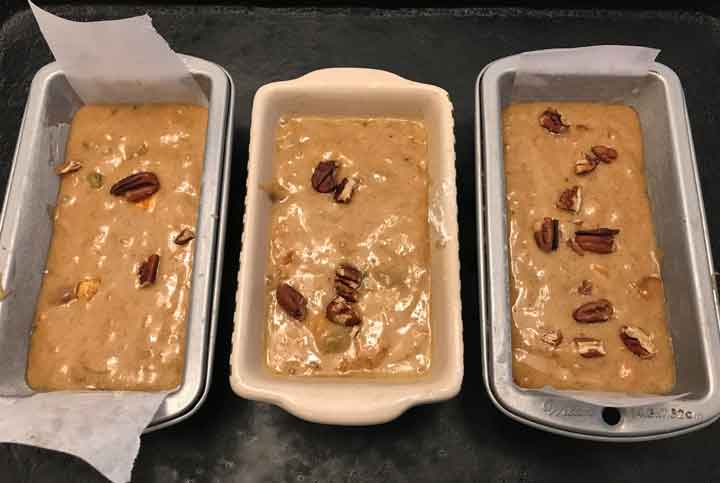 I haven't yet tested the recipe as a larger loaf, but the bread is rich and dense and works beautifully in the smaller loaves. Plus it's easier to share that way! It's a lot like pumpkin bread, but the baking soda and the persimmon give it a long lasting finish. I have made it twice now, one batch without and one batch with bourbon soaked golden raisins. I've also made with walnuts.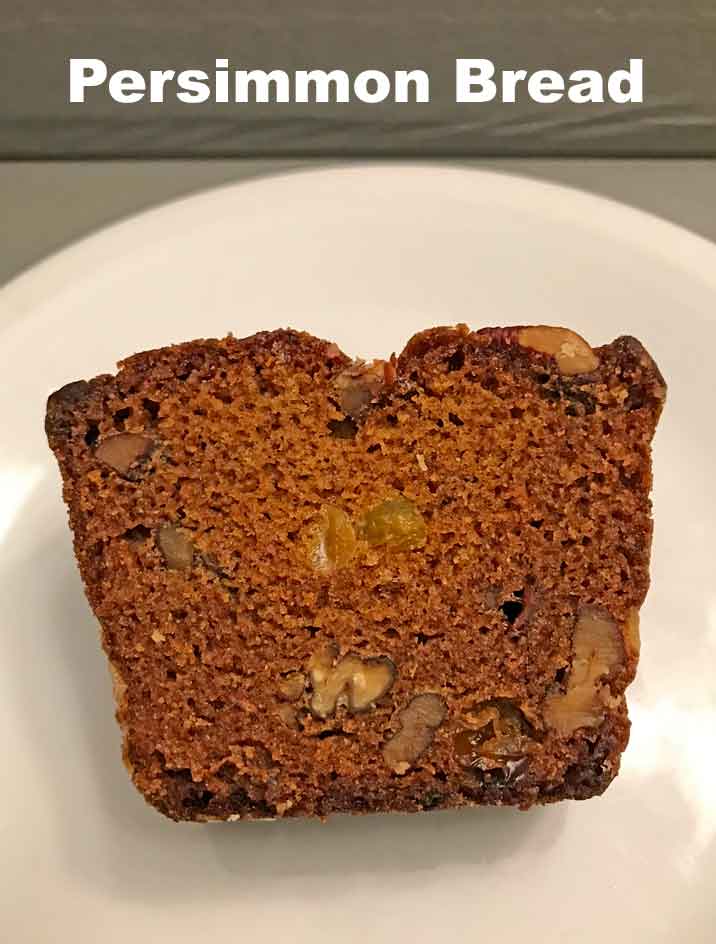 We've really enjoyed making these mini loaves. For the next round, I plan on trying the James Beard version from David Lebovitz.
Update: Thanks to Raylene, I have learned these are actually Fuyu! We thought they were Hachiya because they did not taste good while firm, but I think the firm ones we tried just weren't ready. I put them in bags to ripen. A few became soft, but a couple were still very firm. I cut one open and the inside was like an apple and tasted good. So I'm pretty sure these are Fuyu. Meanwhile, the others are now very soft and pulpy and ready for more recipes!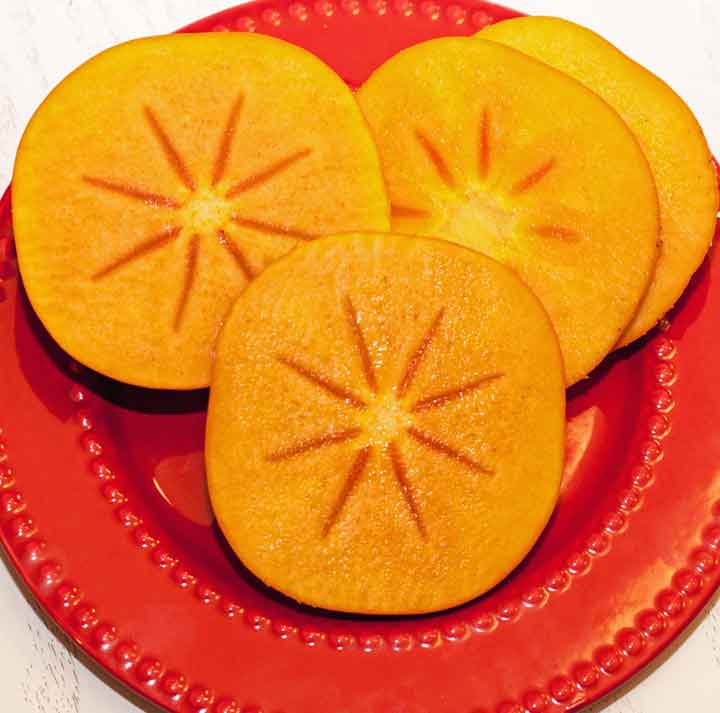 Accidental Persimmon Bread Biscotti
I still like this persimmon loaf the best, but at this point it's the only persimmon loaf I've tried :). A few days ago I made a batch and accidentally left out the baking soda. The result was loaves that were shorter, not as brown and very dense. They tasted great, but I wasn't about to give them away as gifts so a sliced them up, dried them out at 250 degrees F. and turned them into biscotti. It was so good I gave it as gifts! So if Persimmon Biscotti appeals to you, check out the notes!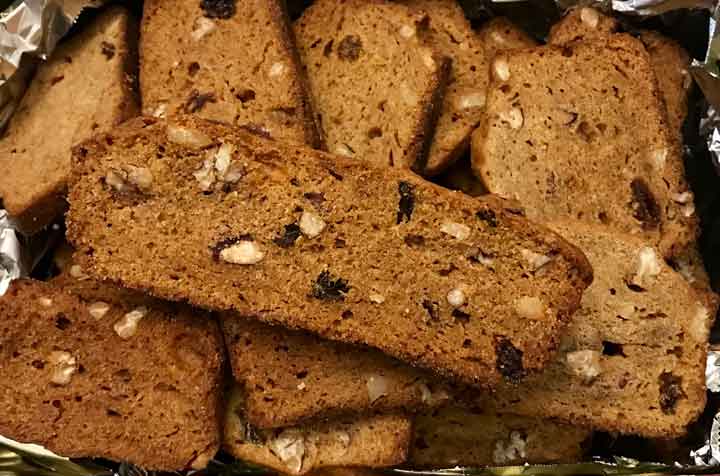 Recipe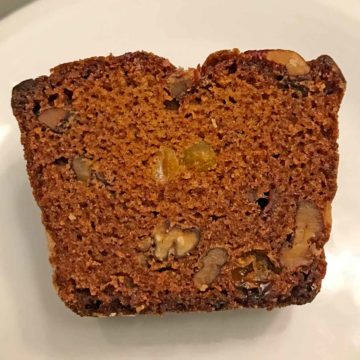 Persimmon Bread with Pecans and Bourbon Raisins
This recipe makes 3 3x6 inch Persimmon Bread loaves.
Ingredients 
1 ¼

cups

firmly packed brown sugar

(230 grams)

2

large eggs

½

cup

light olive oil

¾ 

teaspoon

ground cinnamon

⅛

teaspoon

cloves

⅛

teaspoon

ground nutmeg

¾

teaspoon

salt

¾

cup

persimmon pulp

200 grams

1

teaspoon

baking soda

1 ½

cups

all-purpose flour

210 grams

¾

cup

chopped pecans

toasted

¼

cup

golden raisins that have been soaked overnight in bourbon

optional
Instructions 
Preheat the oven to 350 degrees F. Grease three 6x3 inch loaf pans. Line with strips of parchment paper and grease again. If you prefer, you can just spray with flour-added baking spray.

In a mixing bowl, stir together the brown sugar and eggs until smooth. Add the oil and stir until smooth, then stir in the cinnamon, cloves, nutmeg, and salt.

Mix in persimmon pulp, followed by the baking soda, making sure there are no lumps in the baking soda and that it is evenly dispersed. Add the flour and stir until blended, then stir in the nuts. If using raisins soaked in bourbon, add them too.

Divide the batter among the pans filling about ⅔ full. Set pans on a rimmed baking sheet and bake at 350 for about an hour (start checking at 50 minutes) or until a toothpick inserted comes out clean or with moist crumbs.
Notes
While making the biscotti recipe above, I realized halfway through the bake time that I'd left out the baking soda.  The loaves tasted good, but were too dense to give as gifts.  Not wanting to throw them away I cut them into slices, baked at 250 for about 45 minutes, and let cool to make biscotti.   I was worried the thin slices would not dry out, but eventually they did.  Time may vary in ovens.  Also, they will not be completely crisp when you take them out of the oven (like most granola and biscotti), but will crisp as they cool. 
Leaving out the baking soda will give you a dense and crunchy biscotti.  Leaving in the baking soda (maybe you just want to  experiment with one of the good loaves?) works, but the biscotti will be lighter in texture.