None of us are keto, but keto biscotti has become a mainstay at our house. I love that it's basically a mass of nuts held together by eggs with some extra fiber and natural sweetener thrown in. As far as sugar free cookies go, these are up there with the best. I make them so often I've memorized the recipe, but it did take some trial and error.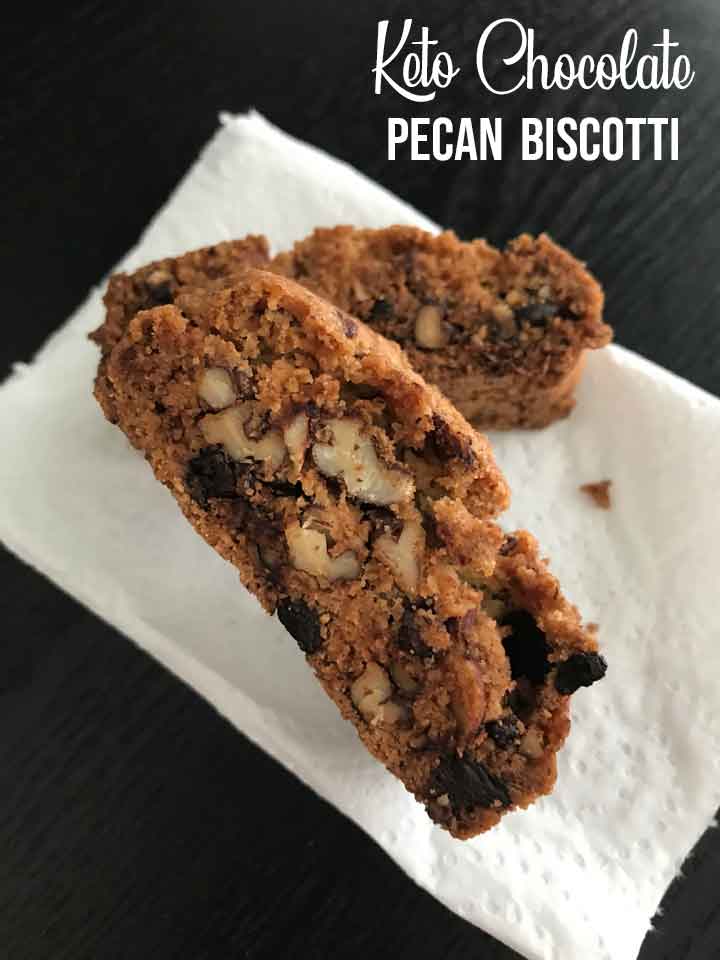 Getting Keto Biscotti to Crisp Up
What I found during my experiments was that keto biscotti takes a little longer to "crisp up". After both the first and second bake, it will still be soft, but after several hours of cooling it hardens. Or at least if you use erythritol. Allulose makes it too cakey and Brown Sugar Swerve does the same thing. I've had mixed results with Swerve and am still experimenting with Lakanto Monkfruit, but straight up erythritol works. A little psyllium also helps soak up moisture, as does the extra egg white. For best results, I recommend making the biscotti exactly as written before trying any other sweeteners or substitutes.
Keto Biscotti Ingredient List
If you are already doing some keto baking you are probably familiar with all of these things, but if not some will seem strange. For the biscotti, you should be able to find all of the ingredients in regular grocery stores or at least Whole Foods and Sprouts.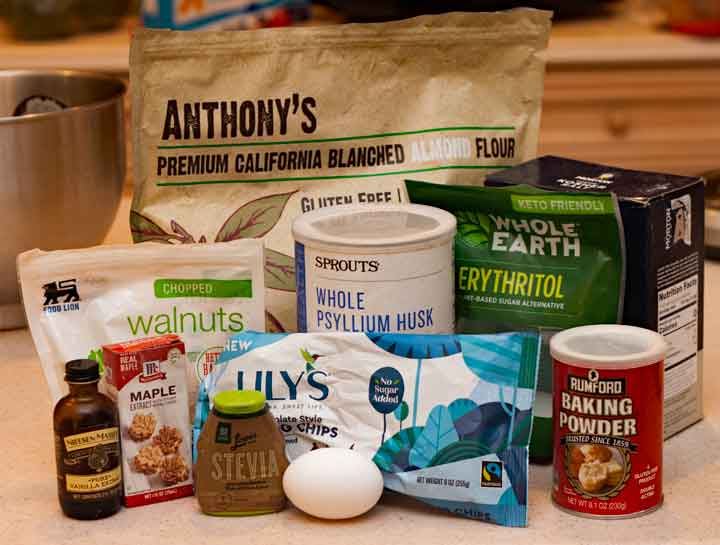 Egg plus an egg white -- The egg binds and the extra white helps dry out the biscotti.
Erythritol -- I use a brand called Whole Earth.
Stevia -- The stevia is supposed to help erase the cool mouth feel of the erythritol. You can leave it out if you want, but I think it does help.
Vanilla and maple extract -- Maple extract can be overpowering, but it's really good in Keto Biscotti and helps offset any strangeness from the sweeteners. You can make great Keto Biscotti with other flavors of extracts, but I've noticed my family really likes it when I use the maple and they can't tell it's keto.
Blanched Almond Flour -- Anthony's and Bob's Red Mill are both good.
Psyllium husk -- This is becoming easier to find. Whole Foods and Sprouts always have it, and I recently saw it at one of the mainstream grocery stores. It's great for soaking up moisture and acting as a binder. It's just a really fun ingredient. You can also use it in Adventure Bread and other low carb breads.
Normally I use pecans, but I was out and used walnuts which were just as good.
Lily's makes excellent sugar free chocolate chips. They're expensive, so if they go on sale it's good to buy a couple of bags and freeze.
Recipe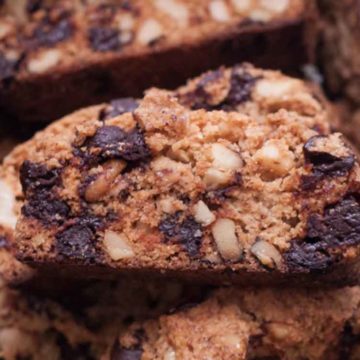 Keto Biscotti
A high protein, sugar free recipe for Chocolate Chip & Pecan Keto Biscotti
Ingredients 
1

large egg

room temperature

1

egg white

room temperature

50

grams

erythritol (¼ cup)

(Can also add a dash of liquid stevia)**

½

teaspoon

`vanilla

½

teaspoon

maple extract

optional but good!

115

grams

blanched almond flour

1 cup

¾

teaspoon

baking powder

¼

teaspoon

salt

2

teaspoons

psyllium husk

⅔

cup

finely chopped pecans or walnut pieces

½

cup

sugar free chocolate chips
Instructions 
Preheat the oven to 350°. Line a baking sheet with parchment paper.

With an electric mixer, beat the egg and egg white until light and foamy. Beat in the erythritol and flavorings.

Mix together the almond flour, baking powder, salt and psyllium. Add to the egg mixture, then stir in the nuts and chocolate chips.

Shape the dough into a log about 2 ½ x 11 inches. OR you can make two stubbyier logs of 2 2 ½ by about 5. Bake at 350 for 25 minutes. Let cool completely.

For the second bake, cut the loaves into thin slices. The loaves are delicate, so you have to slice carefully. I recommend holding each section you are slicing with you thumb and forefinger and carefully cutting straight through rather than sawing. Of course if for some reason sawing or using a serrated knife works better for you, do that!

Lay slices on a baking sheet and bake at 250 for about 45 minutes. At this point they will be brown and and still soft. Allow them to cool. If they are still not crisp once completely cooled, return to the 250 oven and bake for another 10 minutes and then let sit in the warm oven to dry out.
Notes
If you have some liquid stevia, you can add about ⅛ to ¼ teaspoon.  This is supposed to help cancel the cool mouth effect of the erythritol.  
Making any substitutions will change the biscotti