This post was supposed to be about The Fanny Farmer Cookbook Saucepan Chocolate Cake, which is exactly the kind of cake I love making. It's small, can be made all in one saucepan, and calls for pretty basic ingredients. So I did indeed make that cake and we all enjoyed it. The thing is, I kept thinking the recipe looked familiar…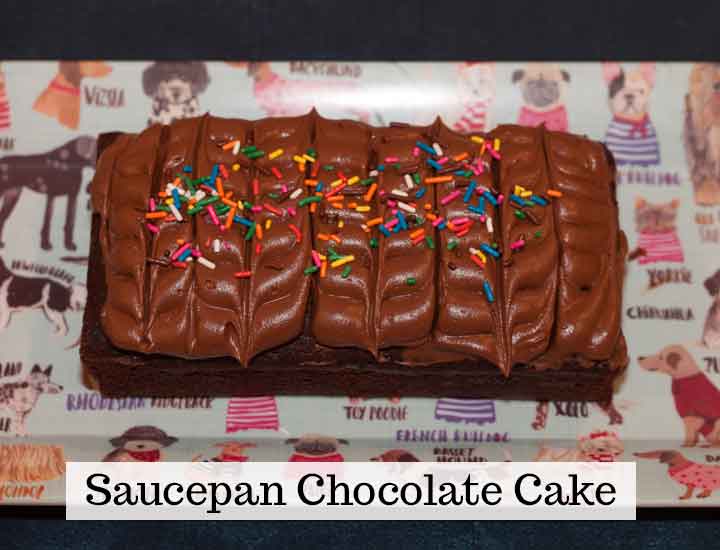 And then I realized what it was. Saucepan Chocolate Cake reminded me of a recipe I'd just saved from The New York Times called World's Best Chocolate Cake. The World's Best cake is also made in a saucepan, but with a few changes. It calls for dark chocolate instead of unsweetened, has a little less sugar, but quite a bit more butter, And it's made with self-rising flour rather than cake. Finally, it has some cocoa powder thrown in. I put the ingredients below for comparison's sake.
Saucepan Chocolate Cake vs. Worlds Best
Fanny Farmer Saucepan (half)
World's Best Chocolate Cake (half)
100 grams unsweetened chocolate
84 grams salted butter
¾ cup plus 2 tablespoons coffee
1 large egg
1/2 teaspoon vanilla
114 grams cake flour
150 grams sugar
1/2 teaspoon baking soda
1/8 teaspoon salt
No cocoa powder
100 grams dark chocolate
125 grams unsalted butter
¾ cup coffee
1 large egg
1/2 teaspoon vanilla
120 grams all-purpose flour
120 grams sugar
1 ¼ teaspoons baking powder
1/4 teaspoon salt
15 grams Dutch process cocoa powder
If you bake a lot you know that even though those ratios are similar, there are enough "minor" differences to change the results. Plus the Fanny Farmer cake is baked at 275 while World's Best cake is baked at 350, so that too is a difference. Long story short, I had to do some comparisons, so after baking the Fanny Farmer Cookbook cake, I made it again using the World's Best Chocolate Cake ingredients. I also kept the bake temp and time of 275 for 50 minutes. Guess which cake one?
I think the World's Best Chocolate Cake recipe won out, though both cakes were different. The Fanny Farmer Saucepan Chocolate Cake was a little heavier and denser, while The World's Best Chocolate Cake rose a little higher and was softer, flakier and still very fudge-y. There's no doubt I'll be making both cakes over and over because they're a nice weeknight dessert and a great blank canvas for testing frostings. Here's the recipe as I made it. Make sure you use the right size loaf pan and have fun picking a frosting. Or use my favorite! I used Chocolate Sour Cream Frosting.
Loaf Pan Size
The loaf pan I use for this cake is my trusty 8 1/2 by 4 1/2 inch Chicago Metallic. You could probably make this cake in an 8×4 inch pan, but the bake time would most likely need to be increased. A 9×5 inch pan wouldn't be ideal because the cake would be too stubby, but you could use one anyway. If you use a larger pan, the bake time will probably decrease. I've only tested in the 8 1/2 by 4 1/2 inch pan.
Recipe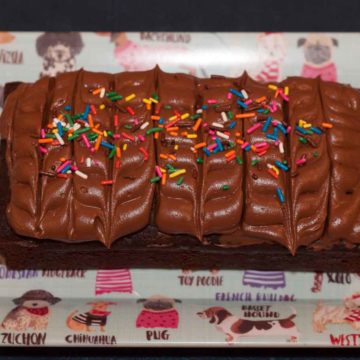 Saucepan Chocolate Cake
An easy chocolate cake made in a saucepan. Adapted from The Fanny Farmer Cookbook and the NYT World's Best Chocolate Cake.
Ingredients 
3 1/2

ounces

dark chocolate

(98 grams)

8 1/2

tablespoons

unsalted butter

(125 grams)

3/4

cup

brewed coffee**

1

large

egg

1/2

teaspoon

vanilla

3/4

cup

plus 2 tablespoons all-purpose flour

120 grams

1/2

cup

plus 2 tablespoons sugar

125 grams

1 1/4

teaspoon

baking powder

1/4

teaspoon

salt

2

tablespoons

Dutch process cocoa powder

15 grams
Chocolate Sour Cream Frosting
2 ½

tablespoons

unsalted butter

1

cup

confectioners sugar

(120 grams)

1/4

cup

natural cocoa powder

2

tablespoons

sour cream

½

teaspoon

vanilla extract

1

pinch

salt

Whole milk as needed
Instructions 
Preheat the oven to 275 degrees F. Grease and flour an 8 1/2 x 4 ½ inch loaf pan or grease, line with parchment and grease again. I tend to do the latter because I am paranoid about cake sticking to the loaf pan.

In a 3-quart saucepan, begin melting the butter over medium low heat. Add the chopped chocolate and stir well, then pour in the coffee. Stir until melted and smooth, then remove from heat and let cool for a few minutes before adding the egg.

Whisk in the egg and vanilla.

Mix together the flour, sugar, baking powder, salt and cocoa powder. Add the dry ingredients to the chocolate mixture and whisk until well combined and smooth. Pour batter into the loaf pan.

Bake at 275 degrees F for 45 to 50 minutes or until a cake tester comes out clean. You'll know the cake is done when a crack appears on the top. Allow the cake to cool in the pan for 15 minutes, then turn out onto a cooling rack to finish cooling.

Sour Cream Chocolate Frosting: In large mixing bowl, beat the butter until creamy. Add the sugar and the cocoa powder and mix well, then stir in the sour cream. Begin mixing with the electric mixer until everything holds together. Beat in the vanilla. Add a pinch of salt and continue beating until smooth and creamy, adding whole milk until the icing is a spreading consistency. It should be very smooth.
Notes
For the coffee, you can substitute 3/4 teaspoon espresso powder (or however much you like) plus 3/4 cup hot water. 
For the flour, you can substitute 120 grams self-rising and omit the baking powder and salt. 
If you'd like to try the Fanny Farmer version, follow the same technique but use 3 1/2 oz unsweetened chocolate, 6 tablespoons salted butter, 3/4 cup plus 2 tablespoons coffee, 1 large egg, 1/2 teaspoon vanilla, 1 cup cake flour, 3/4 cup sugar, 1/2 teaspoon baking soda and 1/8 teaspoon salt.