With my ever-growing cookbook collection, I sometimes feel like I don't give my Fanny Farmer Cookbook enough love. So in order for it not to feel sad, I pulled it off the shelf and made the Fanny Farmer Chocolate Chip Cookies.
Jump to the recipe or read on for tips...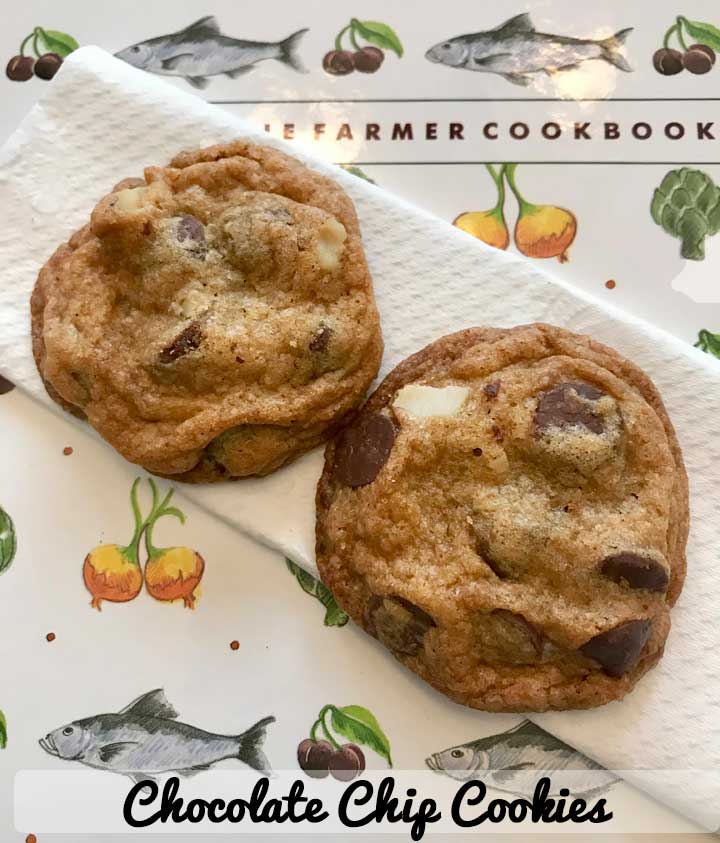 Fanny Farmer vs Toll House
If you've memorized the Toll House recipe, you'll notice the Fanny Farmer Cookbook recipe is basically half the Toll House recipe but with more sugar. It has 2 tablespoons more brown and 2 tablespoons more granulated. The sugar makes the cookies thin and chewy. Adding the nuts curbs the sweetness. If you do find them too sweet, you can go back to the Toll House recipe, but I recommend giving this one a try and using the dark brown sugar (as called for) rather than light. Another thing I liked about all the sugar was it helped preserve the freshness. When sealed in a tin at room temperature, these cookies are still good on Day 2 and Day 3.
One Recipe, Same Chocolate Chip Cookies
After making these cookies once, I made them again a couple of times with little changes. It is so interesting how changing one or two "minor" things in chocolate chip cookie recipes gives you very different cookies. For example, the cookies in the photo below were baked directly after mixing using this exact recipe. The only differences is one batch was made with Wegman's brand butter and without nuts, while the other batch was made with Land o' Lakes butter and with nuts.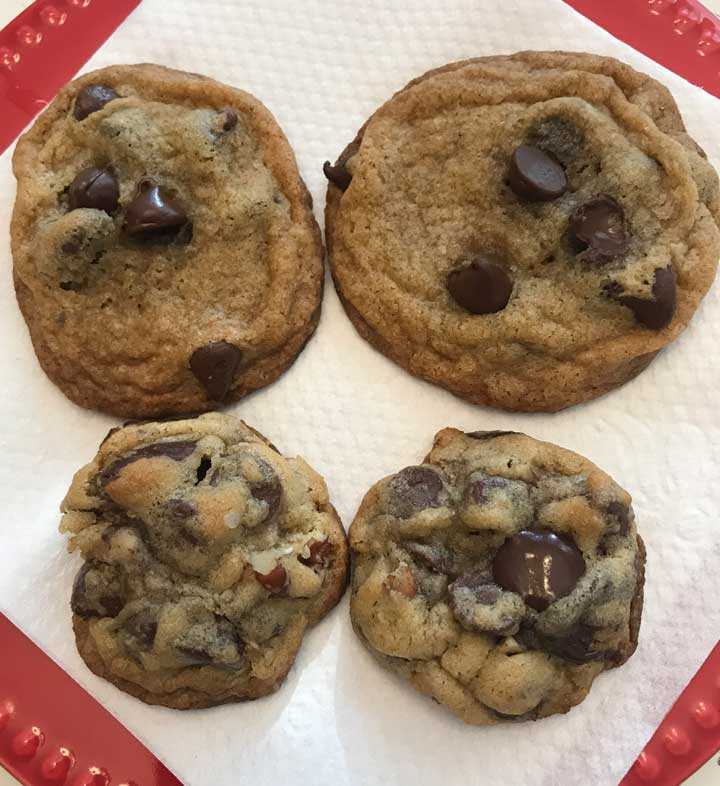 So if those two small changes can make such a huge difference, imagine all the possible outcomes with multiple small changes in other ingredients and technique. So with all that, here are some notes on how I made the Fanny Farmer Chocolate Chip Cookies.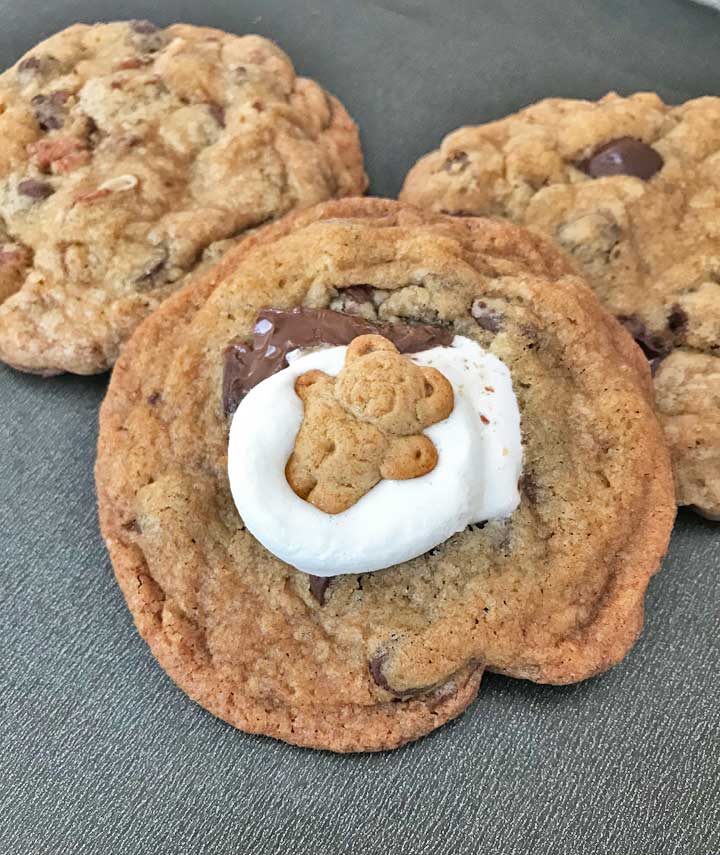 Fanny Farmer Chocolate Chip Cookie Notes
Toast the pecans and toss in a little extra butter and salt while warm. Let cool, then chop and add to cookies.
Forget the pecans and use roasted macadamia nuts! I put some in one batch and they were so good.
I used unsalted mainly because I knew I'd be adding more salt with the nuts.
Over the years I've become more mindful of how I add the eggs. Cold eggs don't always blend well, so it's good to bring them to room temperature. The easiest way is to put the egg(s) in a cup, cover with warm water and let sit for 10 minutes. Lately I've been cracking and whisking eggs separately before using. This is not completely necessary, but some bakers do it to avoid the possibility of accidentally cracking a bad egg into the dough. This has never happened to me in 50 years, but in the spirit of the mindfulness...
The recipe calls for ¾ teaspoon of vanilla. If you are not using pure or double-strength vanilla (like say you are buying the $1.00 Baker's Vanilla because it keeps winning taste ATK tests), use 1 teaspoon.
How you measure the flour affects the cookies, which is why you should weigh flour. For the cookies in the photo, I used 160 grams. That's the heavier handed side of 1 ⅛ cup.
For big and flat cookies, chill the dough rounds. Smash three together, press to half an inch and bake for 18 to 20 minutes.
The 13th edition of The Fanny Farmer Cookbook is available on Amazon. Here's the link.
Recipe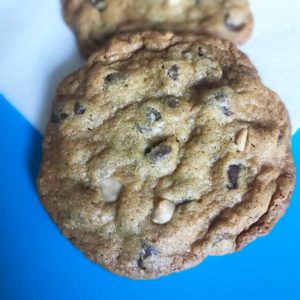 Fannie Farmer Cookbook Chocolate Chip Cookies
Similar to Toll House, but with more sugar. You should get thin and chewy or thin and crisp cookies. For best results, weigh the flour.
Ingredients 
1

stick

salted or unsalted butter

114 grams, room temperature, cut into chunks

½

cup

dark brown sugar

100 grams

½

cup

granulated sugar

100 grams

1

egg

bring it to room temperature

¾

teaspoon

vanilla

1 ⅛

cup

all-purpose flour

160 grams**

½

teaspoon

salt

½

teaspoon

baking soda

½

c.

chopped nuts

optional but a good choice!

1

cup

semisweet chocolate chips

or bittersweet
Instructions 
Preheat oven to 375 and grease cookie sheets. I will tell you now, I never grease cookie sheets for chocolate chip cookies, but this recipe says to do so. I usually just use parchment or nothing

Beat the butter until creamy, then gradually add sugars, beating until light and smooth. Beat in the egg and the vanilla. Mix the flour, salt, and baking soda together and add it to the first mixture, blending well. Stir in nuts or oats, if using, and chocolate chips.

Drop by teaspoonfuls onto cookie sheets about 1-inch apart and bake for 8 to 10 minutes or until lightly browned. You may also use a small cookie scoop, in which case you'll probably get about 40 cookies rather than 50.
Notes
Variations: Using a rounded teaspoon or a small cookie scoop, drop dough onto dinner plates lined with plastic wrap. Cover for an hour and bake as needed.  Dough improves over time, so cookies baked on Day 2 will be better and Day 3 even better.  After Day 3, Put the dough rounds in a freezer bag and freeze.


---

Large Cookies: The large cookies work best with dough that has been chilled for at least 24 hours.  Take two or three of your small, chilled cookie portions and smash them together. Press into ½ inch thick rounds. Bake at 300 for 18-20 minutes or until brown and set.  Let cool completely.  Baking at a low temperature like 300 should give you cookies that have a more uniform crispness.  For cookies with crisp edges and chewy centers, raise the heat and cut the bake time slightly.