This week I learned that Mississippi Mud Cake can be made with bourbon. Who knew? Well, probably a lot of people, but the idea was new to me, so I'm calling this cake Chocolate Bourbon Mud Cake. The recipe is adapted from a (very!) old issue of Cook's Illustrated, where a reader requested a recipe for a light textured chocolate cake she tried at New York's Greenmarket. The CI editors came through with the Mississippi Mud Cake.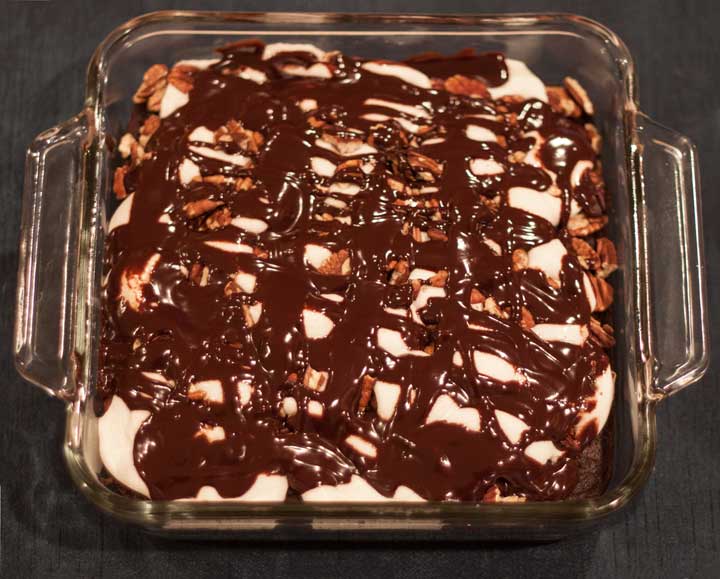 The original was a bit different. I halved it, changed some things with the technique and named it Chocolate Bourbon Mud Cake, so people know what's under the mud.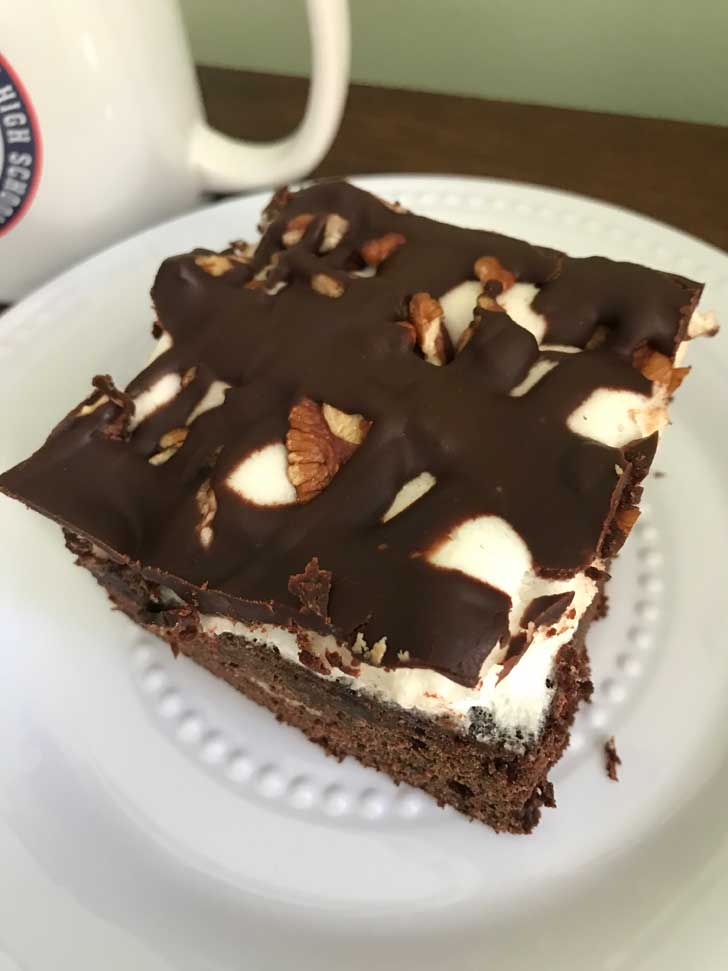 Cake Texture and Flavor
Mud cake has an advantage when it comes to texture. Even if the cake itself is dry, a mud cake has squishy marshmallows, crunchy nuts and a velvety icing. Luckily this cake is not dry. It's a moist chocolate cake and not a brownie, which was a relief. I was worried it would be too much like a brownie, and I already have a Mississippi Mud Brownies recipe. The bourbon flavor is just right! I used Larceny, my current go-to baking bourbon.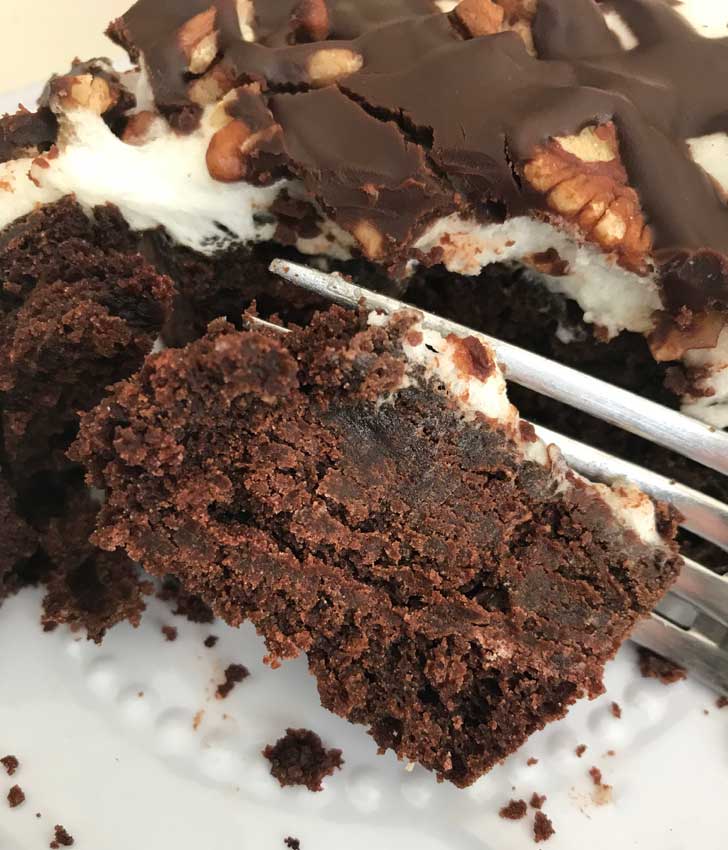 Easy Chocolate Glaze to Use Over and Over
There are so many glaze recipes that I forget which ones are the best, so I'm TAKING NOTE that this one is awesome. And it's easy. You just stir it all together in a 2 cup Pyrex with a few quick buzzes in the microwave. It flows nicely, goes on shiny and eventually sets. I used butter, Ghirardelli Bittersweet Chips, dark corn syrup, water and more Larceny.
Recipe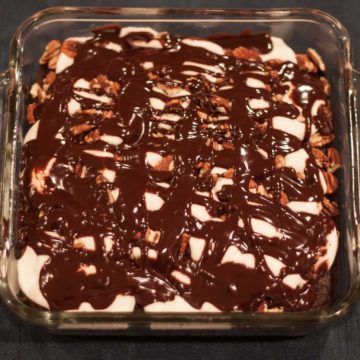 Chocolate Bourbon Mud Cake
An 8 inch square Mississippi Mud Cake made with bourbon.
Ingredients 
1

cup

all-purpose flour (140 grams)

1

teaspoon

baking soda

½

teaspoon

salt

3

oz

unsweetened chocolate, chopped (84 grams)

¼

cup

strong brewed coffee

¼

cup

bourbon

1

stick

unsalted butter (114 grams)

¾

cup

sugar (150 grams)

2

large

eggs

1

teaspoon

vanilla extract

¾

cup

marshmallows

(See Note)

½

cup

toasted chopped pecans
Chocolate-Bourbon Glaze
2

tablespoons

unsalted butter (28 grams)

1 ½

tablespoons

hot water

2

oz

bittersweet chips or chopped chocolate (56 grams)

¾

teaspoon

corn syrup, light or dark okay

1

teaspoon

bourbon
Instructions 
Preheat oven to 350 degrees F. Spray an 8 inch glass baking dish with baking spray or grease bottom with butter.

Mix together the flour, baking soda and salt and set aside.

In a saucepan, heat the butter over medium until it is about halfway melted. Reduce heat to low and add the chopped chocolate. As chocolate starts to melt, add the bourbon and the coffee. Stir until chocolate is melted and mixture is smooth.

Remove from heat and stir in the sugar.

In a medium size bowl, whisk together the eggs. Add about ¼ cup of the chocolate mixture to the eggs, then whisk all of the egg mixture into the chocolate.

Add the flour mixture and stir until smooth, then empty into the prepared baking dish.

Bake for about 25 minutes. Have marshmallows and nuts ready to go.

After about 25 minutes, remove from oven and sprinkle marshmallow and nuts over the top. Return to the oven and bake for about 3 to 5 minutes or until marshmallows start to puff up. Remove from oven.

To make the glaze, put the butter in a microwave safe (Pyrex) measuring cup. Heat it for about 30 seconds or until partially melted. Add the hot water and the chocolate chips (or chocolate) and stir well so that the chips start to melt. Add the corn syrup. Microwave for another 15 seconds and stir until smooth. Everything should be completely melted at this point, but if not then do another 15 seconds. Stir in the bourbon. Pour over the marshmallows. Let cool and set.
Notes
For the marshmallows you can use ¾ cup of small ones or use about 12 large.  If you use the large ones, cut them in half and arrange them side by side before putting the cake back in the oven.