Sorry if you saw the Caramel Macchiato Chocolate Cake post earlier only to notice it mysteriously disappear. I accidentally deleted the whole thing! Here it is again. As mentioned, it's a new rendition of the One-Bowl Chocolate Mocha Cake I created for a Cooking Light contest years ago.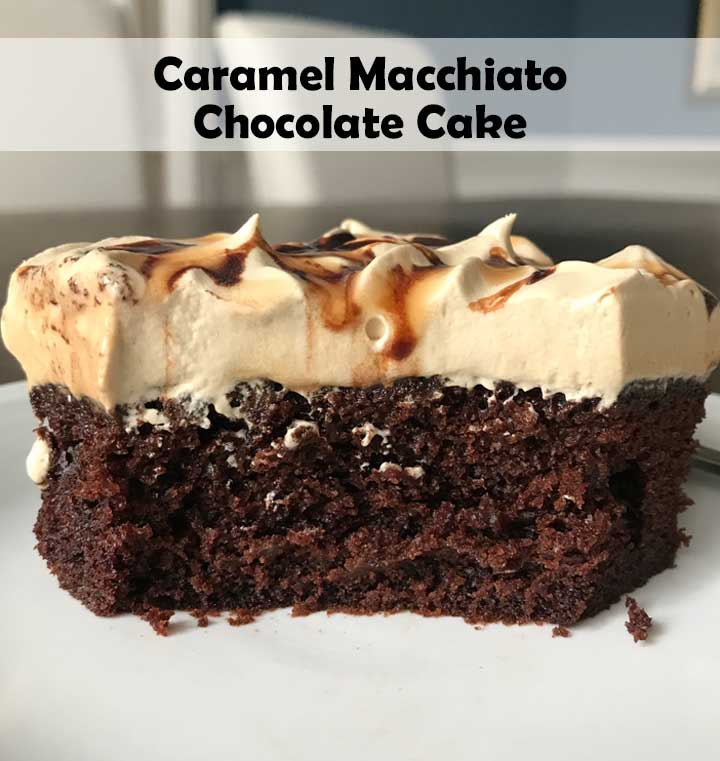 The new version has some significant changes, with the first being it doesn't require mayonnaise. My old one called for Hellman's Light, as that was the sponsored ingredient. This version just uses an egg, oil, milk and water. Also, instead of non-dairy whipped topping (Cool Whip), this new version uses sweetened whipped cream. If you like Cool Whip and want to make things really easy, you can skip the whole step of whipping and sweetening 1 cup of cream and use a full 8 oz tub of Cool Whip. If you want to lighten it up a bit, you could use Cool Whip Light.
Caramel Macchiato Chocolate Cake Pan Size
The other version of this cake was baked in a 9x13 inch pan. This cake calls for a 7x11 inch baking dish. Glass looks nice, and since this is a serve out of the pan kind of cake I opted for glass. That, plus I just felt sorry for my 7x11 inch dish because it doesn't get used often enough. If you don't have the 7x11 inch dish, an 8 or 9 inch square dish or metal pan should work just fine.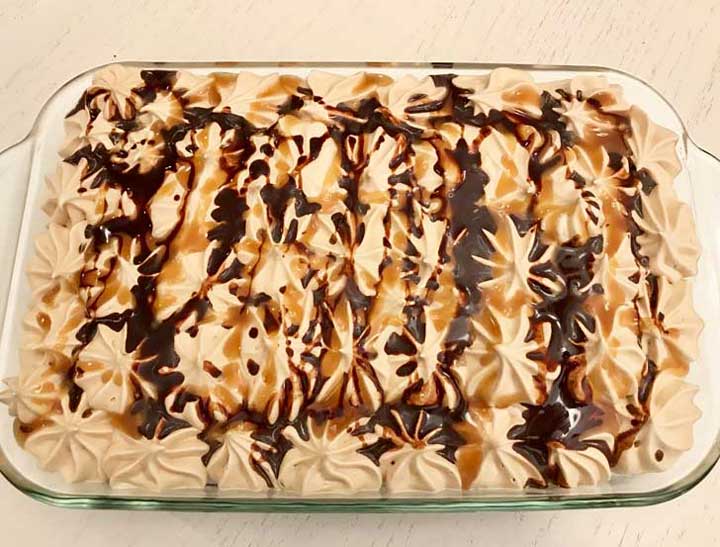 Sundae Toppings
My favorite part of making this cake is drizzling caramel and chocolate sundae syrups over the top. Honestly, that's pretty much the best of my decorating ability right there. This is why I'm not a pastry chef. I use Hershey's Caramel Sundae Syrup for the caramel syrup and (usually) Hershey's Chocolate Syrup for the chocolate. For this cake I finally tried making homemade syrup using a recipe from Allrecipes.com and it was pretty good! So if you don't feel like using store bought chocolate syrup you could give that recipe a try.
Recipe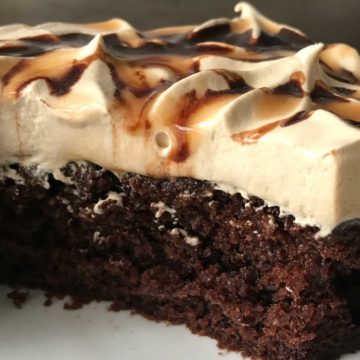 Caramel Macchiato Chocolate Cake
This chocolate cake is designed for a 7x11 inch baking dish, but if you don't have that size you can use an 8 or 9 inch square dish or metal pan. You may have to adjust the baking time slightly.
Ingredients 
1

cup

all-purpose flour

(130 grams)

½

tsp

salt

½

tsp

baking powder

1

tsp

baking soda

1

cup

sugar

(190 grams)

¼

cup

plus 2 tablespoons unsweetened cocoa powder

½

cup

hot brewed coffee

½

cup

vegetable oil canola or light olive oil

½

cup

whole milk

1

large

egg

½

tsp

vanilla
Macchiato Cream Frosting
1

cup

heavy whipping cream

240 ml/8 oz

⅓

cup

confectioners' sugar

40 grams

1

teaspoon

vanilla extract

3

tablespoons

boiling water

2

tablespoons

instant coffee

not espresso powder

1 ½

cups

7 oz weight Marshmallow Fluff
Instructions 
Preheat oven to 350 F. Grease a 7x11 inch baking dish or spray with cooking spray.

In a large mixing bowl, stir together flour, salt, baking soda, baking powder and sugar.

Whisk together the cocoa powder and the hot coffee until smooth. Let it cool slightly.

Add the cocoa mixture to the bowl with the flour mixture, then stir in the oil, milk, egg and vanilla. Stir until well mixed, then beat until smooth. You can beat by hand or with an electric mixer, but if using a mixer don't beat too long.

Pour the batter into the pan and bake at 350 for about 25 minutes or until the cake springs back lightly when touched. An 8 inch pan might take a little longer, while a 9 inch square might take a little less. The 25 minutes worked for the 7x11 inch pan.

Let cake cool completely, then making the topping.

Topping: Beat cream until stiff peaks just start to form. Beat in confectioners' sugar and vanilla. Set aside.

Put boiling water in a large mixing bowl. Add instant coffee and stir until dissolved. Stir in marshmallow crème. Using an electric mixer, beat until smooth.

Fold the sweetened whipped cream into the marshmallow mixture. Spread mixture over cooled cake. Drizzle cake with chocolate syrup and caramel syrup.