Some family members are in a Duolingo battle to see who can learn Yiddish, so this cake seemed timely.  It's Fiddler on the Roof Cake from The Cake Mix Doctor.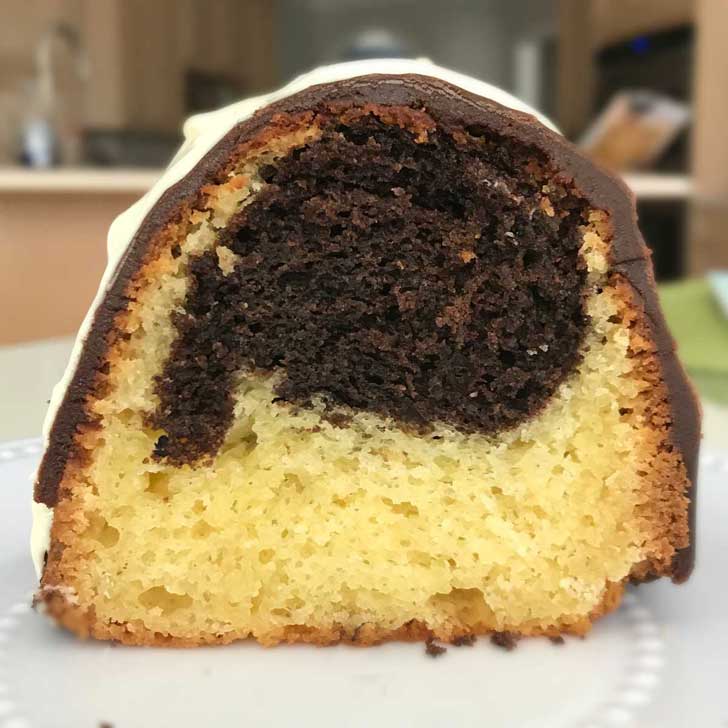 I'm not sure exactly why it's called Fiddler on the Roof Cake. My first thought was that it might be from the vanilla batter forming kind of a "roof" over the chocolate. That is what the picture in the book depicts. The chocolate batter is on the bottom and the vanilla batter rainbows over it. Not the case with my cake, as you can see! The chocolate batter sank more so (when inverted) it was closer to the top. Definitely no roof.
Perhaps the Cake Mix Doctor intro is the clue. It says "You'll feel like a rich man or a rich woman when you fork into the cake", so maybe the song is named after "If I Were a Rich Man". Name origin withstanding, I'm always up for a cake that combines two flavors.   This Bundt cake starts with a yellow cake mix which you "doctor" with almond extract and sour cream.  Half of the batter is the yellow cake/almond flavor, while the other half has cocoa stirred in to make chocolate cake.  And then there's the Chocolate Marshmallow Frosting.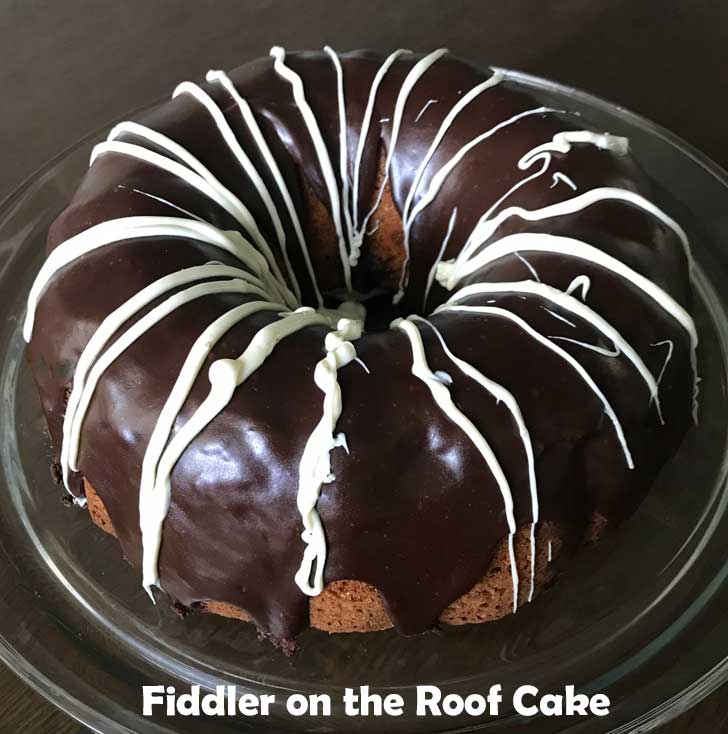 Chocolate Marshmallow Frosting
I was a little hesitant to make Chocolate Marshmallow Frosting because I couldn't figure out if it was a pour-over type frosting/icing or something you spread. Details were kind of vague, and I really didn't want to be spreading something over a Bundt. But I had the marshmallows, decided to go for it, and am glad I did. It came together with ease, was smooth rather than lumpy and set into a soft fudge-like coating. It's definitely one I'll be using again.
Recipe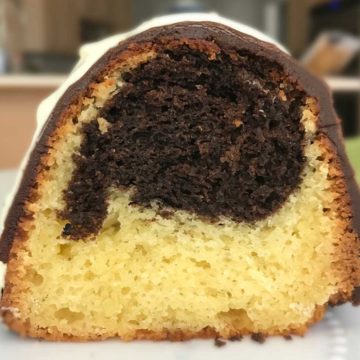 Fiddler on the Roof Cake
An easy Bundt cake that starts with yellow cake mix.
Ingredients 
1

15.25 oz

package yellow cake mix

1

cup

sour cream

¾

cup

canola oil

½

cup

sugar

½

teaspoon

almond extract

½

teaspoon

salt

4

large

eggs

¼

cup

unsweetened cocoa powder
Chocolate Marshmallow Frosting
2

cups

confectioners' sugar

½

cup

unsweetened cocoa powder

I used natura

6

large marshmallows or ⅔ cup small ones

4

tablespoons

butter

⅓

cup

milk

plus 1 tablespoon milk

1

teaspoon

pure vanilla extract
Garnish
1

oz

white bark or white chocolate

optional
Instructions 
Preheat oven to 350 degrees F. Grease and flour a 12 cup Bundt pan.

Combine cake mix, sour cream, oil, sugar, almond extract, salt, and eggs in a mixing bowl. Blend with mixer on low speed for 1 minute. Scrape down sides of bowl. Increase mixer speed to medium, beat for about 2 minutes or until batter is well blended

Pour half of batter (1 ¼ pounds/20 oz) into prepared pan, smoothing it evenly.

Add cocoa powder to remaining batter and blend with mixer on low speed 1 minute. Pour this evenly over the batter already in the pan.

The next step is to run a dinner knife through the batter to create a marbled look. I forgot to do this and the cake still looked pretty good.

Bake cake until light brown and springs back when lightly pressed with your finger, about 60 to 65 minutes (check at 55). Remove from oven and place on wire rack to cool for 20 minutes (This is important. I tried to invert it too soon and part of the top stuck. Luckily it was fixable).

Meanwhile, prepare Chocolate Marshmallow Frosting: Sift the sugar and cocoa powder together in large mixing bowl. Place marshmallows, butter, and milk in saucepan (3 ½ quart worked perfectly) over low heat. Stir until marshmallows are melted, 3-4 minutes. Remove pan from heat or just reduce the heat to low. I kept my mixture warm, as I wanted to keep it from setting. Pour confectioners' sugar mixture over marshmallow mixture. Add vanilla and stir (still over low) until frosting is smooth and satiny.

Spoon frosting over the cooled cake and allow it to drip slowly down the sides. It should start setting up pretty quickly.

For garnish, melt an ounce of white chocolate or white bark (micrwave is fine) and drizzle it over the set chocolate icing.