I've never been to Canyon Ranch Spa, but I've been making their signature bread recipe for years. It's an interesting one. Canyon Ranch Spa Bread is a stir-together quick bread. Like Irish Soda Bread, it's made with buttermilk and naturally low in fat. But unlike soda bread it calls for unprocessed wheat bran making it very high fiber. It's also a little sweet, with natural sweetness from the bran and raisins, and more sweetener from whichever type sugar you choose. The early Canyon Ranch version calls for fructose, but I use allulose, which works perfectly in so many quick breads.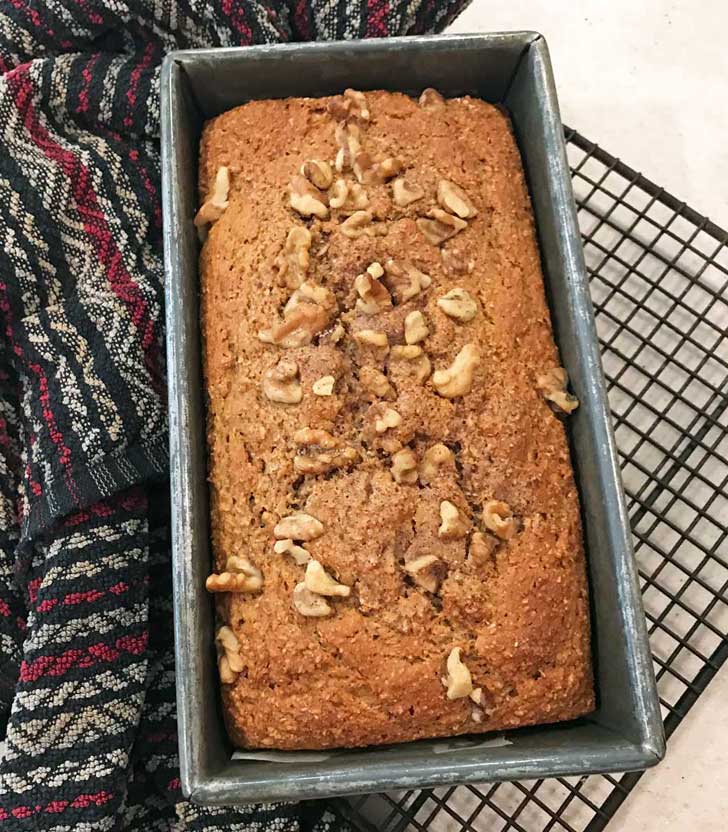 Allulose Instead of Fructose
Several of the old Canyon Ranch recipes call for fructose, but it has kind of fallen out of favor these days. Allulose is better in that it adds some bulk yet is very low in calories. It's considered a natural sweetener and you'll have to decide for yourself whether you trust it (it makes me really thirsty), but it tastes so much better than erythritol or stevia. That being said, you could surely substitute a erythritol blend, but you'll need slightly less. If calories aren't a big concern and you want a more mainstream sweetener, you could use ¼ to ⅓ cup brown or coconut sugar. Or try to find some fructose. I haven't seen it in stores in a while, but that doesn't mean it's not there.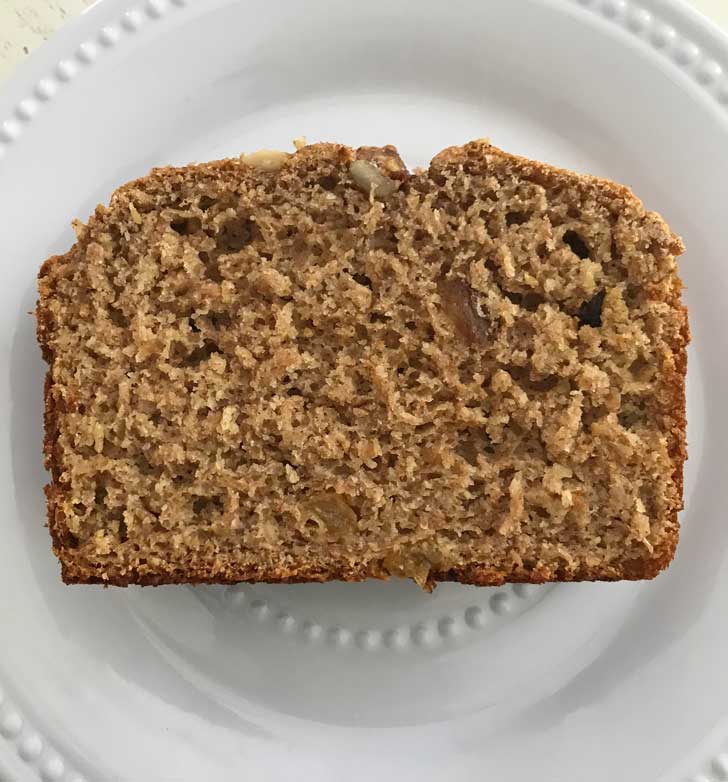 Canyon Ranch Spa Bread Size
The picture above is of a full size 8 ½ by 4 ½ inch loaf. The full batch weighs about 26 ounces -- maybe a little more if you throw in extra nuts and raisins. If you need a smaller loaf, the recipe halves perfectly. Just use half the ingredients and bake in a 5.75x3 inch loaf pan. I've mentioned this size loaf pan a few times. Wilton sells them in packs of 3. You could also make a full batch and divide it between two of the smaller pans. The bake time should still be around 45 minutes.
Calories
I don't usually mention nutrition information since it can be inaccurate, but when I put this recipe through the calculator in My Fitness Pal, it comes in at around 43 calories per oz/28 grams. That is without the walnuts. You can lower the calories even more by substituting oat fiber for half of the wheat bran. With oat fiber, it also bakes up a with lighter texture. Next time I make it with oat fiber I'll post a photo.
Recipe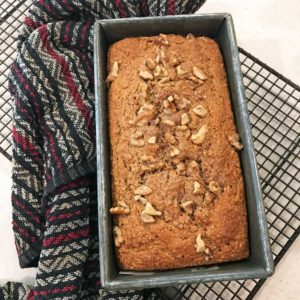 Canyon Ranch Spa Bread
Lightly sweet cinnamon and vanilla flavored quick bread
Ingredients 
1 ½

cups

white whole wheat flour (210 grams)

can substitute all-purpose

1

cup

unprocessed wheat bran (60 grams)

see note about oat fiber

½

cup

allulose

1

tablespoon

baking powder

¼

teaspoon

baking soda

1

teaspoon

cinnamon

¼

cup

raisins

1 ½

cups

buttermilk

1

large

egg

1

teaspoon

vanilla extract

Can use more if you want

¼

cup

chopped walnuts, optional
Instructions 
Preheat the oven to 350 degrees F.

Spray an 8 ½ by 4 ½ inch loaf pan with cooking spray.

In a mixing bowl, combine the flour, bran. baking powder, baking soda, and cinnamon and stir until very well mixed.

Add the raisins and mix again.

In another bowl, whisk together the buttermilk, egg, and vanilla.

Pour the liquid ingredients into the dry ingredients and stir until fully blended.

Transfer the mixture to the prepared loaf pan. If using nuts, sprinkle them across the top.

Bake for 45 to 50 minutes, or until a knife inserted in the center comes out clean. Place the bread, while still in the pan, on its side on a wire rack to cool.