Years ago I tried quinoa and was disappointed with the flavor. Turns out I didn't know to rinse it. So I rinsed, made it again, and problem solved! Since then it's been a pantry staple, which I've even used a time or two in baking - mainly for granola and granola bar type things. And now I'm happy to report, there are Quinoa Chocolate Chip Cookies! The recipe is from Giada De Laurentis who recently made a batch on The Today Show while promoting her new cookbook.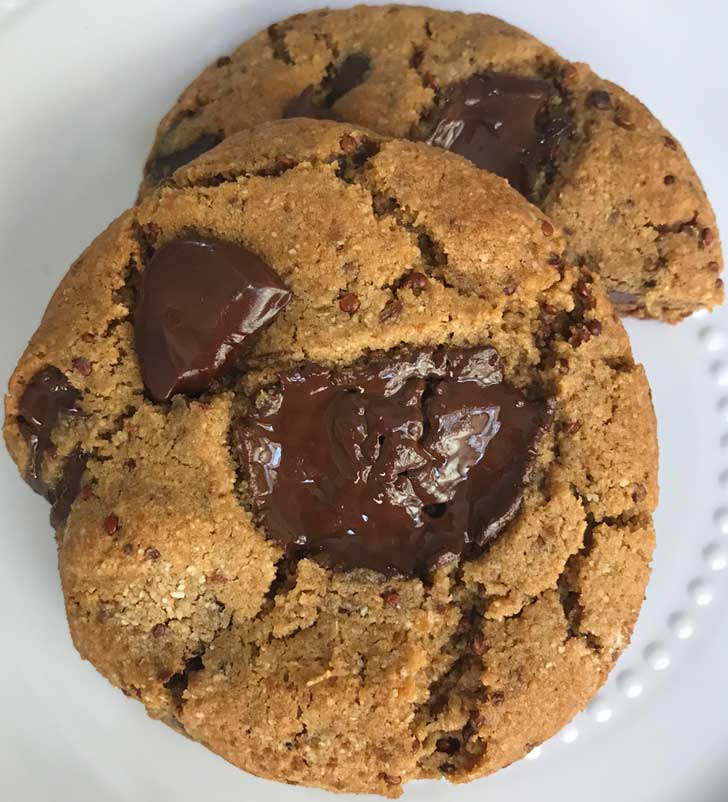 At first I thought the recipe was from the book, but when I checked it wasn't there.  So if you want Giada's original recipe, grab it from The Today Show.  This version is a tiny bit different. I used red quinoa and changed the chips to chunks so these are Red Quinoa Chocolate Chunk.
Red Quinoa
Rainbow quinoa is my favorite, but red quinoa is what we had so that's what I used.  Any kind of quinoa will do, but the red quinoa goes well with the cookies' deep brown color. Plus if you have some red quinoa leftover, you can try making Red Quinoa Bread. I'm still playing around with Alexandra's recipe. My family really liked it even though mine wasn't quite as fluffy as Alexandra's. But back to the cookies.
Quinoa Chocolate Chip Cookies Notes
Like the Trader Joe's Almond Flour Chocolate Chip, this quinoa & almond flour version is very flavorful from all the nuts and grains.  The texture is chewy, and soft and even better once completely cool.  But the quinoa does make its presence known. I baked the cookies after chilling the dough for 3 hours and after chilling for 24, and the texture of the quinoa was still very prominent in both. It adds crunch and the grains roll around your teeth. They are larger than poppy seeds and not as likely to get stuck, but if you don't like seedy, grainy things you may want to stick with the Trader Joe's recipe I linked to above.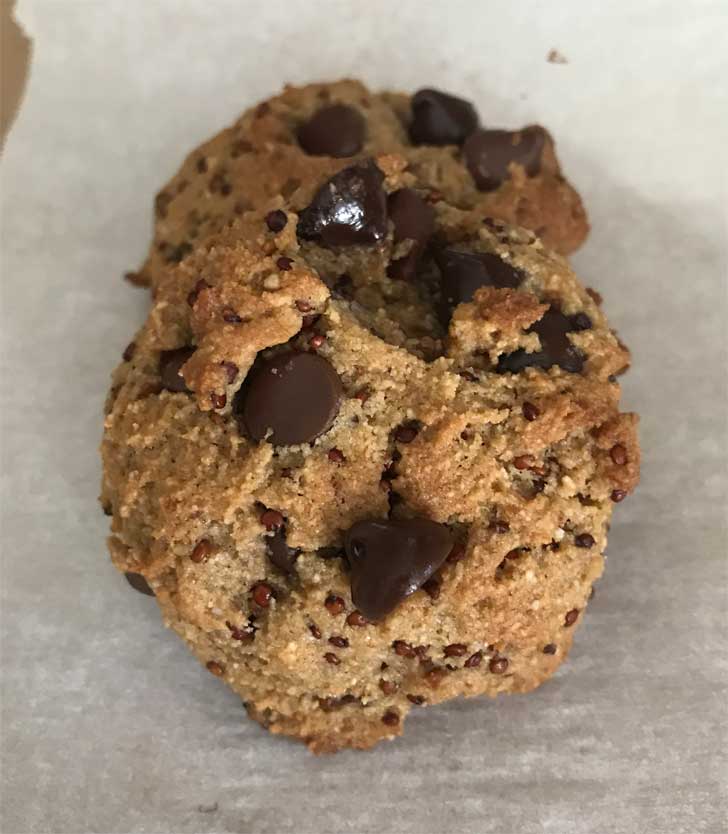 Ingredient Notes
Salt --  The original recipe calls for ½ teaspoon of Kosher salt.  I think Giada might use Diamond brand because the cookies were a little salty with the ½ teaspoon measure.  If you use Morton kosher or table salt, I recommend reducing the salt to ¼ teaspoon or using only a tiny pinch if using salted butter.
European Style Butter --  The recipe calls for unsalted, but if you are like me and buy salted European style for putting on bread etc. and only have salted, then use salted butter and add only a very tiny pinch of salt (as mentioned).
Coconut Sugar -- Even with a cup of coconut sugar, the cookies weren't that sweet.  I recommend keeping the full amount of coconut sugar.  My half cup of coconut sugar weighed 150 grams.  Like brown sugar, the volume and weight of coconut sugar might change a little due to moisture levels.
Almond Flour & Coconut Flour -- I used Wegman's blanched almond flour and Let's Do Organic brand coconut flour. Pretty straightforward.
How to Halve 1 Egg and 1 Yolk
For a half batch of Quinoa Chocolate Chip Cookies, you'll need to use half an egg and half a yolk.  Here's a special method for doing this with 1 egg: Crack one egg and discard half the white (17 grams).  That leaves you with 1 whole yolk and about half a white.  If this seems too tedious, just mix together a yolk and an egg and use half the mixture.  
Recipe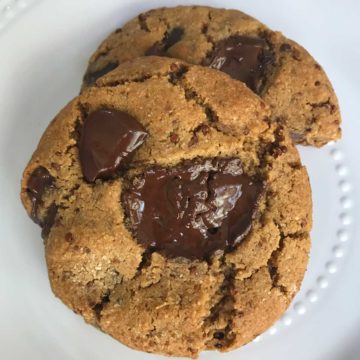 Quinoa Chocolate Chip Cookies
Thick, chewy, dark chocolate chip or chocolate chunk cookies with a little added crunch from quinoa.
Ingredients 
¼

cup

quinoa

(50 grams)

8

tablespoons

1 stick unsalted butter, preferably European-style, melted and cooled

(114 grams)

1

cup

coconut sugar

(150 grams)

1

teaspoon

pure vanilla extract

1

large egg

(54 grams)

1

egg yolk

1

cup

almond flour

(120 grams)

½

cup

coconut flour

(56 grams)

¼ to ½

teaspoon

kosher salt

see note

1

teaspoon

baking soda

¾

cup

bittersweet chocolate chips

such as Guittard extra-dark or use chunks
Instructions 
Rinse the quinoa thoroughly. Toast the quinoa by heating it in a dry skillet, stirring often, for about 3-4 minutes or until it starts to pop. Let it cool.

In a mixing bowl, stir together the cooled melted butter, coconut sugar, vanilla, egg and yolk. Mix together the almond flour, coconut flour, salt and baking soda and add to the sugar mixture. Stir to make a very soft dough.

Stir in the chocolate chips.

Dough will be soft, but it should be thick enough to scoop into medium or large size bowls. If making smaller cookies, use a medium size cookie scoop and scoop out about 20 rounds of dough onto plates lined with plastic wrap. For larger cookies, use a quarter cup measure and scoop out about 14 to 16 rounds of dough. Cover and chill for a minimum of 4 hours.

For the small cookies, bake on a parchment lined baking sheet at 350 for about 10 to 12 minutes. For large cookies, bake for about 14 minutes.