My daughter loves The Great British Bake Off. I've never seen it, but I am a big fan of Paul Hollywood. His recipes always work perfectly, and I like how he doesn't over-complicate directions. My favorite of his books is How to Bake, and it's where you'll find the original version of this bread recipe, Pecan Loaf.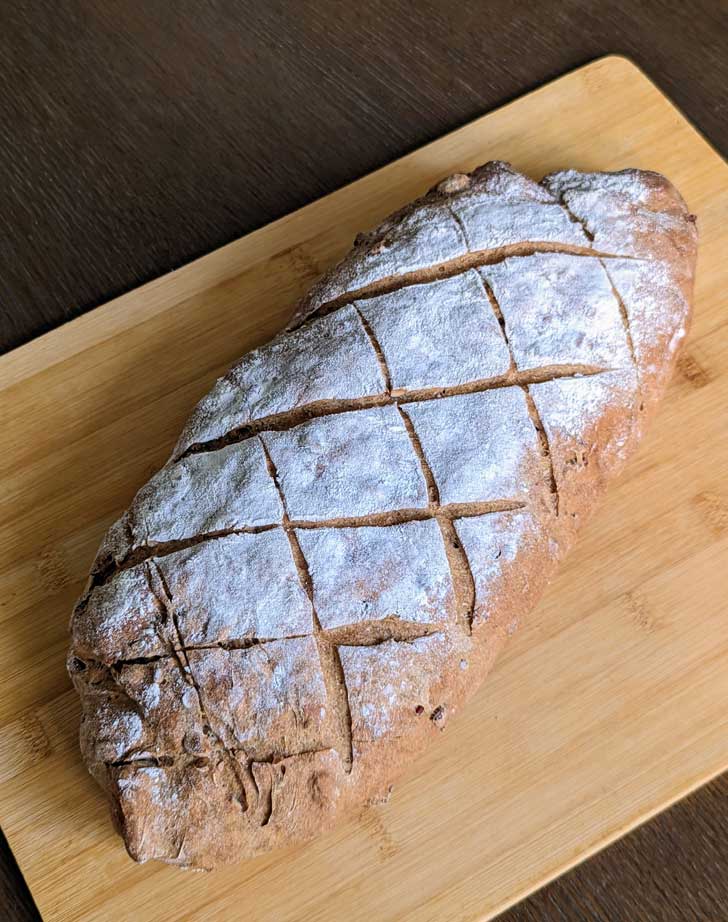 Texture and Flavor
This is a firm, even textured bread that should work equally well for sandwiches or toast. It's a large, freeform loaf so the sandwiches will be long and narrow, but the texture of the bread is sturdy with some crunch from the pecans. The bread is flavorful thanks to all the different flours and nuts, and it's not sweet.
British Ingredients and Such
The original Pecan Loaf call for things like strong flour, strong wholemeal flour and treacle, so I had to substitute American equivalents. As you can guess, strong flour is bread flour, but for strong wholemeal flour I had to add vital wheat gluten to whole wheat flour. For treacle, I used blackstrap molasses, but I took the liberty of using a mix of blackstrap and maple syrup. I put a few more details in the ingredient rundown.
I've kept the gram measurements because they are the most accurate, but I put the volume approximations in parenthesis. Overall the recipe is pretty simple and doesn't require too much patience, as you don't need sourdough, a biga a poolish or a very long fermentation time. This one can be done start to finish in a 4 hours, with mostly passive time.
Pecan Loaf Ingredient List
Rye Flour -- 100 grams of Arrowhead Mills organic rye
Bread Flour --- 100 grams of King Arthur
Whole Wheat Flour -- 290 grams Wegmans brand
Vital Wheat Gluten -- 10 to 12 grams Anthony's Goods. I think the bread would be good without it as well, but the VWG may have helped it hold its shape
Salt -- Morton Kosher. 10 grams was a little over 1 ½ teaspoons
Instant Yeast -- SAF
Maple Syrup -- Feel free to replace with molasses
Molasses -- Blackstrap, but mild would probably be fine
Butter -- unsalted American butter
Pecans -- 2 full cups of pecan halves! Normally this would be expensive, but I bought a giant bag of pecans at Costco a while back and pulled them out of the freezer. If you don't have 2 cups of pecan halves or just want to use different nuts, you could sub in some walnuts. Also, the 2 cups seemed like a lot, but it was just right.
More Pecan Recipes
Recipe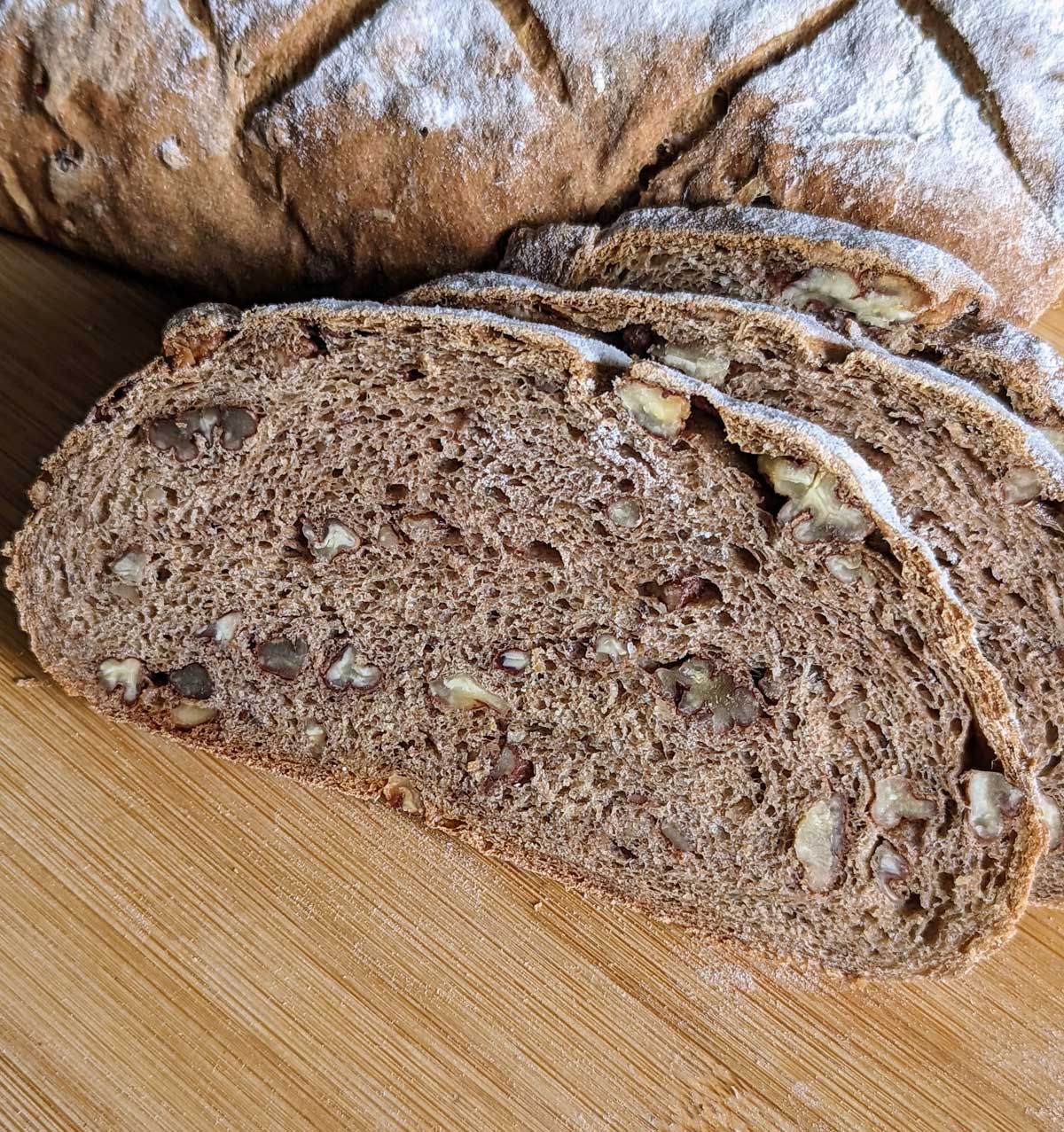 Paul Hollywood's Pecan Loaf
Freeform wheat bread with pecans and molasses.
Ingredients 
100

grams

rye flour

(¾ cup)

100

grams

bread flour

(¾ cup)

290

grams

whole wheat flour

(2 ¼ cups)

8

grams

vital wheat gluten

(2 teaspoons)

10

grams

salt

(1 ½ teaspoons plus a pinch)

10

grams

instant yeast

1 tablespoon

1

tablespoon

blackstrap molasses

(20 grams)

1

tablespoon

maple syrup

(20 grams)

30

grams

butter, unsalted and softened

(2 ½ tablespoons)

350

grams

water, luke warm

(about 1 ½ cups plus a tablespoon)

250

grams

pecan halves, coarsely chopped
Instructions 
In a stand mixer bowl, combine all the flours, the vital wheat gluten (if using) and salt. Stir well and push to one side of the bowl. Put the yeast on the other side of the bowl.

Add the softened butter, molasses, maple syrup and three quarters (a little over a cup) of the water and stir by hand, scraping the side of the bowl, until mixed.

Attach dough hook to mixer and put the bowl on the stand. Begin kneading on low. Add remaining water and knead on low for 4 minutes, stopping if needed to scrape the bowl.

The dough should be kind of soft at this point. Return mixing bowl to stand and knead on medium for about 5 minutes. The dough will still be soft, but it should clear the sides of the bowl as it is being kneaded and should cling droopily to the hook. This is a terrible picture, but helpful.

Add the pecans to the bowl and knead on low to medium for about a minute or two until pecans are mixed in and some are smashed.

Cover bowl and let rise in a warm place until doubled. This could take 1 hour or you can let it go longer (up to 3). I let my rise for about 2 hours and ran errands.

Scatter some flour on a large baking mat and tip the dough out onto the mat so it's coated lightly with flour. Press into a rectangle, pushing out air, then the dough over on itself once or twice to push out more air. Roll into a long cylinder and shape into a 30 cm (about 1 foot) tapered loaf. Transfer to a parchment lined baking sheet and cover with greased plastic wrap. Let rise for another hour. It will puff up quite a bit.

About 20 minutes before the end of the rising period, preheat the oven to 410 degrees F.

When dough has risen, dust lightly with flour and make deep cuts on the diagonal, making "x"s. It's best to do this with a razor.

Bake for 35 minutes. Let cool.
Notes
Keep the flour out in case you need to use a little more.