Chilling cookie dough almost always gives you better chocolate chip cookies, but what about brownies? I recently read that chilling brownie batter overnight improves the texture and flavor of the baked brownies. My first thought was that it would really depend on the recipe's composition. The second was that I had to try it! So for testing purposes, I started with a really simple walnut fudge brownie recipe.
Jump to Recipe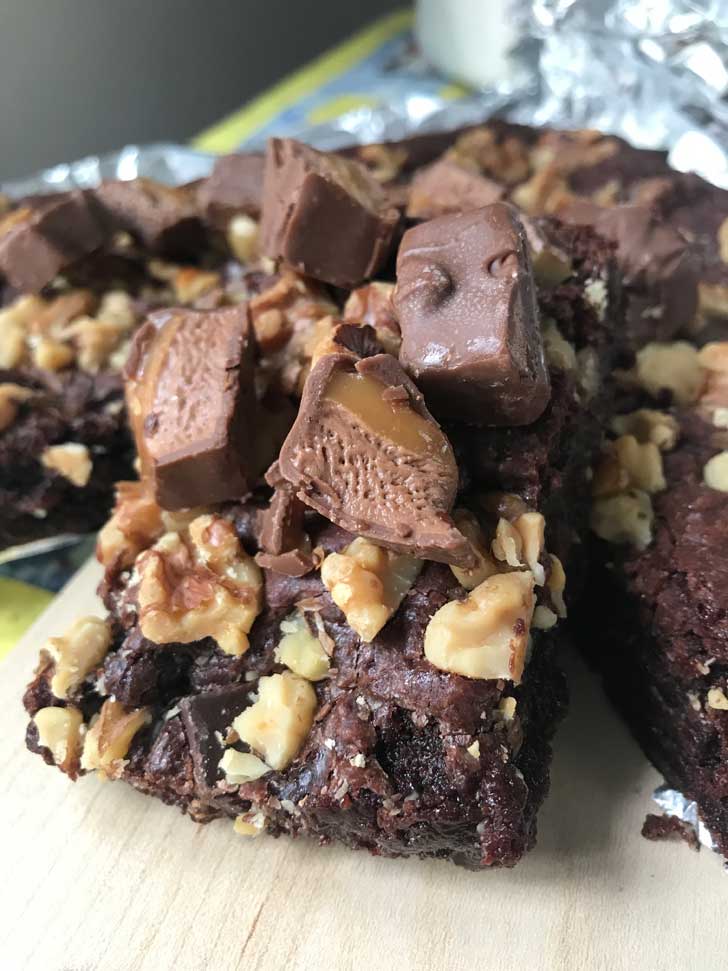 Chewy Fudge Brownies with Walnuts
These chewy fudge brownies are basic 8 inch pan brownies made with a unique ingredient combo of both granulated sugar and confectioners' sugar. The cornstarch in the confectioners' sugar, a little extra water, bread flour and a mixture of oil and butter all contribute to the chewiness. That is, the texture is close to the Betty Crocker or Duncan Hines brownie mix texture. I have other scratch recipes that are "similar but better" thank box brownies, but this recipe may be the one that comes closest.
One Bowl Recipe
This recipe was particularly appealing because you can stir everything together in just one bowl -- no saucepan or chocolate-melting required. I did have to use a little custard cup to melt 2 tablespoons of butter, but even that step is optional because you can make the brownies without the butter and just use oil.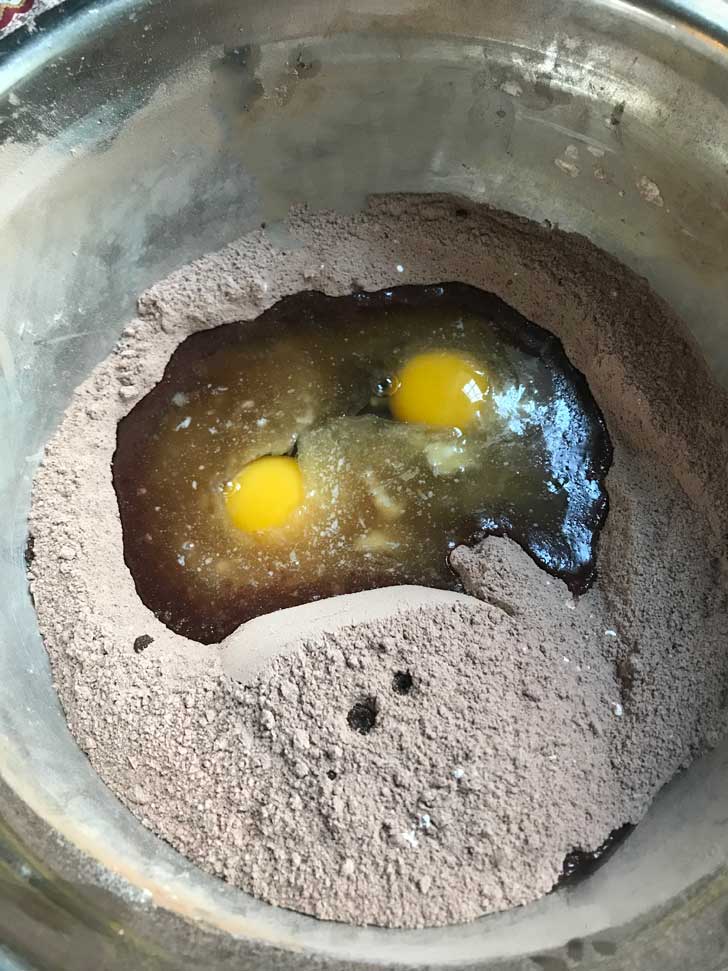 Toaster Oven Brownies
As I've mentioned maybe a hundred times these past few weeks, we are redoing the kitchen, I don't have all my gear and am baking in a borrowed toaster oven. Baking brownies in the toaster was a reminder just how very helpful it is to use an instant read thermometer for brownies. I baked this batch for about 38 minutes in a Breville toaster oven and pulled them with the temperature topped out at around 210-212 degrees F. They were perfect. The only catch with brownies is that some recipes are better when pulled at 180 or lower temps, so it's good to jot down the time it took and their internal temperature when you have a successful batch of brownies.
Chilling Brownie Batter Overnight
So back to the question of making the brownies a day before and chilling overnight. I prepared the batter as directed, spread it in the pan, topped it with nuts, then chilled it overnight and baked the brownies the next day. Based on this recipe, I'll definitely do that again when the opportunity arises. I can't really say if it was the overnight chill or just the combination of ingredients that made the brownies so good, but they were (or are -- we are still eating them) some of the best brownies I've made lately.
Gluten-Free Brownies
I'm trying to eat less gluten which means for every recipe I love, I have to match it with a gluten-free version. Based on testing a second batch, I can say that Bob's 1:1 flour blend works well when you chill the brownie batter overnight! The recipe probably works with KA Measure for Measure and Cup4Cup too, but Bob's 1:1 blend has a lot of sweet rice flour, which is great for chewier baked goods. So if you need to make these gluten-free, try with 105 grams of Bob's. And always weigh when using gluten-free flour blends because the cup measures are never really accurate.
My New Favorite 8 Inch Square Brownies
Update 11/23: Since posting this, I have to say this is my new favorite brownie recipe. They are the perfect "in-between" cakey and fudgy brownie and have a flavor that might remind you of the box kind, but better -- or at least if you use the Navitas cocoa. I've yet to test them with another brand. They also freeze well. I cut them into huge squares, wrapped individually and pulled them out of the freezer a few weeks later. They were just as good as fresh. I even left one of the thawed brownies out (still wrapped) overnight and it still tasted good.
Brownies Ingredient Rundown
Flour -- I tested with 105 grams bread flour and Bob's Gluten-Free 1:1 Blend
Sugar -- 300 grams granulated
Confectioners' Sugar -- 60 grams
Unsweetened Cocoa Powder -- I used 60 grams of Navitas, which is a natural organic cocoa powder. This is a new brand for me! I always associated it with health food for some reason, but I bought some on sale and love it.
Salt -- Morton Kosher
Eggs -- 2 large eggs, and I forgot to bring them to room temperature both times.
Oil -- 64 grams canola. I measured each of the 6 tablespoons one by one.
Butter -- 28 grams unsalted, gently melted
Vanilla -- Nielsen Massey
Water -- Would be fun to use bourbon or Kahlua!
Chocolate Chips -- Tested with Aldi Belgium Chunks, Kirkland Semisweet
Walnuts -- Very lightly toasted, but toasting is optional since the walnuts bake on top of the brownies.
Recipe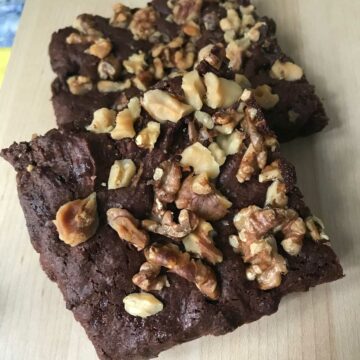 Overnight Fudge Brownies with Walnuts
Brownies made with natural cocoa, oil and a mixture of both granulated and confectioners' sugar
Ingredients 
¾

cup

bread flour or all-purpose flour or 105 grams of Bob's gluten-free blend

(105 grams)

1 ½

cups

granulated sugar

(300 grams)

½

cup

confectioners' sugar

(60 grams)

⅔

cup

unsweetened natural cocoa powder (I used Navitas)

(55-60 grams)

½

scant teaspoon

salt

2

large

eggs

(100 grams)

6

tablespoons

canola or vegetable oil

(64 grams)

2

tablespoons

melted butter or omit and use 2 T. oil

(28 grams)

1

teaspoon

vanilla extract

2

tablespoons

water

⅓

cup

semisweet or dark chocolate chips

1

cup

walnuts, coarsely chopped
Instructions 
Grease an 8 inch square metal pan and line with foil. Grease bottom only. You could also use parchment, but I've been testing with foil. These are very sticky brownies, so you do need to grease the bottom.

In a large mixing bowl, stir or whisk together the flour, both sugars, cocoa powder and salt. Take your time with this and make sure the dry ingredients are evenly blended.

Make a well in the center and add the eggs, oil, butter, vanilla and water. Whisk together liquid ingredients, then stir everything together, adding in the chocolate chips, to make a thick batter.

Spread the batter in the prepared baking pan and pat down flat. Sprinkle walnuts over the top. Cover with foil and chill 12 hours or overnight.

When ready to bake, preheat the oven to 325 degrees F.

Spread batter in the pan and bake for 35 to 42 minutes or until internal temperature tops out at about 210 degrees F. 38 minutes is how long mine take.

Allow the brownies to cool for several hours, then loosen slightly from edges of pan. If you have time, I recommend giving them a good chill before slicing.