These cookies from King Arthur are delicious. They're supposed to be crunchy, though mine were only crunchy around the edges. I might try baking them on a non-insulated cookie sheet. I generally use insulated cookie sheets, but have noticed that cookies that are supposed to be crunchy are never quite crunchy enough when baked on insulated sheets.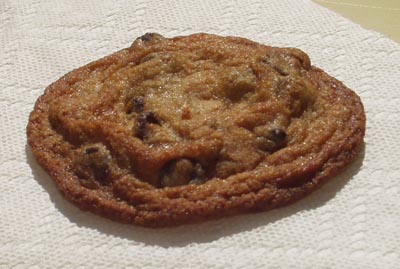 Upate: I baked on a non-insulated cookie sheet and they came out crunchy.
Another Update: Still a great recipe, but I need to update the photo because this one is about 10 years old and doesn't do the cookies justice.

Classic Crunchy Chocolate Chip Cookies
These cookies should turn out crunchy.
Ingredients
1/2 cup butter, unsalted, room temp
1/2 cup shortening (regular or butter flavored)
1 cup brown sugar, packed
1/2 cup granulated sugar
2 teaspoons vanilla extract
3/4 teaspoon salt
1 tablespoon apple cider or white vinegar
1 large egg
1 teaspoon baking soda
2 cups flour, all purpose
3 cups semi-sweet chips
Instructions
Preheat oven to 350 degrees F. Line baking sheets with parchment. Do not grease.
Cream butter, shortening and both sugars with an electric mixer.  Beat in vanilla, salt and vinegar.
Beat in egg,  scraping sides of bowl and mixing well, then add baking soda and beat so that it is well distributed.  Stir in the flour. Stir in the chocolate chips.
Drop by tablespoonfuls onto the baking sheets. Bake for 10-14 minutes. Let cool on cookie sheet for a couple of minutes then transfer to a rack to cool completely.
Related posts: