I don't know much about football, but thanks to Donna Kelce's Chocolate Chip Cookies recipe I know all about the name of a player and am a big fan of his mom. Shout out to Donna Kelce for sharing her chocolate chip cookie recipe on The Today Show. I expected it to be good. But not only are the cookies tasty, they're different! The recipe has a few twists to it.
Jump to Recipe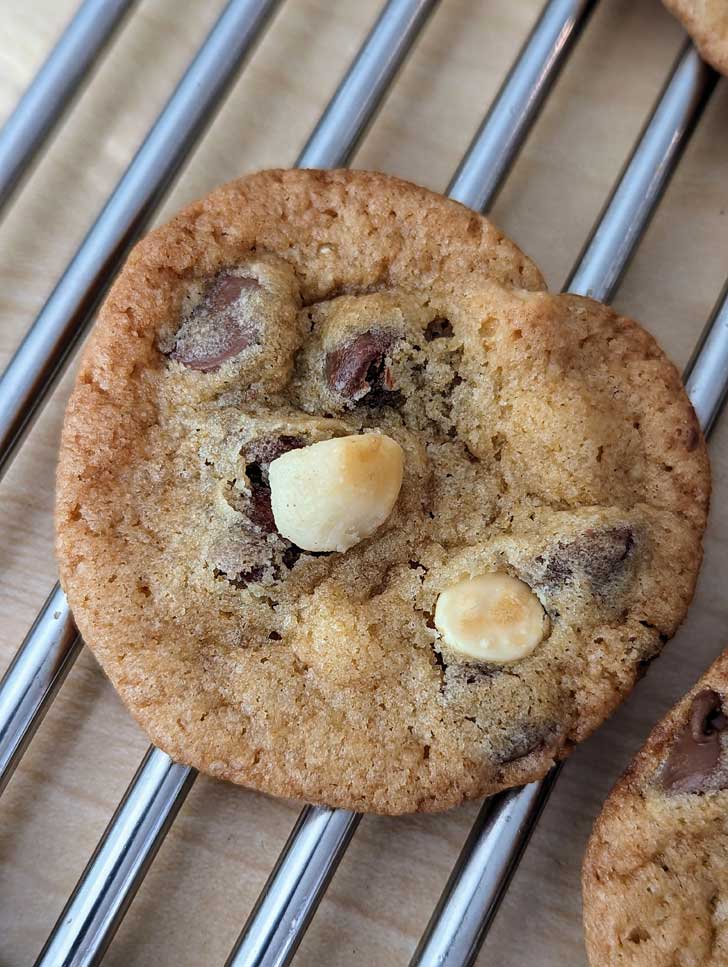 Why It's Different
Mrs. Kelce's recipe has a lower ratio of eggs than usual plus a combination of cake and all-purpose flours. She also puts cinnamon in the recipe, which is something I started doing years ago after using it in Laura Bush's cookies. So I made these pretty much as written but with half the cinnamon. Also, I only used 2 teaspoons of water which I believe is the correct amount. The recipe says 2 tablespoons, but it just seems like too much. Plus the 2 teaspoons worked perfectly.
Flavor and Texture
The cookies are sweet! They're flat and chewy with lot of little bubbles (thank to the 4 minutes of creaming) and a nice array of flavors. Donna Kelce's recipe calls for optional pecans. Since the cookies are on the sweet side, they are on an excellent choice, as are salted macadamia nuts. This is a recipe I plan on keeping.
Deep Thoughts
Make these for yourself, your family or anybody you like. They don't have to be famous football players. Remember what Chance the Rapper says -- Everybody is somebody's everything. True words. Think about this when you're reading about all these famous people doing spectacular things and trying to figure out where you fit in the universe.
Chocolate Chip Cookie Recipe Tips
Melt the butter in the microwave using a low setting so that it doesn't separate. You can also melt part of it, then chop up the rest and add it to the melted butter to speed up cooling.
Use a stand mixer if you have one. Four minutes is a long creaming time, but it dissolves the sugar and helps it caramelize faster in the oven, meaning more flavor and a better texture. It also adds air to the dough. In this case, there's already baking powder, so you get extra air and the cookies rise fast and flatten out, which makes them chewy and good. The only drawback is they have a tendency to be misshapen. Some of the tastiest cookies are.
These cookies look better (and spread more evenly) when made as small cookies.
You don't have to use a full teaspoon of cinnamon.
I don't think you need 2 tablespoons of water either (as mentioned).
Use good vanilla because these cookies call for a full tablespoon and you can taste it.
If you want to make a half batch and need to halve 1 egg and 1 yolk, just use 1 egg and remove 17 grams of the white. No scale? Just try to eyeball half the white and remove it. But I like this scale a lot. Some of the cheaper ones are good, too. This one's just easy to clean and has a large display.
If you don't have cake or pastry flour, you can make your own 1 cup of cake flour by removing 2 tablespoons from 1 cup of all-purpose and adding in 2 tablespoons of cornstarch.
Recipe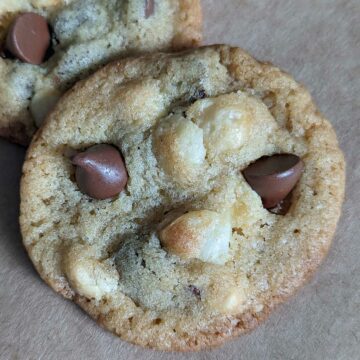 Donna Kelce's Best Chocolate Chip Cookies Recipe
These bake up pretty flat and chewy. Don't skip the 4 minute creaming of the butter and sugar.
Ingredients 
3

sticks

unsalted butter (aka sweet cream butter)

(342 grams)

1 ½

cups

packed light brown sugar

(300 grams)

1

cup

white sugar

(200 grams)

1

large

egg

(48 grams without shell)

1

large

egg yolk

(18 grams without shell)

1

tablespoon

vanilla extract

1

teaspoon

baking soda plus 2 teaspoons hot water

(I use teaspoons, not tablespoons)

2

cups

all purpose flour

(280 grams)

1

cup

cake or pastry flour

(120 grams)

1

teaspoon

baking powder

1

teaspoon

cinnamon

I'd go with ½ teaspoon or even less

1 ½

teaspoons

salt (Morton kosher)

2

cups

chips (1 cup each Ghirardelli white and milk chocolate

Optional: 1 cup pecans
Instructions 
Melt butter lightly in the microwave using one of the lower power settings or do it on high and stir every 20 seconds. Pour into a mixing bowl or the bowl of stand mixer. Let cool for 15 to 20 minutes.

Add brown and white sugar to the melted butter and beat with an electric mixer for 4 minutes. This is a long time, so it helps to have a stand mixer. Scrape down the sides of the bowl and add egg, then yolk., Add vanilla and mix for 30 seconds.

Dissolve the baking soda in hot water and add to the mixture.

Whisk together both of the flours, the baking powder, cinnamon and salt.

Add flour mixture gradually, scraping down sides of the bowl. Add all chocolate chips and nuts (if using) and stir until blended.

If you can, chill for at least 3 hours. Note: I scooped the dough balls onto a plastic wrap-lined plate, covered and chilled the preformed dough balls. I also baked some cookies immediately.

Before baking, let the dough come to room temperature.

Preheat oven to 350 degrees F.

Drop dough (or just arrange the dough balls) on un ungreased baking pan spacing at least 2 inches apart.

Bake small cookies for 10 minutes. Bake larger cookies for 13 to 15 minutes or however long it takes for the cookies to appear set.