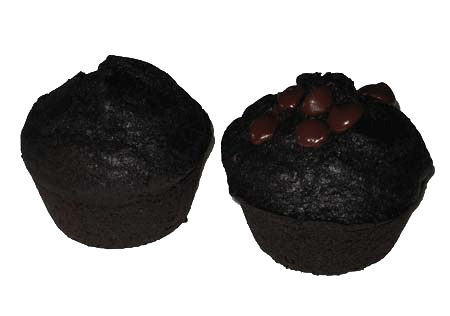 Three weeks ago I thought chocolate muffins were a silly excuse to call cupcakes muffins so that you could eat them for breakfast and not feel guilty. Eating a chocolate muffin in London, in the afternoon no less, changed my mind. While I wouldn't call them healthy, chocolate muffins are different than cupcakes and good in their own special way. They're heavier, have bigger crowns and are richer than cupcakes. Furthermore, a good chocolate muffin should not need frosting.
Thanks to your comments, Google and Food TV, I have at least 5 chocolate muffin recipes to try. I've made a dent and have tested one. Tonight, while simultaneously preparing an Asian entree from from Cooking Light, I threw together some chocolate muffins recommended to me by Joe, who got the recipe from the always reliable King Arthur Flour company. End result – good, rich muffins which were requested and eaten for dessert by my daughter. This says a lot since she's a five year old who generally eats the icing off cupcakes and throws away the "stalk". The muffins pleased a tough audience.
Here's a picture of tonight's chocolate muffins. Cupcake liners on muffins bug me, so the muffins are bare.
Recipe is below. I used Hershey's Dark unsweetened cocoa powder, the only Dutch process cocoa I had in the house and the reason why mine are almost black. While these are on the heavier side and not the same as the one I had in Europe, like these. I did find the combo of all-purpose flour and 3/4 cup whole wheat pastry flour inconvenient and strange, but I had the wwpf on hand and went with it anyway.
I copied Joe's recipe but skipped the raspberry filled chocolate and instead, added some Ghirardelli Bittersweet Chips, which is what I had. All in all, very good.
Dark Chocolate Muffins (Adapted from King Arthur BC)
2/3 cup Dutch-process cocoa (I used Hershey's Dark….muffins were dark as expected but rose nicely)
1 cup all-purpose flour
3/4 cup whole wheat pastry flour (Joe's change) regular recipes uses a total of 1 3/4 cup all-purpose only
1 1/4 cups light brown sugar
1 teaspoon baking powder
1 teaspoon baking soda
3/4 teaspoon salt
3/4 cup Ghirardelli bittersweet chips
2 eggs
1 cup milk
2 teaspoons vanilla
2 teaspoons vinegar
8 tablespoons butter, melted
Preheat oven to 425 degrees F.
In a large bowl, whisk together cocoa, both flours, sugar, baking powder, baking soda, salt and bittersweet chips. Stir them so they're coated nicely with the dry ingredients. This helps them swim better.
In a medium bowl, whisk together eggs, milk, vanilla and vinegar. Add this mixture into the dry ingredients. Pour in the melted butter. Using a wooden spoon, stir this together just until combined.
Evenly divide batter between 12 muffin cups lightly coated with flour-added cooking spray (such as flour-added Pam for Baking….my favorite).
Bake for 15 to (mine were ready around 17) 20 minutes, or until a toothpick placed in the center comes out clean or with a few moist crumbs attached. Remove and place pan on a wire rack for 5 minutes. Remove the muffins from the pan and let cool completely.
Makes 12
Update: Joe told me the original recipe uses 1 3/4 cup all-purpose, so if you don't have any whole wheat pastry flour, don't worry.
Related posts: