Lisa's Friend's Oatmeal Chocolate Chip Cookies is named for the fact it was sent to me by Lisa E. who got it from her friend. She was very excited about the recipe, and so was I — especially since I was on vacation in Italy and missing my kitchen. I made the cookies as soon as I got home.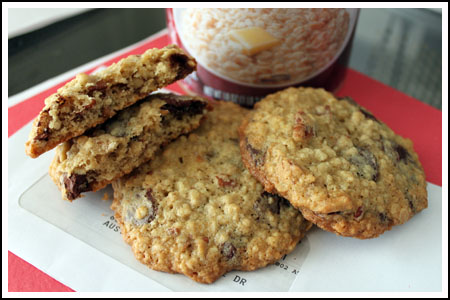 These cookies can be made with either butter or shortening. The cookies in the photo were made with butter. For oats you can use either quick or old fashioned. The cookies are medium thick with crisp edges and soft centers, and are a little lighter in texture than some other oatmeal cookies.
Lisa's Friend's Oatmeal Chocolate Chip Cookies
3/4 cup all purpose unbleached flour (95 grams)
5/8 teaspoon baking soda
1/2 teaspoon salt
1/2 cup (4 oz stick) unsalted butter, softened (114 grams) (shortening works too)
6 tablespoons brown sugar, firmly packed (75 grams)
6 tablespoons sugar (75 grams)
1 large egg
1/2 teaspoon hot water
1/2 teaspoon vanilla
3/4 cup chopped pecans — toasted
1 cup chocolate chips (170 grams)
1 cup quick oats
Preheat oven to 375°F. Sift together flour, soda and salt.
In a separate bowl, cream butter and sugars; add egg and stir until mixed. Stir in hot water, vanilla and flour mixture. Add the oats and stir; stir in the chocolate chips and nuts.
Shape dough into large balls (mine were about 1 ½ inches), arrange on a cookie sheet lined with parchment spacing 3 inches apart, press the dough balls down slightly, and bake 12-14 minutes or until the cookies are nicely browned around the edges and not too pale in the center. The bake-time will vary depending on how big you make your balls of dough. I haven't baked all the dough, but I think this half batch will yield about 15-18 cookies.