I was watching Italian cartoons and drinking cappuccino in a hotel room when I got this email from Lisa E. telling me about some amazing oatmeal chocolate chip cookies her friend brought to a party. The cookies were so good no one could eat just one.  And they were big, too! Given Lisa's review and the 5 stars, I bookmarked the recipe and waited until I was back home in my kitchen.
Well, I'm back home in my kitchen. Things have been a little crazy around here given the fact we're moving (!!!), so these easy cookies were perfect for today. Like Lisa's friend, I substituted butter for shortening, which changed the texture completely but gave the cookies a good flavor. I also used the "quick oats" which were called for in the recipe. I mostly use old fashioned because that's what I like, but for these I bought the "quick" and you can really see the difference in the appearance of the cookie. Luckily, they tasted great. They had semi-crisp edges, were somewhat cakey and moist, and had tons of flavor from the oats, butter, salt and pecans. Because they had an aura of lightness about them, I can see why ladies at a party would eat multiple cookies.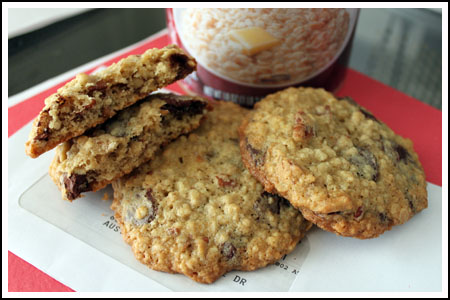 Lisa's Friend's Oatmeal Chocolate Chip Cookies
3/4 cup all purpose unbleached flour (95 grams)
1/2 teaspoon plus 1/8 teaspoon baking soda
1/2 teaspoon salt
1/2 cup (4 oz stick) unsalted butter, softened (114 grams) (shortening works too)
6 tablespoons brown sugar, firmly packed (75 grams)
6 tablespoons sugar (75 grams)
1 large egg
1/2 teaspoon hot water
1/2 teaspoon vanilla
3/4 cup chopped pecans — toasted
1 cup chocolate chips (170 grams)
1 cup quick oats
Preheat oven to 375°F. Sift together flour, soda and salt.
In a separate bowl, cream butter and sugars; add egg and stir until mixed. Stir in hot water, vanilla and flour mixture. Add the oats and stir; stir in the chocolate chips and nuts.
Shape dough into large balls (mine were about 1 ½ inches), arrange on a cookie sheet lined with parchment spacing 3 inches apart, press the dough balls down slightly, and bake 12-14 minutes or until the cookies are nicely browned around the edges and not too pale in the center. The bake-time will vary depending on how big you make your balls of dough. I haven't baked all the dough, but I think this half batch will yield about 15-18 cookies.