Today's recipe isn't flashy, but it's very good and definitely worth trying — especially if you have some top quality cocoa powder on hand. I happened to have a can of Scharffen Berger natural cocoa powder which I brought back from San Francisco, and this recipe put it to good use. The brownies are rich and kind of chewy – not too fudgy and not too cakey either. Plus, they're sturdy enough to be wrapped individually for bake sales or lunch boxes. I will definitely make these again.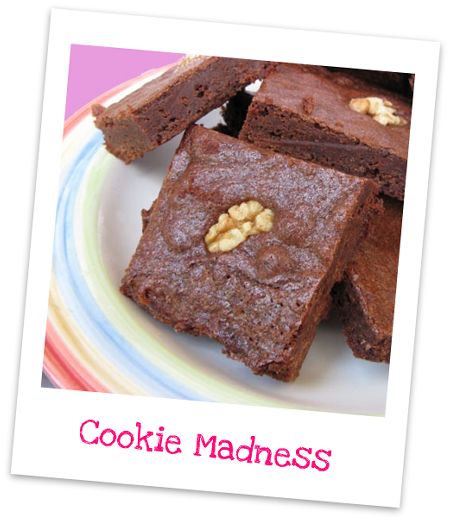 One Bowl Cocoa Powder Brownies
12 T. unsalted butter (1 ½ sticks)
1 2/3 cups granulated sugar
3/4 cup unsweetened cocoa powder (natural)
1 ½ teaspoons vanilla extract
3 large eggs
1/2 teaspoon salt
1/2 teaspoon baking powder
1 1/3 cup all purpose flour
12 walnut halves (optional)
Preheat oven to 350 degrees F. Grease a 13×9 inch metal pan or line it with parchment or foil. If using foil, spray the foil with cooking spray.
Melt the butter in a microwave-safe mixing bowl. Whisk in the sugar, then whisk in the cocoa powder, followed by the vanilla extract and eggs. When mixture is smooth, add salt and baking powder and whisk thoroughly, breaking up any lumps in baking powder and taking care that it is thoroughly distributed. Scrape sides of bowl and stir (do not beat) in the flour. Pour into pan and spread to edges. Arrange nuts over top.
Bake on center rack of oven for 22-25 minutes or until toothpick inserted comes out with moist crumbs. Cool completely and chill before slicing.
Makes 12 or 16 (depends on how big you cut them)
Related posts: