I don't have many subscriptions these days, but I used to get Food Network Magazine and loved the little inserts featuring super short recipes and ideas. One was called "50 Things to Make With Yogurt" and it's where I first saw Self-Rising Flour Greek Yogurt Brownies.
Jump to Recipe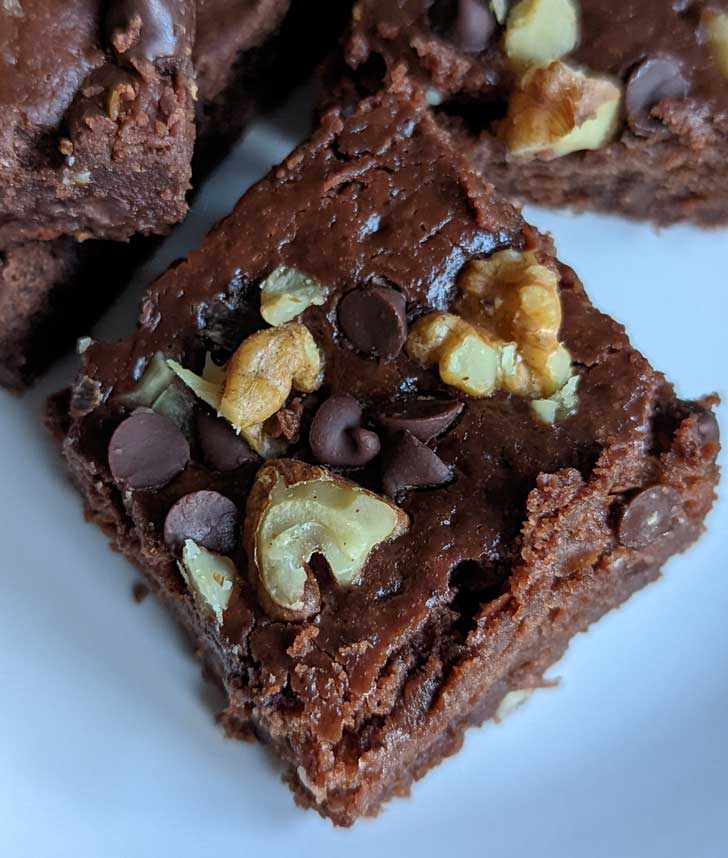 Short Ingredient List!
To keep the ingredient list short, the recipe calls for self-rising flour. That means there's no extra salt, baking soda or powder. And thanks to the magical binding power of Greek yogurt, there are no eggs either. The original recipe is for a 9 inch pan and calls for 1 cup self-rising flour, 1 cup sugar, ½ cup cocoa powder, ¼ cup each oil and water and 1 ½ cups of vanilla flavored Greek yogurt. The new version is for an 8 inch square glass pan.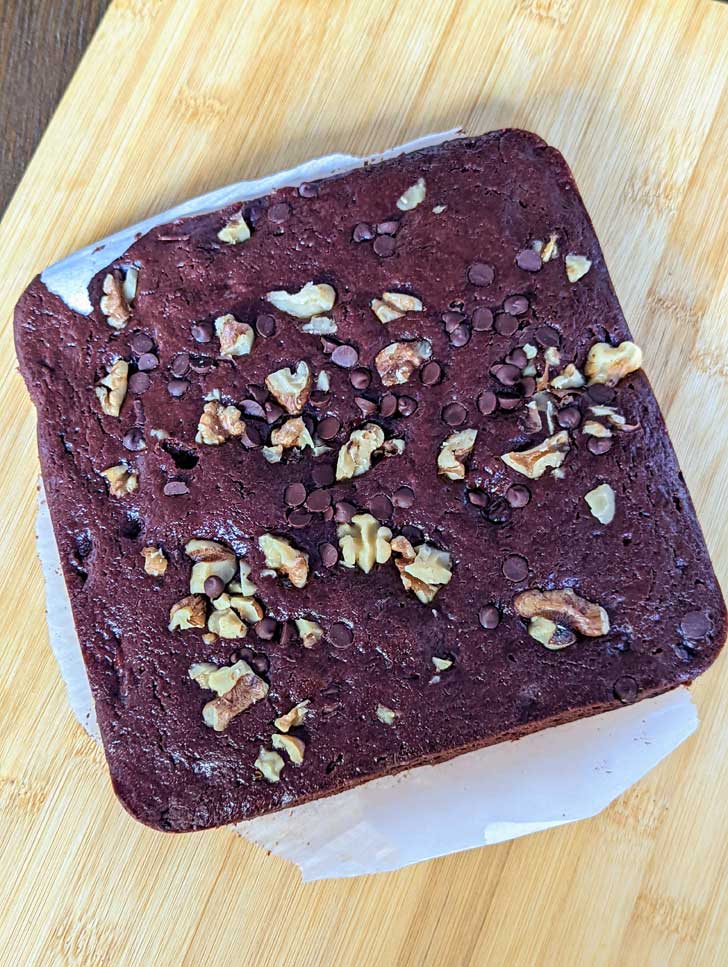 Greek Yogurt Brownies Taste and Texture
These brownies have a pretty strong Greek yogurt flavor. But the brownies also have plenty of chocolate flavor, so they're almost like sourdough or cream cheese brownies. The type of cocoa powder you use and whatever changes you end up making with the yogurt will also change the flavor and texture. More on that in the ingredient section. I plan on making these again, so I'll keep updating when I make changes.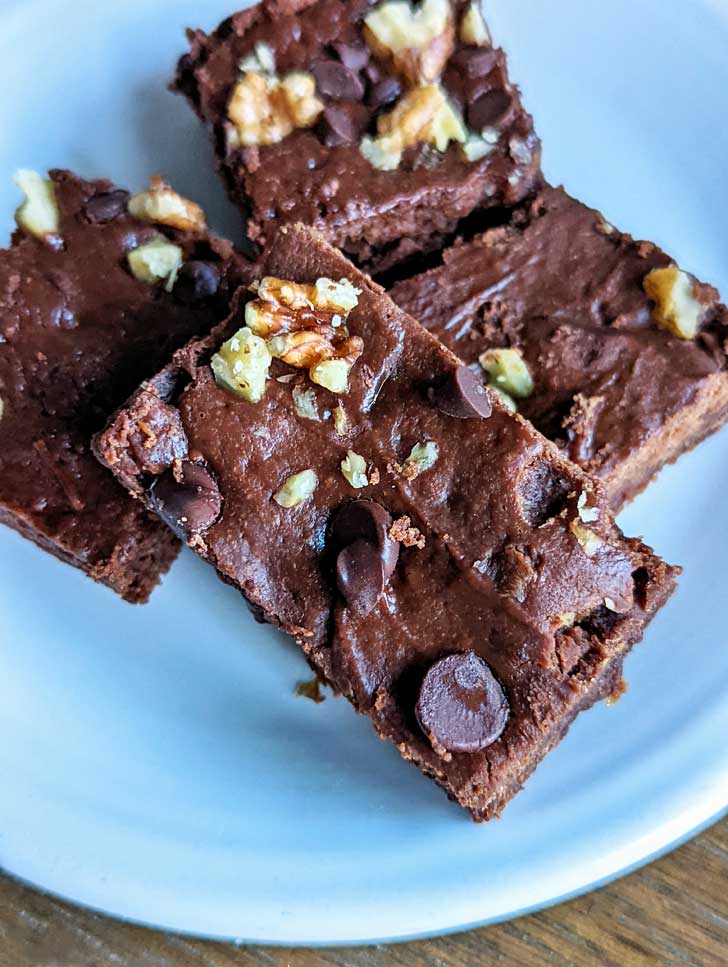 Greek Yogurt Brownies Recipe Ingredient List
Here's a rundown of the ingredients I used for my last two batches of Self-Rising Flour Greek Yogurt Brownies. At some point I'll try these with all-purpose and add in a little baking powder and salt, but right now I'm working my way through a couple of bags of White Lily and this recipe hit the spot.
Self-Rising Flour -- Or self-raising flour, depending on where you live. I used White Lily brand, which is a soft wheat flour mixed with baking powder and salt.
Sugar -- Granulated, though I did experiment with half granulated and half brown and liked the flavor of both.
Cocoa Powder -- I made my first batch (the ones in the last photo) with natural cocoa powder and used half brown sugar half granulated. The acidity of the natural cocoa powder and brown sugar along with acid in the self-rising flour reacted in such a way that the brownies came out fudgier. When I made the brownies again with granulated sugar and Dutch process cocoa, the brownies were less fudgy and more of an "in-between" (first photo). Both versions were very good.
Water -- I love recipes that call for water because it means you can substitute bourbon. In this case I did not, but it's a potential variation. Then again, that might not go so well with the yogurt, so maybe stick with water. Or no, Kahlua!
Oil -- I tested with light olive oil (basically flavorless). Might be fun to try with extra virgin.
Yogurt -- I tested with Fage 5% plain and they were delicious, though they had a pretty strong yogurt flavor. For the next batch I used lower fat vanilla (which is sweetened) and the brownies were just as good. I recommend starting with vanilla flavored, but plain will work too.
Vanilla -- In addition to the vanilla flavor in the yogurt. You can leave it out if you have to.
Chocolate Chips -- You can use regular semisweet or the little miniature chips.
Walnuts -- The nuts really added to the brownies, but they would be fine without them.
Greek Yogurt Brownies Time and Temperature
I used an 8 inch square baking dish and a baking temperature of 325 degrees F. If you use a metal pan, you may need to increase the temperature to 350 or keep it at 325 and bake for a little longer. When they are ready, the brownies will still be a little shiny. The best way to make sure they're done is to insert a meat thermometer and make the temperature registers between 200 and 205 degrees F.
Small Batch 4 Cup Glass Dish Brownies
During one of my best thrift store visits, I acquired a square shaped 4 cup capacity square Pyrex dish.  At first I thought it was an unusual size, but when I checked around I found a lot of 4 cup capacity type glass dishes. This is a great size baking dish for making small batches.  I tested by making a half batch of the Greek Yogurt Brownies using the 4 cup dish, 325 F. and 33 minutes.  The small batch was a success!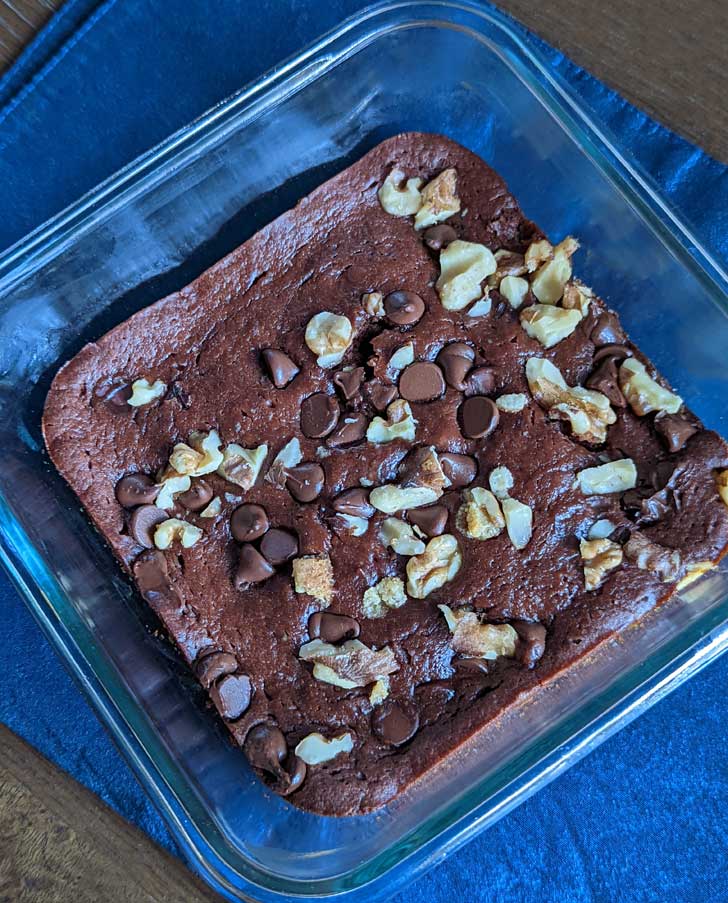 Make-Ahead
One last advantage to this recipe is that you can mix the dry ingredients, put them in a bag and have your own brownie mix ready for a later date! It's basically a dump and stir recipes, so if your dry ingredients are weighed and ready you can assemble the brownies in 5 minutes. I do recommend allowing extra time for the brownies to sit, though. They are good while warm, but taste even better the next day.
Recipe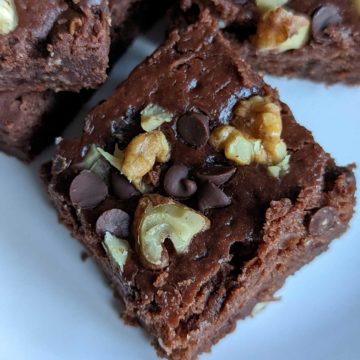 Greek Yogurt Glass Dish Brownies
Egg-free brownies made with Greek yogurt.
Ingredients 
⅔

cup

self-rising flour, White Lily

(90 grams)

⅔

cup

granulated sugar

(140 grams)

⅓

cup

unsweetened cocoa powder, natural or Dutch

(25 grams)

1

cup

vanilla flavored yogurt, low or full fat rather than nonfat

(230 grams)

3

tablespoons

light olive oil or any vegetable oil

(39 grams)

3

tablespoons

water

½

teaspoon

vanilla

⅓

cup

miniature semisweet chocolate chips

Some chopped pecans for sprinkling over the top
Instructions 
Preheat oven to 325 degrees F. Grease an 8 inch square glass pan. You can put a square of parchment on the bottom if you wish, but it's not absolutely necessary.

In a large bowl stir together the flour, sugar and cocoa powder.

In a mixing bowl, mix together the yogurt, oil, water and vanilla.

Add the flour mixture to the yogurt mixture and stir until fully blended, then stir in the chocolate chips.

Spread batter evenly in pan and sprinkle nuts on top.

Bake on center rack at 325 degrees F. for 30 to 35 minutes or until brownies appear set, but still a little shiny. If you have a probe thermometer, test the center of the brownies to make sure it registers between 200 and 205 degrees F. My batches were all ready around 33 minutes.

Allow the brownies to cool completely for at least an hour. Unfortunately these are a bit gooey coming out of the oven and need time to set. They are even better if you let them cool completely then chill overnight and serve the next day at room temperature.
Notes
Be sure to weigh the flour!